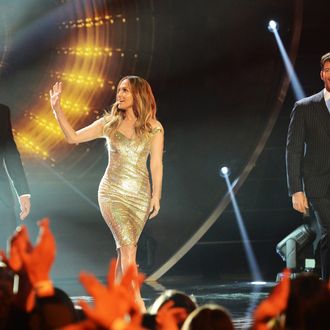 Photo: Michael Becker / FOX
Tuesday was a big night for singing competition series, but not a particularly good one for the genre — at least in the ratings: NBC's The Voice and Fox's American Idol both scored disappointing Nielsen numbers. To be more accurate: The Voice numbers were disappointing, while Idol's were pretty much disastrous, at least based on historical comparisons. From 8-9 p.m., Idol aired its one-hour performance finale, and just 6.6 million viewers bothered to tune in. That's barely half of the audience of 12.1 million viewers who watched last May's performance wrap, and the least-watched episode in the show's history. Not the least-watched finale, but the least-watched episode, period, going all the way back to when the show was an infant in 2002, and (some) real human beings voted for Justin Guarini instead of Kelly Clarkson.
Among viewers under 50, Idol didn't crash quite as hard: The show did a 1.7 rating in the key demo, which was not a record low, but was still roughly half of last year's rating (3.0). But overall, even though Idol has been a shadow of its former self for a couple years now, last night was a low-water mark. It's always easy to second-guess network executives, but given Idol's struggles this season, it's hard to understand why Fox didn't at least shift the Idol finale to either last week or next week, if only to get out of the shadow of the now-more-dominant The Voice (and ABC's Dancing With the Stars, which also wrapped its season on Tuesday.) The collapse of Idol, meanwhile, also helped sink a show Fox had hoped would be a summer highlight. The corny I Wanna Marry Harry was dead on arrival, drawing just over 2 million viewers and earning a 0.7 rating among viewers under 50.
Meanwhile, NBC's The Voice looked like a juggernaut relative to Idol. Its two-hour spring season-finale spectacular averaged 11.6 million viewers and earned a 3.3 among viewers under 50, dominating the night in the key demo (though finishing behind DWTS, which drew 14.9 million viewers in the same time slot. But as good as that looks next to Idol, Tuesday's final Voice came in 25 percent below the overall audience demo ratings for last spring's finale (which aired in June, opposite less intense competition), and well below last December's winter finale. And even though there have only been six cycles of The Voice in three years, last night's finale was the lowest-rated in the show's history. NBC made a strategic decision to air two cycles of The Voice each season to maximize the franchise's ability to boost the Peacock's overall fortunes, and it worked: NBC today marks its first season-long win among viewers under 50 in a decade. But the decision has also come with an expected side-effect. The Voice has already started to fade, not too long after it first exploded. Millions of viewers gave up on Idol this year, but there's growing evidence that viewers are growing tired of singing competitions in general. And while Fox has canceled The X Factor and promised to trim down Idol, the other networks don't seem willing to acknowledge music fatigue: NBC is still planning two editions of The Voice next season, while next month ABC will unveil (yet another) twist on the format, with a show called Rising Star.