Almost everything I know about art I either learned by looking at it and talking to myself, or from listening to artists talk about art. They see all of it through their own work, their own notions. Cave paintings and Courbet exist in the same frame of aesthetic reference. Usually, they don't care about the minutiae of art history, behind-the-scenes stories, biographical information, or critical consensus. (Luc Tuymans recently gave a talk at Vienna's tremendous Kunsthistorisches Museum about paintings in its collection that fail.) An artist's self-informed viewpoint can be at once the narrowest and most limiting but also the most liberated and fecund view of art there is: entirely subjective, sometimes bonkers, beyond right and wrong. If the artist is articulate or witty, he or she can explode work you've seen a hundred times, making you see it in ways you've never thought of — which then become yours as well.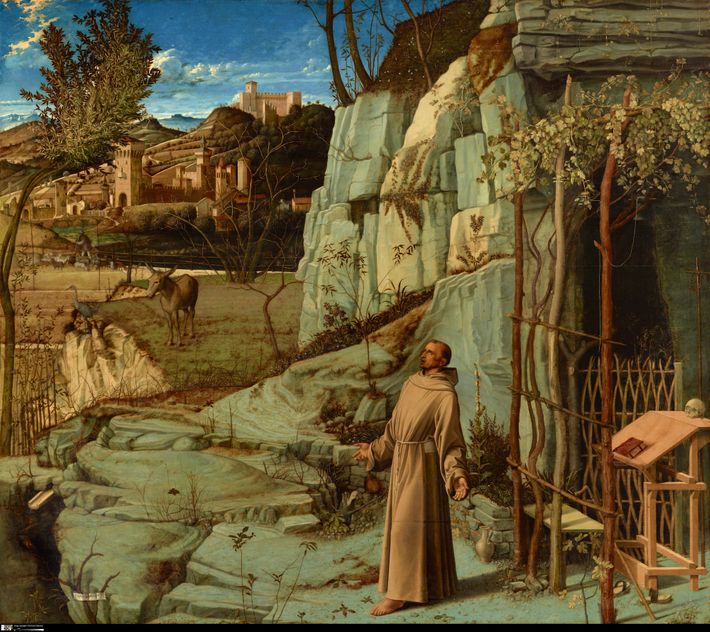 I think that magic was worked on me last night at the inimitable Frick Collection. In a clipped one-hour talk staged by Frieze Masters, the highfalutin old-and-modern-masters branch of the Frieze Art Fair — which opens on Randalls Island on Thursday — I listened to Ed Ruscha speak to the Frick's director, Ian Wardropper, about eight paintings he selected from that amazing museum. Ruscha's insights, delivered in his matter-of-fact laconic Oklahoma drawl, dazzled. Wardropper provided the perfect background in every case.
Below are bits of what I remember and madly wrote on scraps of paper found in my pocket. First up, he spoke about one of the clearest and most beautiful pictures in this hemisphere, Giovanni Bellini's St. Francis in the Desert. Ruscha called Francis an "urban farmer," I think because this desert is rich and blooming and that town is in sight. He kept marveling at "all these diagonals." Huh? Diagonals? Then the whole picture shifted for me, from being this gorgeous clear thing that I've known all my life to something made up of hundreds of harmonizing angles. He talked about how Francis's chest was "straining to be at an angle" and how the writing table behind him establishes two other diagonals, as do the landscape and the tree leaning into the saint. He talked about "the crazy quilt of little compartments" in the picture, in the rocks, ground, fields, and town beyond. I think he said the cliff looks like "a monster." It now looks that way to me. After saying simply "There's plenty to look at in this picture," he said, "It has the makings of any picture. It would look great on its side or upside down." Suddenly the painting flipped in my mind, and I beheld a new magnificence. As this happened, Ruscha remarked that "you should be able to look at any good painting from several sides." Now I believe that too. He'd spoken maybe seven minutes, and a world had opened.
Then Hans Memling's Portrait of a Man: Rucsha talked about the "stark power" of this simple picture and ventured that "It must have aggravated artists because it was so shocking. It looks like someone I might know. Like someone I might pass on the street. The cut of his hair. Like a baseball player." And with that, this amazing figure turned into a bubblegum card. Before I could ease into that correct revelation Ruscha said "He looks like Jose Canseco." D'oh! Him?! He talked about how the figure is "in our space," how the artist painted the frame into the picture, and the great way that the blue sky changes colors from top to bottom, singling out the white of the "dagger dart in his collar." He didn't care who this figure was or what city was in the background (it's Bruges). He said, "I try not to think about the backstory of a painting." You have to be able to "see a picture cold." He  declared this painting "a winner."
Since by then I'd already run out of paper, here are some more fragments. Hans Holbein's Sir Thomas More looks "wicked, cruel, ambiguous." Ruscha talked about how some paintings are like "a 100-piece orchestra," and I think he said that this one had a bunch of instruments in it. He talked about how a lot of the things in the painting "don't fit" or "look very twentieth-century."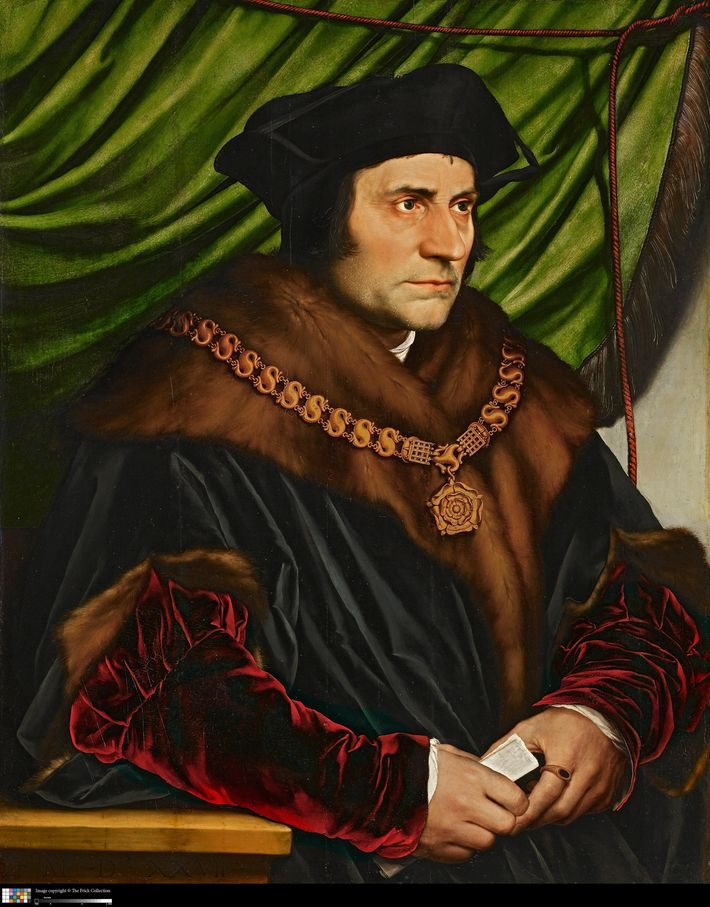 Here's a link to the whole talk, where you can hear what he had to say about Goya, Manet, two great El Grecos, and what he thinks about how the Frick is now displaying his own work with some fabulous bronzes. One other thing: Last night Ruscha's was just one of three artists talks all within a few blocks of one another on the Upper East Side. This sort of embarrassment of riches might make us stop for a second, set aside the fourth rule of the art world — which is to always complain about the art world, bitterly — and simply feel lucky to be here, living a life in art and around artists. Oh, and artists: Look at your work upside-down and sideways. I know I will.