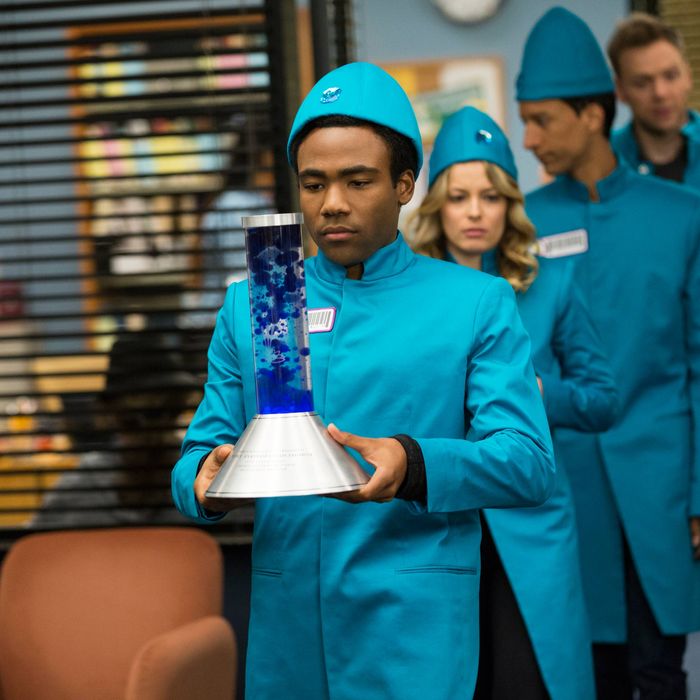 COMMUNITY – "Introduction to Teaching" Episode 502 – Pictured: Alison Brie as Annie – (Photo by: Justin Lubin/NBC)
Photo: Justin Lubin/NBC
Community is dead. You've read that sentence before. Sometimes "dead" was preceded by "probably." During season four, in which NBC replaced creator Dan Harmon and the show became a zombie version of itself, the modifier was "creatively." There's no modifier this time. Forget six seasons and a movie. Now it's five seasons (four if you decide not to count the Harmon-less season). There could be a sixth at some other network or cable channel, or more likely at a streaming service such as Netflix or Amazon or Hulu, but only if the contracts allow it. Then maybe, maybe, maybe a movie. Maybe. Kickstarter? Bueller?
Deep breath.
Not to go all Abed and soapbox on you, but … [Pulls up soapbox, stands on it] … the very existence of this dense, allusive and defiantly not-for-everybody sitcom was a miracle, and the fact that it ran for 97 episodes was another, bigger miracle. Community was the most meta-textual live-action half-hour comedy in network TV history. More so than any network series since The Simpsons, it was television, and almost anything that could appear on television. It was typical sitcom tomfoolery. It was satire and parody. It was an action film or a Western or a paranoid thriller or a musical when it wanted to be. It sent up Ken Burns and soaps and timeline-twisting science fiction, and cartoons, and puppetoons. Not only did it seem too smart and ostentatiously self-aware for network TV, few cable series could match its ingenuity. Even when a scene or sequence or episode wasn't quite working, you appreciated the complexity, the ambition, the fervor of each situation, image, and joke, as well as the baked-in (maybe just baked) tension between the show and the "show." Harmon and his writing staff seemed engaged in some mysterious ongoing contest to see how many pop-culture footnotes they could hang on a conversation and still have you care about the story as a story and the characters as people, or "people." It is certainly the only series in network TV history equally inspired by Gilligan's Island, Our Town, and the holodeck on Star Trek: The Next Generation.
Even that mostly misbegotten "off" season feels like an organic part of this deliberately inorganic but still weirdly touching sitcom, the creative-high water mark of which remains (for this viewer, anyway) Abed's monologue from season two's "Critical Film Studies" about being, nothingness, and appearing as an extra on Cougar Town: "If I'm a person that watches Cougar Town, how can I be in Cougar Town? The more I start thinking about it, the less any of it makes any sense at all. And I just want to turn and run, but it's too late, because the director's calling 'Action.' So, before I take my first step, I realize that I have to stop being someone who's ever seen this show, and become a character on the show … become a man from Cougar Town."
Or as Harmon put it when I interviewed him a few years ago, "You're seeing something that is supposed to be kind of alienating and snarky, yet there's this weird guy behind it all who is saying, 'This is how I am communicating with you.' That's why the show is neither spoof nor humble servant to its medium."
Not either/or. Neither/nor. That was and was not Community.