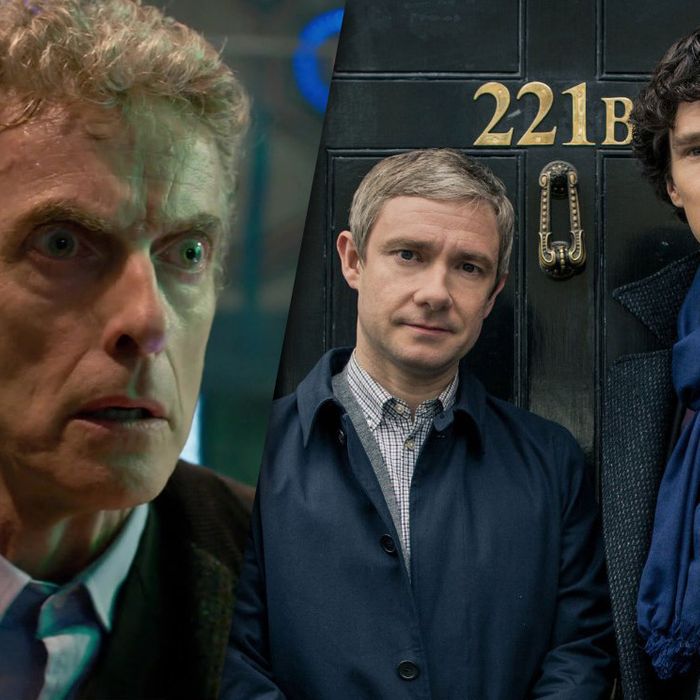 Photo: BBC/Robert Viglasky
On Monday, the third season of Sherlock will become available for streaming exclusively on Netflix. The service will also stream Sherlock Uncovered, a set of three half-hour making-of specials following each episode, and Unlocking Sherlock, a one-hour behind-the-scenes feature about the making of the series. To mark the occasion, Vulture caught up briefly with executive producer Steven Moffat and his wife, producer Sue Vertue, who told us a rewatch could prove enlightening (even after we've thoroughly picked apart all the juiciest bits with Moffat). Spoilers ahead for those who have not yet watched season three: 
You could go hunting for all the clues they dropped early on about Mary's real identity, for starters. "When Sherlock's first looking at Mary in the first episode, and all those words go around, in fact, the word liar is there, but you don't notice it the first time," Vertue said. Moffat added that those rooting for a Molly-Sherlock hookup might also luxuriate in a second look at the finale, "The Last Vow," and how prevalent the specialist registrar is in Sherlock's mind palace. Shockingly, neither Moffat nor Vertue were aware that in May the Oxford English Dictionary added a new definition to the word ship, and included the following as an example of how to use it as a verb: "I will always ship Sherlock and Molly," but Moffat pronounced it "lovely." Three cheers for Mollylock!
It's still anyone's guess when we might see new episodes. "We're literally in the middle of working out what we're doing and the dates we've got. It's a bit of a watch-this-space, I'm afraid," Vertue said. They were doubly mum on the potential Sherlock standalone special Martin Freeman described as "a mouth-watering idea" last month. "It's all going in the right direction. There's nothing to worry about. Everyone's very willing to make it work. I'm sorry — that's all you're getting for now," Moffat said.
But he's working on it, apparently at the same time as he's writing his other monster hit, Doctor Who. "I never do anything else," he said. "[Sherlock executive producer and Doctor Who writer] Mark Gatiss is reading my Doctor Who scripts right now on the set of the movie he's shooting." And as for the good doctor, now played by Peter Capaldi, Moffat promises big change. "He's shockingly different from the previous incumbent," he said. "Burning eyes. It makes for a different show." A couple of weeks ago in Radio Times, Moffat wrote that, for one thing, the doctor's flirting days were over, a huge deviation from the David Tenant/Matt Smith era. Moffat says he didn't mean it literally. "The Doctor has never [at any] point in the series been asexual. Why would he be? He's a grandfather, he's been a family man, we've seen him fall in love. He's also the same man. He's the same bloke in a new body — he behaves differently is what I meant. And whether or not I'm telling the truth right now is another situation," he said. Vertue added, "You do lie a lot, Steven." The eighth season of Doctor Who premieres in August on BBC America.
Now enjoy this exclusive clip from the first installment of Sherlock Uncovered, in which Moffat and Gatiss talk about casting Benedict Cumberbatch and Martin Freeman: