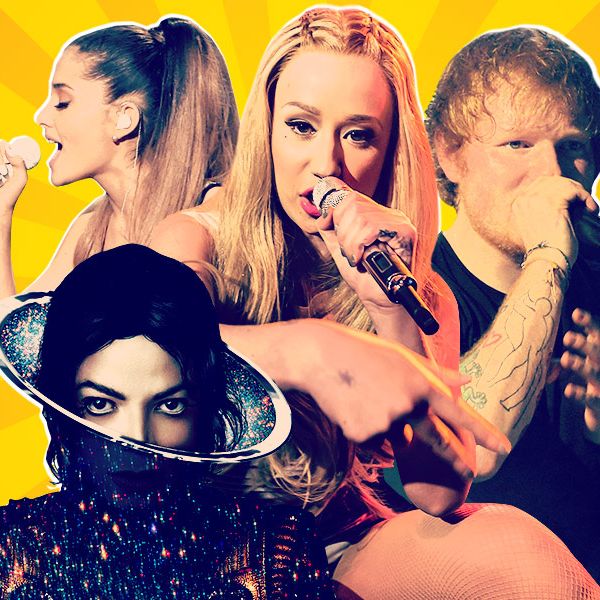 Photo: Maya Robinson and Photos by Getty
Hello, friends, and welcome to the most glorious of all pop-music seasons: Song of Summer time. We are starting now, because summer jams do not wait for warm weather; summer jams demand your attention in April and May, so that by the time summer actually rolls around, they are already dispiritingly familiar to everyone who comes in earshot of a radio. With that in mind, here are some early contenders for the 2014 Song of Summer, with future updates to come over the next several months. Prepare your "repeat" buttons.
The Early Favorite: Michael Jackson featuring Justin Timberlake, "Love Never Felt So Good"
This is the ersatz disco sound that Pharrell has been channeling for the better part of a year — but now it is from the actual early '80s (mostly), with Michael Jackson himself. This is your safe bet.
The Mr. Saxobeat Pick: "Problem," Ariana Grande featuring Iggy Azalea
Ariana's Mariah Carey impression + some light En Vogue references + a glorious saxophone riff = your bubblegum anthem for 2014. It debuted at No. 3 on the Billboard Hot 100 this week; it is your not-so-dark horse. Don't fight it.

The Minivan Pick: "Sing," Ed Sheeran
We have already debated Ed Sheeran in great detail, but to recap: Teens love him; moms love Jason Mraz; and this song cribs off Justin Timberlake enough to get it some radio play. Never underestimate that which Pharrell has produced.
The Inertia Pick: "Happy," Pharrell
It's been done before: Sometimes a song from the previous year — like, say, "Rolling in the Deep" — worms its way so deep into the collective ear that no other song can triumph. "Happy" probably peaked a little early? (It was No. 1 for ten weeks straight.) On the other hand, every single wedding dance floor of 2014 will involve crazy aunts losing their minds to "Happy." Victory is possible!
The Charli XCX Pick: "Fancy," Iggy Azalea
Lesser female act finds success on the back of a Charli XCX hook — it worked for Icona Pop, and it is totally plausible for Iggy. To wit: "Fancy" is already No. 4 on the Billboard Hot 100.

The Scandinavian Pick: "Do It Again," Robyn and Röyskopp
a.k.a. the Brooklyn barbecue pick, a.k.a. the "Robyn, for the love of all things holy, please release another full album" pick. This will work in the interim.

The Internet Pick: "Turn Down for What," DJ Snake & Lil Jon
Your unofficial soundtrack for "people doing goofy shit on the internet." Did you have other summer plans?