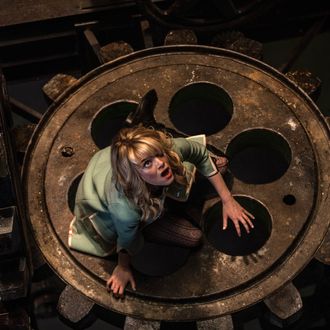 Photo: Niko Tavernise/Columbia Pictures
Spider-Man 2 swept into this weekend's box office on the power of his own sturdy webs, opening at number one (as predicted) with $92 million. With a $14.5 million haul,  The Other Woman dropped to second place at the box office. The comedy has made a total of $47.3 million in two weeks of release.
Heaven Is for Real is all about third place, where it's been hanging out since last week. This weekend, it earned $8.6 million, for a respectable $65.5 million total. Meanwhile, Captain America: The Winter Soldier fell to number four with a weekend haul of $7.7 million. This is the fifth week out for the Captain America sequel and it has now made $237.1 million domestically.
Rounding out the weekend's top five is the animated movie Rio 2, which got itself over the $100 million mark in one month of release ($106.4 million, to be exact). $7.6 million of that came these last three days, because parents and babysitters alike still need something to take the kiddies to.