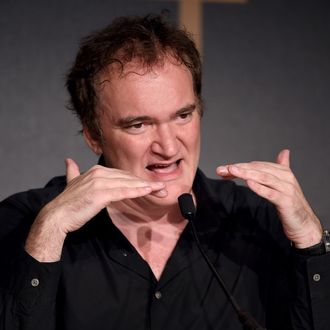 Photo: Ian Gavan/Getty Images
Break out your pistols: Quentin Tarantino has 90 minutes of unseen Django Unchained material he wants to incorporate into the original movie for a four-hour version that would play as a four-part cable miniseries. He announced this (more as an idea than an actual plan) during today's Cannes press conference for the film festival's special celebration of the 20th anniversary of Pulp Fiction, which won the Palme d'Or in 1994. The idea for the miniseries is that "it would use all the material that I have and it wouldn't be an endurance test," Tarantino said. "It would be a miniseries. And people love those! It's funny. You present someone with a four-hour movie and they roll their eyes. They go, 'I don't want to watch that!' But you show them a four-part miniseries that they like and they're dying to watch all four episodes in a row."
The topic had come up because someone had asked Tarantino how he feels about directors who expand or recut their old films. "I don't do a director's cut," he said. "My director's cut is the first time. My director's cut in America plays in 3,000 theaters, not on some ghettoized DVD as an afterthought." Even Kill Bill: The Whole Bloody Affair was something he'd envisioned and made at the same time as Kill Bill: Vol. 1 and Kill Bill: Vol. 2, always thinking that Bloody Affair would be his way of telling the story in one movie, and Vol. 1 and Vol. 2 as an experiment of telling it in two chapters. At that point, he took a quick minute to single out the 1980 special edition of Close Encounters of the Third Kind, which Steven Spielberg recut from the original 1977 theatrical release, adding new scenes and deleting some old ones. Tarantino said he thought it was particularly unconscionable that the VHS original was now impossible to find and the special edition is all anyone sees. (Tarantino got the original right when Criterion Collection released it on laser disc in 1990, so he's all good, he crowed.)
Tarantino is a favored son of Cannes. He debuted his first film, Reservoir Dogs, out of competition in 1992; took over the world with Pulp Fiction in 1994; and served as Cannes Jury President in 2004, when they gave the Palme d'Or to Michael Moore's documentary Fahrenheit 9/11. He selected this year's closing-night film, which will be 1967's A Fistful of Dollars, which he credits with not only being the first Spaghetti Western, but for essentially starting genre filmmaking. Tonight, he, Uma Thurman, and John Travolta are going to be on a Cannes beach for an outdoor screening of Pulp Fiction in 35 millimeter. Below, a few more things we learned from listening to the filmmaker talk for 45 minutes:
He no longer wants to kill anyone over that script leak of The Hateful Eight.
"I have calmed down," he said. "A bit. The knife-in-the-back wound is starting to scab." He said he had "a lot of fun" doing a script reading with Tim Roth, Samuel L. Jackson, Kurt Russell, James Parks, Amber Tamblyn, and others in L.A. this April. So much fun, he said, that "I might do that now with every script that I intend to do. I don't know if I'll do it maybe that public, but there was something kind of wonderful about committing to a full-on reading and having three days of rehearsal on it and have the actors explore the material and just hearing it out loud." He doesn't know what he'll wind up doing with it, he said. "I'm still in the process of writing it, finishing the second draft, and then I intend to do a third draft. Maybe I'll shoot it, maybe I'll publish it, maybe I'll do it on the stage, because I realized it could work really well onstage. Maybe I'll do all three."
Digital is a dirty word to him.
He insisted on Pulp Fiction being shown in 35 millimeter because, he said, "As far as I'm concerned, digital projection and DCPs is the death of cinema as I know it. It's not even about shooting your film on film or shooting your film on digital. The fact that most films now are not presented in 35 millimeter means that the war is lost. And digital projections, that's just television in public. And apparently the whole world is okay with television in public, but what I knew as cinema is dead."
He dines out on the pressure of increasing expectation.
When asked if he finds it harder and harder to top himself as he gets more famous and established, Tarantino said it's not something he thinks about. "Frankly, it's not a pressure I ever feel because, to me, that should always be there. I want people to expect a lot from me. I want people waiting with great expectation for my next movie." It makes him feel connected with directors he grew up idolizing. "I mean, when Brian De Palma would come out with a new movie, the whole first two weeks before the movie opened, I would count down the days. That week before Scarface opened, that was Scarface Week. You know, 'Six more days to Scarface!' 'Five more days to Scarface!' I'd have Scarface dreams … And then the new De Palma movie would open. I'd go see the first show, the first day, and no one could come with me. I had to see it by myself. Then I'd ruminate about the film all day long and then I'd go to see the midnight show that night, and then I could actually have some friends with me. That kind of excitement for a filmmaker is one of the things that keeps filmmaking alive, and vital, just like in Bob Dylan's time waiting for Bob Dylan's next album. Or in Norman Mailer's time waiting for his new novel. I don't consider that pressure. I consider that a luxury, that I actually have people who like my stuff and are waiting for the new one. I wouldn't want it any other way. The opposite of what you're talking about is I'm making a movie and no one gives a damn and it opens up and no one cares. That would be horrible."
No, really, he HATES this digital film era.
"Well, I'm hopeful that we're going through a woozy romantic period with the ease of digital, and I'm hoping that, while this generation is completely hopeless, that the next generation that will come out will demand the real thing. And the way after 20 years albums are slowly coming back, I'm very hopeful that future generations will be much smarter than this generation and realize what they've lost." He does like that it's made it easier for young filmmakers to get started. "Back in my day, you a least needed 16 millimeter to do something like that, which was a Mt. Everest most of us couldn't climb. So a more democratic, artistic society can come up with a whole lot of junk. But there may be some flowers in the dustbin that may appear that might not ever have the tenacity to get a film made if things were like in the old days. I'm talking out of the other side of my mouth saying the good part about it all, especially for younger filmmakers. Now, why an established filmmaker would shoot on digital, I have no fucking idea. I just don't get it at all. I just can't understand it at all."
He does a periodic assessment of the state of filmmaking.
Recently he started an email chain with a bunch of influential friends (he didn't say who) and asked them to name the ten most exciting filmmakers working today. The only two who were on everyone's lists were David Fincher and Richard Linklater. "The fact that Pedro Almodóvar would not be on everybody's list is a mystery to me," said Tarantino.
There's a reason he uses old music to score his movies.
"I don't do an original score basically because I don't want to hire a composer who I've never met before and trust them with the soul of my movie," he said. "I don't trust anybody that much when it comes to my movie. So if I choose the music, it's as if I'm choosing it. It's my choice. I'm not waiting until the 11th hour to have someone show me the soul of my son. I'm choosing the soul of my son."
If he were Young Tarantino watching Pulp Fiction now, he'd be into it. (It was a weird question.)
"It's kind of an unfair question, simply for the fact that I've always made my movies for me anyway," Tarantino said. "I make them for me and everybody else is invited and they can do with them what they will. So I'm sure I would love it!"
He's always casting.
A Bangladeshi journalist with a very distinctive voice stood up to ask him if he has a soft spot "for people who are real bad," and likes "portraying them as a little more sexy or a little more alluring?" Tarantino couldn't help himself. "By the way, I love your voice, man. You should be in movies. If anyone's here from Pixar, get this guy's number. I'm not making fun of you. I appreciate it."
Writing unsympathetic characters is his storytelling crutch and his rebellion against '80s filmmaking.
Then he actually answered the Bangladeshi guy's question. It's true. He loves bad guys. It goes back to his theory that "the first ten years before [a filmmaker makes his or her] first movie is probably the most important ten years of his life or her life … Those ten years before I was able to make a movie was me living through the '80s. And the '80s, as far as Hollywood cinema was concerned, was the most repressive cinema to come out of Hollywood since the '50s, and one of the ways it was so repressive was the fact that the Hollywood movie industry, almost seemingly led by Touchstone, had this thing where it was a mantra that every single movie had to follow — lead characters had to be likable. And that was the most important thing. Characters had to be likable. If the audience didn't like them, if the audience wasn't on their side 100 percent of the time, then it was considered a failure and those movies never saw the light of day. Or even if a character was a bastard or a character was a jerk, he always had to be reformed sometime in the last 15 minutes. Everything was fucking Scrooge, you know? You let the guy dig away, but in the last 15 minutes he redeems himself, and he's learned a lesson.
"And I hated that, yet at the same time, crime novels of that era were very exciting, pretty much led by Elmore Leonard, and those characters were warts and all, and those characters had all kinds of foibles and strange traits and dubious motivations, but you ended up rooting for them anyway. And in a novel a character doesn't have to be likable. A character can be a cryptic bastard, but they can be a very fascinating character that you want to follow. So in a lot of ways my cinema in the early '90s, I think there were a lot of other people like me who felt the same way, was a reaction to that repression that I'd felt in the '80s. And since that time it's sort of become my character style, my way of exploring characters."
He loves rewatching his own movies.
"Whenever I hear directors say they don't watch their movies or they can't watch their movies because all they see are the flaws and it's just too painful, I feel soooo sorry for those people," he said. "How can you get up in the morning? How can you do what you do if you think your stuff is so shitty? If it was too painful to watch my movies, I wouldn't make another one! I would just give up at some point! I just feel bad for them. I feel like their lives aren't as enriched as they could be.
"I watch my movies all the time, and I'm always — at home you have a whole lot of movie channels, and they show the films uncut and you just kind of hit the guide on your button and see all the movies playing for the next three hours going down the line. And you go down it and whenever I see one of my movies is playing, I'll turn it on. Maybe I'll watch it for a little bit, maybe I'm going through the scroll to see what else is on, but I always watch it, whenever it happens to come up. And sometimes I watch it for a bit and then I'm done, and sometimes I watch the whole thing. I hadn't seen Kill Bill: Vol. 1 I think in a couple of years. I'd seen Kill Bill: Vol 2. I'd screened it just for myself on film in the last year. But Kill Bill: Vol. 1 I hadn't. And I just noticed in 15 minutes it was going to be coming on, like Showtime 2, and I thought, Well, you know, I'll watch it again and I'll watch it through the opening credits, through the "Bang Bang You Shot Me Down" opening credits, and that will be it. Goddamn if I didn't watch that whole motherfucking thing to the fucking end! And I mean right to the very end. The last credits. And, uh, I felt very, very gratified."
He really, really loves that his life just allows him to watch and study movies all the time.
"One of the nice things about my life, because I've done fairly well in cinema, is that's actually afforded me a chance to almost live an academic's life," he said. "So my feeling is that I'm studying for my professorship in the history of world cinema and the day I die is the day I graduate."