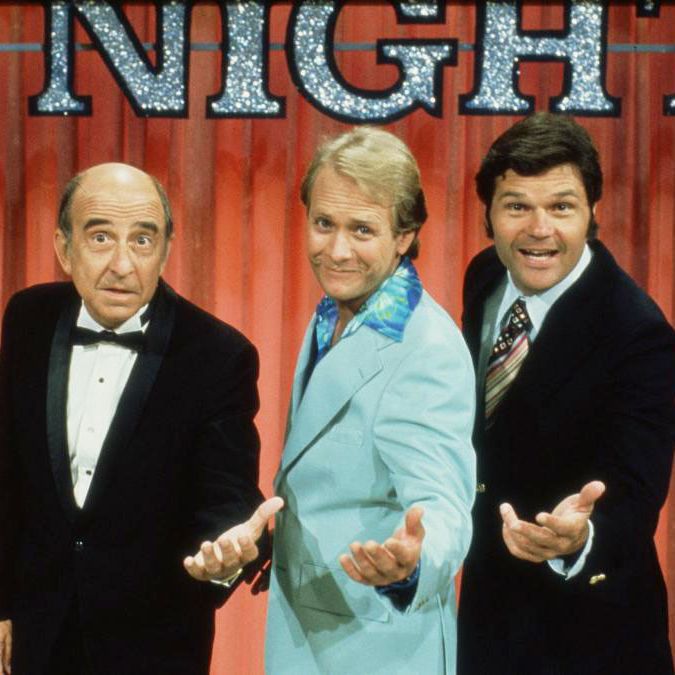 Fernwood 2 Night
Photo: Sony Pictures Television
The Paley Center for Media, which has locations in both New York and LA, dedicates itself to the preservation of television and radio history. Inside their vast archives of more than 150,000 television shows, commercials, and radio programs, there are thousands of important and funny programs waiting to be rediscovered by comedy nerds like you and me. Each week, this column will highlight a new gem waiting for you at the Paley Library to quietly laugh at. (Seriously, it's a library, so keep it down.)
Fake talk shows: Today the TV is lousy with them. In fact, the form has been constructed, deconstructed, and reconstructed so many times that there are some real talk shows, such as Craig Ferguson's, that have adopted fake talk show components. It makes sense that the genre would be so ripe for parody as it provides a perfect template for comedy. At its center you have a strong figure to lead and guide the show, often to serve as the audience's point of view. Through the guests you have a steady stream of characters to shuffle through, or big-name celebrity guests, depending on the goal of your fake talk show. Plus, the format of the show doesn't require a narrative through line, which can make the writing process more like a sketch than a sitcom, but if you want to have one, it's not difficult to throw one into the mix as well. With so many talk shows on the air these days, both real and fake, let's take a look back at one of the first fake talk shows to play with the form, create some very real characters, and just generally mess with its audience. I'm talking, of course, about Fernwood 2 Night.
For me, Fernwood 2 Night is one of those shows that I often heard talked about and cited by comedy people I respect but could never find. It has aired sporadically on Nick at Night, but beyond that hasn't been seen much since airing in 1977. Fernwood starred comedy legends Martin Mull and Fred Willard as the host and co-host respectively of a small-town Ohio talk show. Mull plays Barth Gimble, who was previously working out of Miami, but has run into some undisclosed legal troubles (that he'd prefer not to get into) which may or may not be the reason he's on a day-to-day contract with his show, forcing him to beg the viewers to call the station on his behalf. Willard plays his sidekick and announcer Jerry Hubbard, a longtime fixture on the station, who makes no bones about the fact that if Barth should be extradited back to Miami he would be more than happy to step in and host. The show is complete with a band, Happy Kyne and His Mirthmakers, though as we get to know Kyne we get to see how incredibly inaccurate his moniker is, and a wide variety of guests who are famous on either a local level or, occasionally, a national level.
As if being one of the first talk show parodies wasn't enough, how the show came to be is incredibly unique. Fernwood was created by legendary producer Norman Lear who has such programs under his belt as All in the Family, The Jeffersons, Maude, Sanford and Son, and Good Times, among others, including a show known as Mary Hartman, Mary Hartman. MHMH starred Louise Lasser and was a soap opera parody with a number of ridiculous events occurring to and around the titular character. Making the show even more unique, it truly took its soap opera-ness to heart and aired five episodes a week in syndication, thus generating an insane amount of content: 455 episodes in two seasons. So, in the summertime, rather than show reruns, the producers elected to create a replacement program that operated within the world of MHMH, and thus Fernwood 2 Night was born.
The first episode is really a master class in world building. Not a single opportunity is dropped in terms of showing us just what kind of town Fernwood is. As the show's opening music is played instead of electronic graphics a light up sign immediately greets us. There's no brass orchestra to play the theme: in Fernwood it's very accordion heavy. Barth's set seems to be designed to resemble a typical 70s living room, completely with TV tray for the guest's mugs. The show's first guest, Fernwood's mayor, played by Dabney Coleman, stops in to give the most disinterested and disingenuous wish of luck to the new show, and perhaps most telling, the show's main guest is a man who was pulled over in town that afternoon while passing through, named Morton Rose. He's on the show because he happens to be a Jew, and since most of the folks in Fernwood have never actually met a real life Jew, why not put him on TV? A few townsfolk call in to ask Morton questions such as, "when does Barbara Streisand's new album come out," and "why isn't he wearing his beanie?" Jerry Hubbard doesn't seem to be that much more sophisticated as he asks Morton "which tribe do you belong to?"
Despite the fact that Fernwood is a half-hour talk show and, like the show it was replacing, was on five times a week, they managed to cram a remarkable amount of content into the first episode. In addition to those two guests we meet a young man who was a pianist, was suddenly struck by illness and forced to live in an iron lung, but refused to let that stop him. He is rolled over to a piano, and reaching above his head to the keys, manages to play a piece by Mozart above his head (and as far as I can tell, this doesn't seem to be an editing trick. I have no idea how or why one comes to learn this skill). Happy Kyne and his band perform a version of KC and the Sunshine Band's "Shake Your Booty" that is so terrible it causes Barth to avert his eyes. And at the end of the program they are joined by a local scientist who has published a study that seems to indicate that wearing a leisure suit can cause cancer. Unfortunately, there's not enough time on the show to really delve into this issue, and they have to say goodnight.
After watching the premiere episode of Fernwood, it was very striking to me how much of a debt The Larry Sanders Show owes this program (and I am sure that's all the cast and crew of Sanders heard as they first began their show). Both programs are clearly drawing from the biggest game in town at the time: The Tonight Show Starring Johnny Carson. Both programs feature a host and a co-host that do their very best to appear to get along while on camera but inadvertently reveal their absolute contempt for each other. Frequently the host begins to make the interviews with the guests more about themselves and whatever is going on in their own personal lives. Sanders then took it even further and focused more on what was happening behind the cameras, creating rich, robust personal lives and interactions between their characters. However, the line between Fernwood and Sanders can be drawn very easily.
Unfortunately, beyond a few episodes on the Mary Hartman DVDs, there's no official release for Fernwood 2 Night, and I would wager with the large number of popular songs to clear, it's probably not going to happen for some time. Thankfully there were people out there with Betamax and VCRs to record these classics for us. Embedded below is the premiere episode of Fernwood, and several more episodes are waiting for you as well under the name of America 2 Night, as the show was named in its second season. Watch them before they go away and see where Space Ghost, Comedy Bang Bang, and Larry Sanders started.
Ramsey Ess is a freelance writer for television, podcaster and a guy on Twitter. His webseries "Ramsey Has a Time Machine" has a very self-explanatory title.