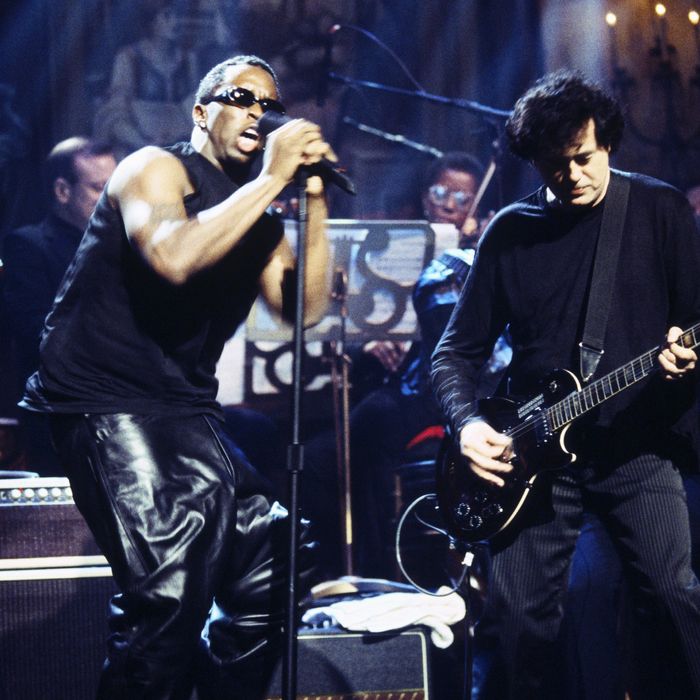 When Roland Emmerich's Godzilla was released on May 20, 1998, the bubblegum-pop explosion brought on by the perfect storm of 'N Sync, Backstreet Boys, and MTV's Total Request Live was still a few months away; the mainstream musical landscape was mostly a mess of post-grunge and rap-rock; and ephemera like Next's "Too Close" held enough sway to be crowned Billboard's top hit of the year. Not that everything we were listening to in May 1998 was bad, but the horrible soundtrack to the horrible movie Godzilla makes for a fitting time capsule from that particular period of time, filled as it is with overcooked, underwhelming, testosterone-fueled hodgepodge. With yet another American reboot of the monster saga tearing through theaters now, Vulture decided to revisit the 1998 movie's soundtrack* (click the asterisk to see the track listing) to see what we might learn about musical wasteland that was the tail end of the Clinton era.
1. In 1998, Puff Daddy Was Allowed to Do Whatever He Wanted.
Okay, we should point out that Sean Combs is pretty much still allowed to do whatever wants — only now, we don't always let him get away with it. But in 1998, it was Diddy's time to shine: He was nominated for Best New Artist, won Rap Performance by a Duo or Group for "I'll Be Missing You," and Best Rap Album for No Way Out. If Diddy was ever going to rap over Jimmy Page's "Kashmir" riff and have it produced by Rage Against the Machine's Tom Morello, why not do it at the end of the rap-metal revolution?
2. Mainstream Rock Music Reached a Critical Mass of Horrible.
The year 1998 might just be the worst year in popular rock music history. Post-grunge was still happening somehow, and nu metal and rap rock were cresting, the vast majority of which was truly awful. The Godzilla soundtrack featured the best of this — by which we mean the worst. There was Puff Daddy's aforementioned stab at hard-rock glory accompanied by a rock-and-roll dinosaur; Billy Joe Armstrong's duet with Godzilla himself (more on that below); the dudes from Rage Against the Machine really sticking it to the man with lyrics like "Godzilla, pure motherfucking filler / Get your eyes off the real killer"; a long past their prime Silverchair; Fuel sounding (like they always did) like Candlebox trying to be the Stone Temple Pilots trying to be Nirvana; the Alice in Chains tribute band Days of the New; and a freaking band called Fuzzbubble (who were actually discovered by Puffy, in his attempt to expose himself to different music). That said, it did feature a really pretty Foo Fighters song that oddly enough Dave Grohl once called his favorite ever. Overall, the Godzilla soundtrack gives a fairly accurate depiction of popular rock music in 1998: It was all artless and unlistenable, except for the unfashionably solid Foo Fighters.
3. Bob Dylan's Son Was the Next Bob Dylan (or Bruce Springsteen?) So We Let Him Cover David Bowie.
Makes sense when you write it out, doesn't it? No offense to Jakob Dylan (whose band the Wallflowers produced more than enough good songs to push them out of the dreaded One Hit Wonder category), but when he appeared on the Godzilla soundtrack, it felt like we were pushing him to be the Second Coming … of his father. And after blowing America away with "One Headlight" in 1997, it was only right that kid Dylan should headline the Godzilla soundtrack with a not-very-subtle cover of Bowie's "Heroes." Get it? People in the movie are heroes, because the lyrics tell us so: "We can be heroes. Just for one day." Did O.G. Dylan not write any heroic songs that Jakob might have covered?
4. Jamiroquai Had a Song That Wasn't "Virtual Insanity" and It Went to No. 1 in the U.K.    
While its video warns of the dangers of 3-D movies (sometimes they accidentally turn into 4-D!), even Jamiroquai ditched the smooth disco sounds of "Virtual Insanity" for a heavy guitar riff on "Deeper Underground." Disco-metal? It was Jamiroquai's only No. 1 hit in the U.K.
5. A Remix Meant Just Adding Monster Roars.
Green Day's "Brain Stew" is great, so what if we added a few Godzilla roars? Siiiiiiiiiiick.
6. Ben Folds Was Cool.
As a result of the incredible success of "Brick," there was a short time in the late 1990s in which Puff Daddy knew who Ben Folds was. Not saying that "Brick" wasn't a beautiful song, it's just that understated piano ballads about teen abortions from unfamous, normal-looking people don't usually become pop smashes. Yet it was, and thus putting a Ben Folds bonus track on a monster movie soundtrack seemed like the cool thing to do. "Air" is a fine example of a Ben Folds Five song, but it doesn't improve the album. It just serves as a contrast, reminding you of the dreck that surrounds it. Ben Folds Five on the Godzilla soundtrack is like someone embedding a Beatles song in the middle of William Hung's Inspiration.
* Stand and gawk at the soundtrack's so-1998 lineup of artists and songs:
The Wallflowers, "Heroes"
Puff Daddy featuring Jimmy Page, "Come with Me"
Jamiroquai, "Deeper Underground"
Rage Against the Machine, "No Shelter"
Ben Folds Five, "Air"
Days of the New, "Running Knees"
Michael Penn, "Macy Day Parade"
Fuel, "Walk the Sky"
Foo Fighters, "A320"
Green Day, "Brain Stew" (The Godzilla Remix)
Silverchair "Untitled" 
Fuzzbubble, "Out There" 
Joey DeLuxe, "Undercover"