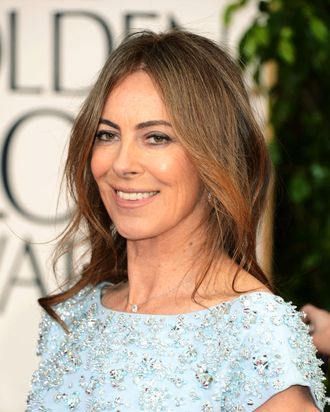 Director Kathryn Bigelow arrives at the 70th Annual Golden Globe Awards held at The Beverly Hilton Hotel on January 13, 2013 in Beverly Hills, California.
Photo: Jason Merritt/Getty Images
Zero Dark Thirty director Kathryn Bigelow and producer Megan Ellison are teaming up again. According to The Wrap, Kathryn Bigelow will direct an adaptation of Anand Giridharadas's nonfiction book The True American: Murder and Mercy in Texas, with Tom Hardy attached as the lead and Ellison's Annapurna Pictures set to produce. The book tells the story of Mark Stroman, a self-proclaimed "American terrorist" (presumably Hardy) who shoots and nearly kills a Bangladeshi immigrant in a Dallas minimart, and the intertwining lives of the two men in the following decades. With Bigelow helming another morally fraught post-9/11 terrorist saga, Hardy playing another macho bad guy, and Ellison producing another film with "American" in the title, it sounds like everyone is sticking to what they do best. Are you paying attention, Academy voters of the future?