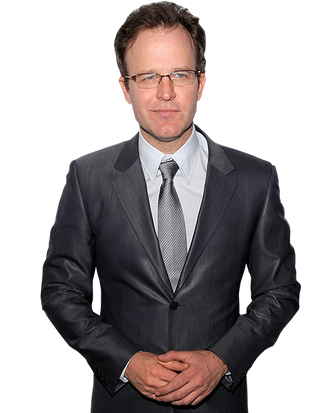 Tom McCarthy.
Photo: Jemal Countess/Getty Images
Sometimes Tom McCarthy acts in big-budget productions — you've seen him in Michael Clayton and 2012. Other times Tom McCarthy writes and directs indie darlings, like The Station Agent and Win Win. Most recently he penned Million Dollar Arm, the true story of J.B. Bernstein (played by Mad Men's Jon Hamm), an American sports agent who developed a reality show in India to recruit new baseball talent. Tom spoke with Vulture about a career that "doesn't make sense," working with Jon Hamm on Million Dollar Arm, and how he knew Peter Dinklage was the "coolest guy on the planet" before anyone else.

By the time you made The Station Agent, you had been acting for about ten years. What finally took you to the writer/director realm? Was it something you always wanted to do or was it something that blossomed over time?
I think that would go under the "blossom over time" category. And what provoked the change was just me sitting down and writing a script. The Station Agent was my first script and I was lucky enough to get it made. It took a while and I was definitely kicking it around for a number of years, but that script and that movie sort of changed my career. And my life, to some degree — but certainly my career.
So it did take a few years to get made?
God, yeah. I was knocking on doors forever. I mean, it's a hard pitch! Here's a movie about a lonely guy, specifically a dwarf who lives in a train depot in the middle of nowhere, wasn't screaming "commercial hit," and nobody knew who international superstar Peter Dinklage was at the time, or just how sexy he was. So it was a harder sell.
Did you write that with Peter in mind?
I did. I met Pete in New York and directed him in a play [called The Killing Agent] way downtown and way, way, way off Broadway, and I just thought he was terrific and saw what everyone knows now. I thought, This guy is a leading man! He has the looks, he's cool, he just carries himself in that way of a leading man. I started the idea of the script without him in mind, and then I realized, Oh, he fits truly well. It's funny because I remember when we were distributing that movie, Miramax had this moment where they were trying to put him out there upfront. I said, "We should just have a one-page ad in the New York Times with Peter Dinklage because he's just that cool." And they were like, "Nah, nah, it's too hard. But we'll figure it out." And now the guy's everywhere. He's the coolest guy on the planet.
Just in my own use of Netflix and Amazon over the past few months, The Station Agent has been consistently in the first page of most popular movies.
[Laughs.] I must admit my ignorance on these things because I have no idea how to do that, but that cracks me up. That's great. He's a great guy and that couldn't happen to a better guy. That's awesome.
I think it's pretty cool that you are able to juggle your passion projects with your acting work. Do you treat one part of your career as a means to the other or do they just coexist?
It is a constant juggling act. It's always trying to figure out what is grabbing my attention and what really excites me in terms of the work. That's always what leads me. If you look at my career and try to make sense of it, it almost doesn't make sense. I kind of live by the rule of "what do I really want to do and how do I go about doing that?" I haven't acted in two or three years because I've been too busy writing and directing and other things. And I miss it. Acting for me will always be a pleasure. It goes under the pleasure/privilege category. When you can get the work, it's great work! You work with great people. Directors. Writers. Actors. It's a tremendous job and I'm looking forward to getting back to it. The one thing about actors is that they're tremendously flexible people. If they get a job and it's like, "Okay we need you in Bulgaria for a month in June," they're like, "Great!" And when I'm writing or directing or editing, any of those processes, it's a little more difficult to do that. And by not having that flexibility, I've talked myself out of jobs.
How did Million Dollar Arm fall into your lap?
Once a year, I'll do a rewrite or a polish — not usually from scratch like Million Dollar Arm, but those guys approached me a story and I thought it was a tremendous story, something I could do and have fun with. I had just come off Win Win and I thought, Wow, this is a little bit of an extension of that in a fun way, but slightly bigger. At Disney. And I thought I'm gonna give this a shot. The producers were really nice guys and we hit it off and everyone at Disney was super supportive. I don't say this often about studios but they have a really cool thing going on. They've got a great group of people who are just genuinely nice. It's almost a bit scary at times, like, "Why is everyone so nice here?" And I was the writer on it from beginning to end, and look, that doesn't happen very much in Hollywood and you know why. But yeah, it turned out to be a great experience.
Is writing someone else's story any different from writing your own?
It's a little different. Station Agent, Win Win, Visitor, those are all original stories. It's all kind of out of nothing. Million Dollar Arm was based on this guy's life, and we had a template, but we had to shape the story. There was so much story. And it's a little difficult when you're interpreting someone's life and experience — you have a responsibility to it. But ultimately it all comes down to the same work, you know? Figure out your characters and your arcs and just do the kind of nuts and bolts work. I think that's why when you pick a topic or story, you'd better love it. Because it's grueling and you really want to enjoy what you're working on.
Had you met Jon Hamm before working with him?
I knew Jon socially — we had some friends in common from acting circles — but not well. But I gotta tell you, I flew out to L.A. for the table read and to see him in a different light from Mad Men, he just makes it look effortless. And that's what great leading men do. They carry themselves in such a way that they make it look easy. And he immediately got the humor and pathos of the script and through it all made him likeable. John makes what he does look easy.
Did you go with them to India to watch the shoot?
I didn't go on set, sadly, because I was having a kid at the time, but I did go prior to that on a research mission of sorts. So that was cool. It was essential, in a way, because I had never been and to write about a place without setting foot on it seems like sacrilege. More than anything I just wanted to get a sense of what J.B.'s experience was like going to India for the first time.
Moving forward to upcoming projects, can you tell me anything about The Cobbler?
No, no, no. BACK OFF, BOBBY, BACK OFF. [Laughs.]
I follow your work and didn't even know it existed until a few weeks ago. I see the same one- or two-sentence synopsis everywhere, that's basically, "A cobbler finds out what it's like to walk in another man's shoes" and that's all.
[Laughs.] It was a bit under the radar. I wish I could do more movies like this. It was last fall and I had this script I had worked on with another writer and it was just kind of in a place where we thought we could make it. I reached out to Adam Sandler through a friend — I didn't know him at all — and I said I thought he was great for the role, first choice across the board, and he jumped on, and we put it together very quickly. Like late August and September and we shot in the fall. It was really fun! It's nice to know that you can still make movies like that. Sandler's great in it. He totally connected with the material and is a total joy to work with. And we put together this really good cast — Hoffman and Buscemi and Method Man and Ellen Barkin and Dan Stevens and just a whole bunch of wonderful New York actors. It was really a great group. It's really humbling when you do that — you have an idea and quickly get all these amazing people to sign on. We really went for it. We're locking picture on that now. I imagine we'll take it to Toronto, maybe Sundance. We'll see.
Good to know! One last question: Given your history with the show and your connection to Peter Dinklage, do you follow Game of Thrones?
On and off. Honestly, I am way, way, way behind. I don't watch that much TV. I'm one of those guys who doesn't get into a lot of series. And I know that's sacrilege in today's day and age, but I don't do that a lot. I'm not someone who falls into the habit of watching serial television too often. Again, I know it's sacrilege in today's day and age where every year the next greatest show comes out.