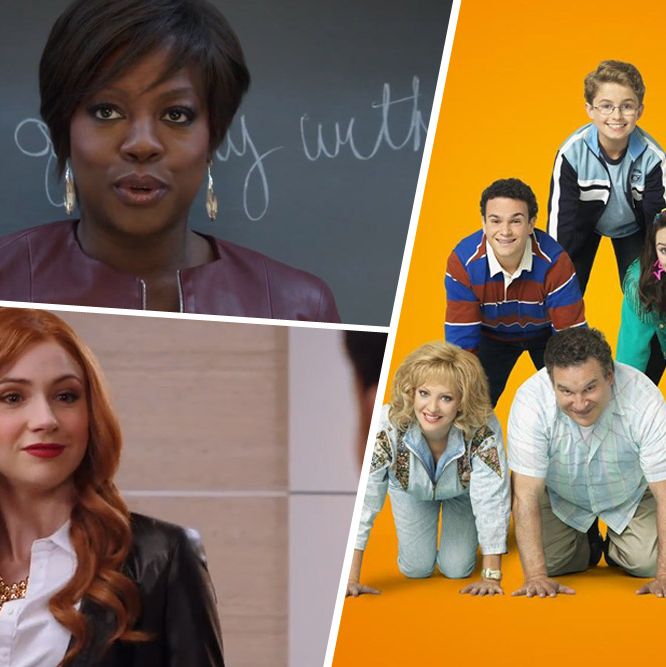 Smart networks are ones which allow themselves to be defined, at least in part, by their most successful producers. During the 1970s, ABC rode to the top of the ratings for the first time ever by embracing the post-Vietnam escapism of Aaron Spelling (The Love Boat) and Garry Marshall (Happy Days). CBS has dominated broadcast TV in the 21st century by continuously cloning the crime procedural formula perfected by Jerry Bruckheimer (CSI). And today, ABC announced a new schedule which suggests that its strategy for climbing out of fourth place will be to embrace the ethos of Scandal and Grey's Anatomy creator Shonda Rhimes — and not just by turning over the entirety of its Thursday lineup to her shows.
Almost everywhere you look on the ABC schedule (or its list of upcoming shows), Rhimes's DNA is evident. There are all the shows with non-white leads (Black-ish, Cristela and midseason's Fresh Off the Boat), or with fully diverse casts (Selfie, American Crime). Off-camera, ABC is also going beyond the usual (white, male) suspects: In addition to Rhimes's own How to Get Away With Murder, eight of the eleven other shows the network has ordered for next season have creators or showrunners who are either women (Selfie, Fresh Off the Boat, Marvel's Agent Carter, Secrets and Lies, The Whispers, Cristela) or a African-American men (American Crime, Black-ish). And while in another era, ABC might have cut loose so-so performers Revenge and Nashville, both shows survive in part because they fit in so well with the over-the-top, soapy formula Rhimes has made a hallmark of ABC dramas; Secrets and Lies should fit right in. Paul Lee, the man who actually runs ABC, introduced Rhimes at his upfront as "ABC's president of Thursday." In fact, from a creative perspective, Rhimes is now the heart and the soul of the entire network, even when she's not directly involved in a show.
Drilling down from the big picture to the nuts and bolts of the ABC schedule, it's clear ABC has learned some hard lessons from the very difficult season it's just been through, while still stubbornly making some of the same mistakes of past years. Let's start with the biggest move of all: Scandal and Grey's Anatomy are sliding back an hour on Thursdays, to 9 p.m. and 8 p.m., respectively. This was something ABC should've done last year, or even in January, when it became clear that Scandal was not a flash-in-the-pan hit, and that CBS and NBC's new comedies were going nowhere. Now, Scandal will have to go up against NBC's equally hot (and broader) The Blacklist, though not until early February. Lee told reporters Tuesday he's not worried about the extra competition, and he has point: TV is hardly a zero sum game anymore, and it's likely both shows will do just fine. Grey's at 8 will result in the show losing some audience, but it will definitely improve ABC's pathetic ratings in the timeslot (and make it harder for NBC and Fox to kick off their nights). Murder is hardly a guarantee to work, but the odds are oh-so-ever in its favor. With CBS in football mode for much of the fall, ABC should have no problem owning Thursdays among female viewers.
ABC is also wisely getting out of the 9 p.m. Tuesday comedy business, realizing that it can't compete with even NBC and Fox's so-so rated half-hours and that The Goldbergs belongs on Wednesday nights (behind The Middle). But ABC refuses to admit that eight comedies over three nights is simply too much for it to handle right now, particularly with its signature Wednesday comedy block in less-than-stellar shape: Modern Family is still a big hit, but it bled viewers this year, in part because ABC paired it with bombs at 9:30 p.m. ABC somehow expects that Selfie and Manhattan Love Story — brand-new comedies with no big stars attached — will magically find an audience against The Voice and TV's most-watched show, NCIS. If ABC were going to sacrifice something in this slot, why not at least bring back Trophy Wife, a show which at least has a (very small) loyal audience and an army of TV critics behind it? Not to beat a dead (sitcom), but even Lee couldn't explain why he gave up on Trophy, saying he was "sad to see it go." ("As if he had nothing to do with seeing it go," as HitFix's Dan Fienberg wrote.) ABC's constant comedy churn (see also Happy Endings, Don't Trust the B—) makes zero sense, and its refusal to pare down its comedy load until it solidifies Wednesday is equally perplexing.
That said, moving S.H.I.E.L.D. to 9 p.m. should be a net plus: More young folks are home watching TV at 9, and the show will now be able to give ABC at least a shot at (finally) finding an audience at 10 p.m. with a drama. And Forever, which is basically Quincy Immortal, seems a decent fit with S.H.I.E.L.D (though honestly, we may be approaching peak saturation of fantasy/adventure shows on TV, and it's doubtful the young dudes who make up the biggest part of the Marvel audience are all that keen on a hunky coroner. Forever would seem far better suited to air after Dancing With the Stars). Over on Wednesdays, ABC has made mostly smart moves, the smartest of which is the shift of The Goldbergs to 8:30 p.m. Not only will this help Goldbergs expand its audience, but it should help Modern Family a bit, by giving it a very compatible lead-in. And while it's impossible to know whether Black-ish will do any better than other shows ABC has tried after Modern Family, it makes more sense than Super Fun Night or Mixology ever did in the slot. It might also help boost Nashville, though probably not much.
Overall, ABC is avoiding radical changes to the structure of its schedule and making sure most (though not all) of its freshmen series have support from established lead-ins. That's obviously a good thing, and there are areas where the net should easily improve (Wednesday, Thursday, and maybe 10 p.m. Tuesday). But ABC is also doing nothing to address a number of trouble spots on its schedule: Nashville and Revenge are both very weak in the ratings, no matter how much ABC spins the DVR numbers. Dancing With the Stars  has had a good spring, but it's also shown that without just the right cast, it can see its numbers dive quickly. Resurrection has some life in it, but it finished its eight-week run this spring far weaker than it began. And while ABC boast a lot of really interesting midseason shows (Fresh Off the Boat, American Crime, and The Whispers) all look great, it also has … a lot of mid-season shows. The network this season threw out new concepts every couple of weeks starting in January, and save for Resurrection, they all flopped, in part because ABC wasn't able to properly market them or give viewers time to find them. It's great that ABC execs have such confidence in their new series development, but as the brief lives of recent really good shows such as Suburgatory, Happy Endings, and, yes, Trophy Wife demonstrate, quality means nothing if ABC can't figure out a way to translate "good" into "successful."