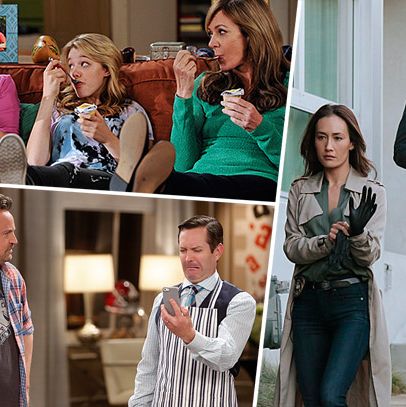 Last season, CBS, normally TV's most cautious and conservative network, decided to take a few creative chances. It tried a serialized, cablelike "limited series" called Hostages. It picked up a couple of single-camera comedies (We Are Men, The Crazy Ones) in addition to its usual laugh-track multi-cam half-hours. And it expanded its one-hour Thursday night comedy block to two hours for the first time since the 1950s, making room for one fewer crime drama on its lineup. The result of all this change? CBS lost nearly 10 percent of its audience this season and dropped even further among adults under 50 (falling to third place in this key demo category). No surprise, then, that CBS is now going back to basics in a big way. It's adding two spinoffs (of CSI and NCIS), another pair of cop shows, a comedic crime thriller with shades of The Big Bang Theory, and two very old-school multi-camera comedies. And it shelled out a huge sum of money to land a one-year deal for Thursday Night Football. Nobody is going to give CBS any awards for originality next year, but the Eye isn't looking for kudos. It just wants to stop the bleeding and get back to what it knows best: winning.
While the kinds of programming CBS is doing next season are completely on brand, the network is making a surprising amount of changes to its usually stable lineup. The four and a half-hour of new shows it's adding in the fall isn't massive, but it's up 50 percent from last season, when just three hours were fresh. What's more, CBS is shuffling a lot of time slots: Eight hours will be different than they are now, with not a single night returning intact. The most unexpected move by CBS is the decision to dump its 9 to 10 p.m. comedy block in order to launch new drama Scorpion in the hour. It will apparently be the first time CBS hasn't had a sitcom at 9 p.m. since the 1950s, and the first fall it hasn't had all comedy on Mondays since Scarecrow and Mrs. King left the lineup in 1985.
CBS couldn't have made this decision lightly, but in retrospect, the Monday swerve is no shocker. While the network had hoped it had found its successor to How I Met Your Mother two years ago when 2 Broke Girls premiered huge, that show has collapsed (at least relative to its early promise; NBC or Fox would love to have that show's Nielsens). And once HIMYM ended in March, ratings for CBS's Monday schedule dropped even more. Unlike ABC, which tends to ignore its problem spots for years, CBS is able to admit reality: It doesn't have the comedy strength to support two full comedy nights. With NBC and ABC moving The Blacklist and Scandal to 9 p.m. Thursdays, respectively, CBS wasn't about to jump in with a new drama on that night. One of its two comedy blocks needed to shrink, and Monday was most logical. Whether Scorpion can do better than comedy is an open question, but CBS is probably smart to at least try something different. And if it flops spectacularly? Mike and Molly and The Odd Couple are on its bench.
On Tuesdays, CBS will once again test the theory that many of its crime dramas are interchangeable. NCIS: L.A., relocated to 10 p.m. Mondays, will now be replaced by NCIS: New Orleans as the 9 p.m. show behind NCIS: The Mothership. The newbie NCIS will have to face ABC's relocated Agents of S.H.I.E.L.D., but the two shows don't really target the same audience. And with Fox and NBC sticking to niche comedy in the hour, New Orleans should do just fine. Likewise, CBS is replacing 10 p.m. CSI with a new slasher crime show, Stalker. Based on the clips the network showed to advertisers, it should be even more compatible with its 9 p.m. lead-in (the always gruesome Criminal Minds) than CSI was.
The night with the least and most amount of change for CBS is Thursdays. For the first few weeks of the season, it'll look radically different: Comedies will be replaced by football. The NFL seems to do well wherever it airs, so CBS should do fine. And when the comedies return in late October, the only difference will be that the sophisticated The Crazy Ones will have been replaced by the … not sophisticated The McCarthys, a comedy about a very loud Boston family. It looks to be a good fit with Two and a Half Men, which will head into its final season. As for the rest of the week, CBS is shifting Sunday stalwart The Amazing Race to Fridays at 8 p.m. (with Undercover Boss expected to take over in January), and it's filling Race's 8 p.m. Sunday hour with "prestige" drama Madame Secretary, starring Tea Leoni as Hillary Clinton (but not really). CBS has pretty much given up on reaching young viewers on Sunday, and its new lineup seems designed to win critical raves and lure advertisers who like the very rich folks who watch shows such as The Good Wife and 60 Minutes.
There's one other telling aspect of CBS's schedule next season, one not immediately obvious: All but one of the five new shows the Eye is scheduling in the fall hail from CBS Television Studios, the network's in-house production arm. This is not an accident. CBS has clearly decided that its financial future is in owning as much of its lineup as it can, in order to maximize the profits of any shows on its air. Other networks are also seeking to own their lineups, but not nearly as much as the Eye. The reason CBS is so invested in this idea of ownership is because the kind of straightforward, no-frills dramas in which it specializes continue to be in demand across the globe. Hawaii Five-O might not be lighting the world on fire in the Friday ratings, but it makes boatloads of money for CBS TV Studios, and thus CBS proper. As this season has proven, even CBS isn't immune to the massive ratings declines hitting all TV networks (even cable). Networks need to make sure shows can profit even if advertisers aren't willing to spend as much money on them. So even if CBS's new shows end up being ratings losers next season, there's a good chance the network will end up a financial winner anyway.