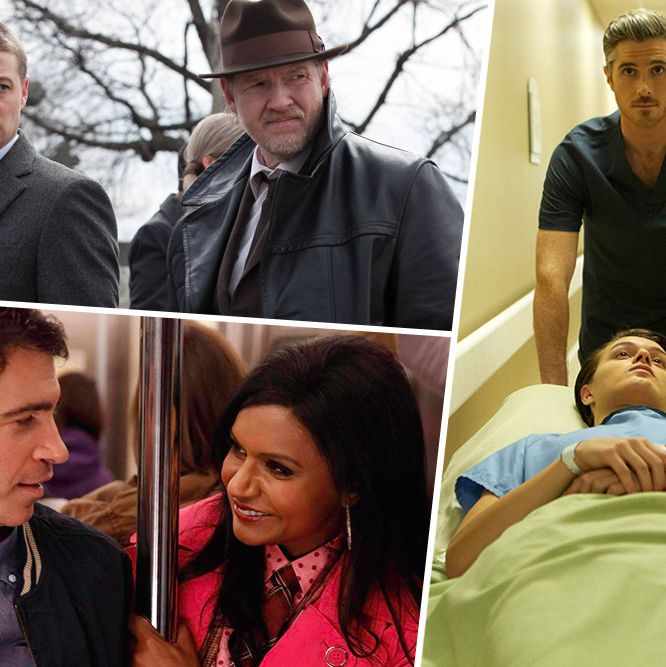 Talking to reporters this morning, Fox Entertainment chairman Kevin Reilly offered up the ritual confession of sin that struggling network chiefs are expected to deliver: The current season, he admitted, "was a tough one for us." And indeed, Fox has run into some major turbulence of late, caused by a perfect storm of American Idol having its worst performance ever, Glee falling into a death spiral, and comedy hit New Girl losing its way (hopefully the drop in quality is only a temporarily rough patch). But with the new schedule he unveiled today, Reilly seemed to go out of his way to demonstrate that Fox wasn't about to panic in the face of adversity.
The network plans to roll out just four new scripted series in the fourth quarter, and structurally, its lineup isn't radically different from past years: dramas on Monday, comedy on Sunday and Tuesday, a reality show that airs twice a week. But the fall stability masks significant shifts to come, because Fox is also planning to hit viewers with a ton of big new series over the next year. In fact, the network has more shows on its bench (at least seven, with more likely to come) than on its fourth quarter schedule (five, including the unscripted Utopia). Now that American Idol can no longer be counted to keep Fox on top, the network is looking elsewhere for salvation.
The first thing you notice about Fox's lineup when looking at it is how the network's comedy footprint has diminished. Last year, Reilly announced five hours of sitcoms for the fall spread out over three nights; it's down to just three and a half this year on Sundays and Tuesday. It's a retrenchment that is as obvious as it is wise: Fox may have launched some of the most critically adored comedies of recent years, but save for New Girl, none has been a big hit. And with the latter show suffering from serious erosion in same-day Nielsen ratings (it does a bit better once DVR replays get tallied), Fox had no choice but to slim down in the comedy department.
The network's game plan also includes ending its long-running Animation Domination block on Sundays with its decision to shift Brooklyn Nine-Nine to the night and throw newbie Mulaney into the mix. Live-action shows have worked for Fox on Sundays before, of course (e.g., Malcolm in the Middle, The Bernie Mac Show), and both Brooklyn Nine-Nine and Mulaney promise to benefit from being on the same night as Fox's massively rated NFL games. (As one source told me, "People watch football.") With Brooklyn in its new home, Fox can make Tuesdays all about New Girl and The Mindy Project, two shows that have modest overall ratings but are actually relative powerhouses among women under 35 (particularly those who make a lot of money). The old two-hour block never made sense thematically; the new comedy (demo) power hour does (particularly if ABC abandons sitcoms during the Tuesday 9 to 10 p.m. hour, which it should). Fox is also shelving its Friday comedy burn-off slots, which served no purpose other than as a hospice center for promising shows (Enlisted) and those on their last legs (Raising Hope).
Fox's other big-ish fourth quarter move is the unscripted Utopia, which will run on Tuesdays and Fridays for at least six weeks (and many more if it works). The show is sort of a mix of Big Brother, Survivor, and Fox's own late, lamented Paradise Hotel: It's all about folks living inside a bubble, fighting with each other for limited power and resources. (This also describes network TV, but I digress.) If it's like any of those aforementioned reality shows, Utopia should have a strong female skew, which should give New Girl the lead-in boost it'll need for next season's reboot. And if Fox is really lucky, Utopia will be what all the networks so desperately need right now: A new unscripted hit, and one that's not a singing show. One of the saddest trends in recent years is how the broadcasters haven't been able to launch any new blockbuster reality franchises. The Voice is obviously a hit, but that's over three years old now, and it basically just stole away the American Idol crown. Shark Tank is a very valuable asset for ABC, and a bona fide hit, but the network's decision to keep it on Friday has limited its upside. Having not seen one second of footage from Utopia, I can't tell whether the show has any potential at all, or is about to crash and burn. But credit Fox for at least trying something bold in the unscripted space once again. It's long overdue, and if the network gets lucky, it could radically reverse its fortunes.
Elsewhere, it's clear Fox is very, very excited about new fantasy drama Gotham, the Batman origins story headed for 8 p.m. Monday. Almost Human was working just fine on the night, and network insiders were sure it'd be back. But financial issues, and a feeling the show would never be more than modestly successful, led to Fox cutting it loose in favor of Gotham, which Fox believes can be as big as 9 p.m. companion Sleepy Hollow. (Reilly's one-word description of Gotham: "Noisy," which is quickly becoming the buzzword of this year's upfronts.) Gotham does seem to have all the elements of a hit, though ABC execs thought exactly the same thing about Marvel's Agents of S.H.I.E.L.D., and that show — while still a success — ended up doing only a little better than Almost Human.
While Gotham will have to open Mondays, Fox's other scripted newcomers all get help from established lead-ins. Hell's Kitchen, one of TV's most underrated reality franchises, will try to funnel younger viewers to Red Band Society, a dramedy Reilly believes is in the same vein as The O.C. or 90210 (even though it takes place in a hospital filled with sick kids). On Thursdays, schedule stalwart Bones will get shuffled off to Thursdays at eight, where Fox hopes to funnel its broad, somewhat older audience into Gracepoint, an Americanized version of British murder mystery Broadchurch. This is one of Reilly's "event" series, which means it's been filming for a while, has cable-esque production values, and some very buzzy stars (David Tennant, Anna Gunn, Jacki Weaver). Luckily, it's airing its ten episodes before NBC moves The Blacklist to the night, so it has at least a shot at finding an audience. At the very least, it should fetch higher ad rates than Fox's faded X Factor, which had been stinking up the night the past three years.
Last week, we wrote about Reilly's ambitious attempt to bypass pilot season and how he hoped it would lead to new shows being given more time to work on episodes before they launch. While that strategy only marginally affected the fall schedule — Gracepoint and Mulaney have been in the works for a while — it'll certainly come into play later in the year, when Fox unveils all sorts of big bets: The hip-hop drama Empire, from Lee Daniels; the Rainn Wilson crime procedural Backstrom; the Egyptian period drama Heiroglyph. At some point, we should also see M. Night Shyamalan's Wayward Pines, which has been in the works for over a year and was supposed to air sometime this year. And there'll also be another season of American Idol, though less of it than ever: Reilly is promising to reformat the series, shrinking hours and nights and hoping to turn it into a utility player. Oh, and Glee will be back, too (though maybe not for a full season of 22 episodes), as will another season of The Following.
Basically, Fox will be serving up a smorgasbord of splashy new shows and established series throughout 2015, which will either confuse viewers because of all the schedule churn, or keep them excited by offering them interesting new choices every few months. "We're turning Fox into a 24/7, 365-day-a-year experience," Reilly told advertisers Monday afternoon. The question now is whether viewers will want to show up for the buffet.