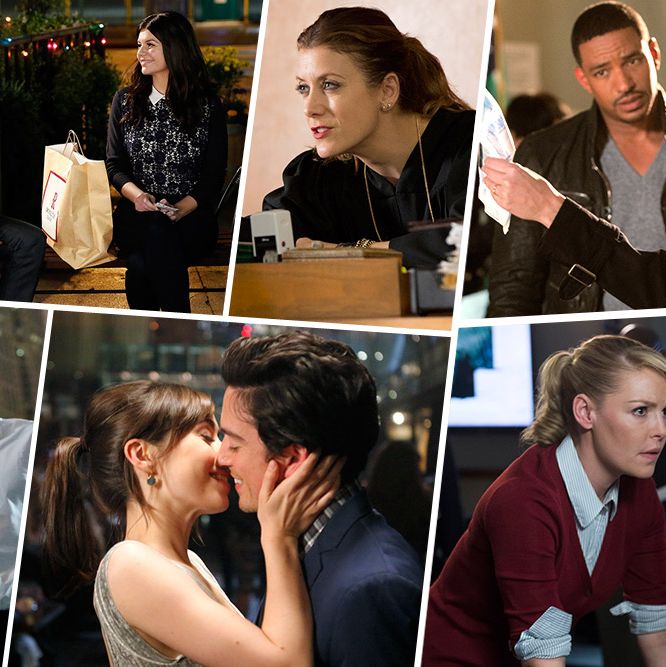 Vulture's TV critic, Matt Zoller Seitz, will be watching and evaluating the early clips and concepts of each of the new shows unveiled at this year's upfronts. Here are his thoughts on NBC's shows.
A to Z
The gist: Basically How Your Parents Met Each Other, narrated by Katey Sagal and starring Mad Men's Ben Feldman as Andrew and How I Met Your Mother's Cristin Milioti as Zelda. (Andrew to Zelda. A to Z. Get it? Get it?) 
Gut reaction: Romantic comedies of all kinds rise or fall on the basis of acting ability and chemistry. This duo has both departments covered. The series should give Feldman a chance to exercise those Young Richard Dreyfuss muscles he occasionally tried out at SCP — hopefully the Goodbye Girl Dreyfuss and not Whose Life is it Anyway? — and Milioti's charms are hardly in question. Still, so many things could go wrong, and the trailer makes this feel like another example of the bane of NBC's existence: sitcoms that might've worked as standalone films but grow tedious when drawn out. Still: high hopes tempered by bitter experience.
Bad Judge
The gist: In this series from comic filmmaking duo Will Ferrell and Adam McKay (Anchorman, et al.) Rebecca Wright (Kate Walsh) plays a Los Angeles judge who has a messy personal life and is a bit of a flake, but loves her job and is good at it. Complications ensue when she finds herself caring for a boy whose parents are in jail because of one of her rulings.
Gut reaction: See A to Z, above. This trailer gives no evidence that this can be an effective TV show that runs for one or more seasons. In fact, it feels like a trailer for a femme-centric cousin of About a Boy, which was itself a film based on a novel, and which was recently adapted into a TV show that, despite the fact that it just got renewed for a second season, doesn't really work as a TV show.
Constantine
The gist: Matt Ryan plays John Constantine, a self-institutionalized "exorcist and master of the dark arts" who's battling demons. Not his own demons; actual demons. The source is DC Comics' Hellblazer, which was succeeded by the Keanu Reeves-starring movie Constantine.
Gut reaction: Ryan (of Collision and the short-lived Criminal Minds: Suspect Behavior) is a terrific actor, and the trailer for this series promises lots of humor and high production values. But of course, TV realities being what they are, they'll probably lose the production values after the pilot and keep the humor (if we're lucky). Reluctant enthusiasm, though the presence of genre vets Harold Perrineau and Jeremy Davies is heartening.
Marry Me
The gist: Annie (Casey Wilson) was hoping her boyfriend Jake (Ken Marino) would propose to her after their two-week vacation, and … well, you can just watch the trailer. It's another long-form story of a relationship, in this case, a marriage.
Gut reaction: Like a lot of NBC comedies, this feels like it'd be an adorable and possibly very entertaining standalone film. Prove me wrong, show.
The Mysteries of Laura
The gist: Debra Messing plays NYPD homicide cop Laura Diamond, who's trying to balance her hectic and sometimes dangerous work life against her responsibilities to her two kids and the annoyance of her soon-to-be ex-husband (Josh Lucas).
Gut reaction: I'd say that a mix of knockabout domestic comedy and procedural cop-show tropes wouldn't seem like it can work if Fox's Brooklyn Nine-Nine hadn't already proved that it can. Showrunners Greg Berlanti (Everwood) and McG (director of the Charlie's Angels movies) know what they're doing. The only question is the same one that every new show faces: Can it sustain its concept?
State of Affairs
The gist: Katherine Heigl plays Charleston Tucker, a woman who helps assemble the president's daily briefing assessing threats to national security.
Gut reaction: Looks like the non-crazy network version of Homeland. That's not necessarily a bad thing; NBC's proved they can do this sort of hard-edged military action series with The Blacklist, and Heigl's an excellent choice to play this sort of driven, hyperintelligent loner. I'll be there just to watch Alfre Woodard play the President of the United States, a.k.a. the Commander-in-Chief of Side-Eye.