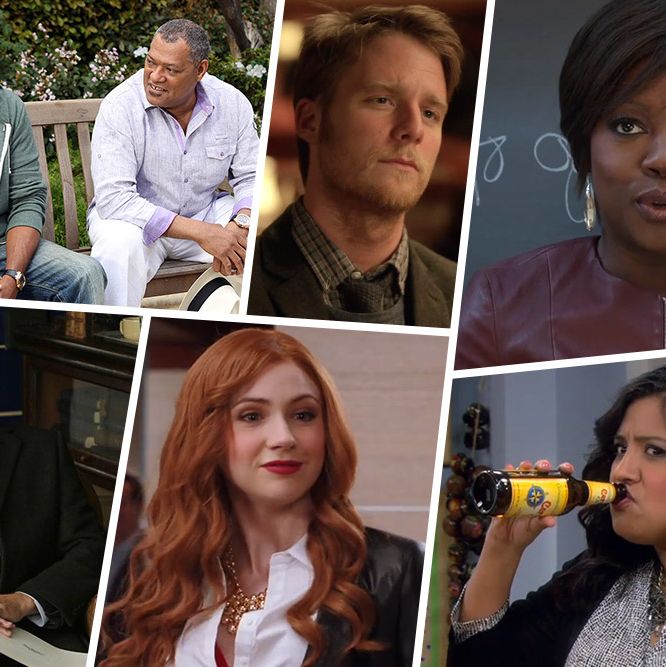 Vulture's TV critic, Matt Zoller Seitz, will be watching and evaluating the early clips and concepts of each of the new shows unveiled at this year's upfronts. Here are his thoughts on ABC's shows.
Black-ish
The gist: In this laugh-track-less sitcom from Kenya Barris (The Game), Anthony Anderson plays a man trying to raise his kids with a sense of cultural identity amid competing forces, some of which live in his own house. Laurence Fishburne plays the hero's dad.
Gut reaction: I'm really looking forward to this. Anderson is a brilliant comedian and I'm glad to see him at the center of a show rather than stealing scenes from less interesting actors.
Cristela
The gist: A star vehicle for stand-up Cristela Alonzo.
Gut reaction: I can't have one. There isn't enough information in this clip or, indeed, on the internet itself. Best of luck, though, Cristela.
How to Get Away With Murder
The gist: Viola Davis plays a defense attorney and law professor whose law class gets involved in a case.
Gut reaction: The minimalist trailer says, "This show is about Viola Davis commanding the screen." Since anybody who's seen her act already knows she can do that: slam dunk. Hopefully the show can live up to this Godzilla-like slow unveiling. If it's half as much overheated silly fun as Scandal, I'll be happy anyway.
Forever
The gist: Ioan Gruffudd plays Dr. Henry Morgan, a medical examiner who's 200 years old. This series teams the brilliant but impulsive British-born doc with Detective Jo Martinez (Alana De La Garza). They solve a new case each week as the doc tries to figure out the cause of his immortality.
Gut reaction: The clip ABC chose makes the series look like a gloss on Sherlock Holmes, a concept that already has at least two current examples. Hopefully there's more to it than that, but even if there isn't, the marketplace can support more than one show about hunky genius Englishmen solving crimes.
Manhattan Love Story
The gist: Analeigh Tipton (Hung) and Jake McDorman (Warm Bodies, Greek) star in this ensemble romantic comedy that apparently gives the characters internal monologues.
Gut reaction: I need more than this to have any kind of reaction — even if it's just an additional clip verifying whether the entire show has internal monologues. I sure hope not.
Selfie
The gist: Doctor Who's Karen Gillam and John Cho star as a viral-video star and the marketing expert trying to reshape her image.
Gut reaction: I can't imagine this series holding my attention for longer than 15 minutes, and the title is already dated. But I like both actors, so I would love to be proved wrong.