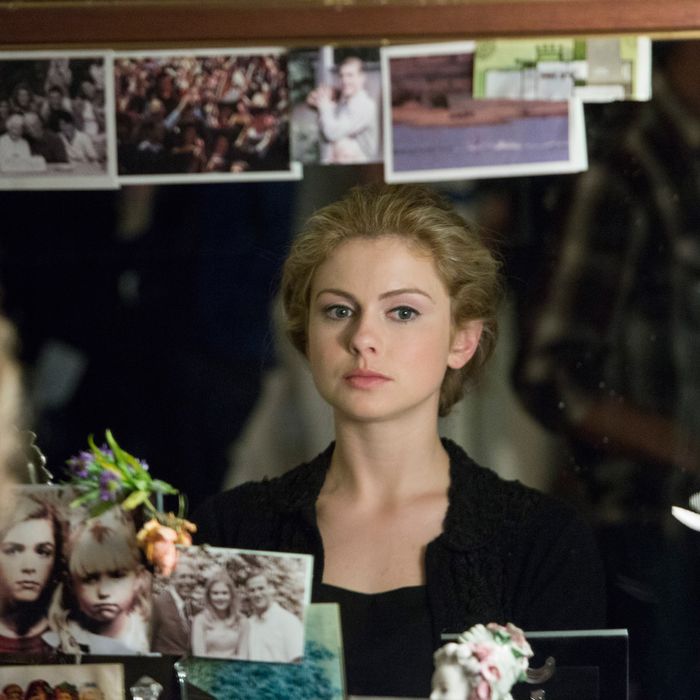 The first thing Lifetime's vice president of original movies Lisa Hamilton Daly shows me when I arrive to the set of Petals on the Wind is skin. "This is a thigh," she says, swiping through tight shots of a good-looking young couple in flagrante on her iPhone. "That's a boob." She snapped pictures several hours ago when production on the network's Flowers in the Attic sequel was, disappointingly, closed to visitors as the movie's damaged heroine Cathy and her abusive dancer boyfriend Julien made not-so-sweet love in his dingy New York loft. If some complained that Flowers took too tasteful an approach in realizing (or failing to) the incestuous highs that made Andrews's novels required under-the-covers reading for girls in the early '80s, the story's next chapter, which premieres tonight at 9 on the network, proves both more adult and more faithfully lurid. "It is high-level trashtasticness," Daly promises.
Petals director Karen Moncrieff decided quickly to make like Scandal and pitch Andrews's twisted sudser like she would a Greek drama: big and heightened and sold on emotional realism. The irony of trying to make something legitimate out of Andrews's stilted dialogue and smutty melodrama — and on basic cable — is not lost on the director, whose resume includes devastating critically lauded indies Blue Car and The Dead Girl. Star Rose McIver, who takes over the role of Cathy from Kiernan Shipka, also hails from solid dramatic work in Masters of Sex and Peter Jackson's adaptation of The Lovely Bones. "We know it's pulpy, and we're all trying to elevate it," Moncrieff said hurrying through lunch on a windy afternoon in mid-March, the second-to-last day of a three-week shoot. "We're trying to make it as real and fulfilled and artful as we can."
Or as much as that's possible anyway: Petals picks up in the '70s, a decade after the events of Flowers, which concluded with the Dollanganger children — Cathy, her older brother-lover Chris, and their little sister Carrie — escaping the attic where they had been imprisoned for two and a half years by their murderous mother and fundamentalist grandmother. The cycle of abuse (and poisoned baked goods!) continues in the sequel. Because Cathy and Chris can hardly keep their hands off each other, she runs away to pursue a ballet career and takes up with an egomaniacal dancer. Later, still bent on revenge for their years in the attic, she seduces her mother's husband. "Yes, crazy things happen," Moncrieff agreed. "But there are people in the world who are kept in captivity and have the legacy of abuse they have to overcome. It's a fascinating starting place."
The first step in growing up Petals was to amplify the sex, subdued out of necessity on Flowers; Shipka, after all, was just 13 at the time of filming. "We just did a super graphic sex scene where Julien goes down on Cathy," Moncrieff told me excitedly. (Having seen the finished movie, Vulture can confirm that scene, in addition to several other racy acts, remain intact.) "I'm always interested in psychosexual stuff. To me, Lifetime should be about the female gaze." Blue Car dealt with, among other things, a relationship between a teenage girl and her English teacher that becomes sexual, and Moncrieff said she was keen to explore Cathy's evolving attitude toward sex, which winds up being for her the ultimate weapon. "Usually, if it's a feature for theaters, they won't let you go to all these places — incest, domestic abuse, all the stuff we get to deal with here. The stories I'm drawn to, half the time I have to just fight for the right to tell the story."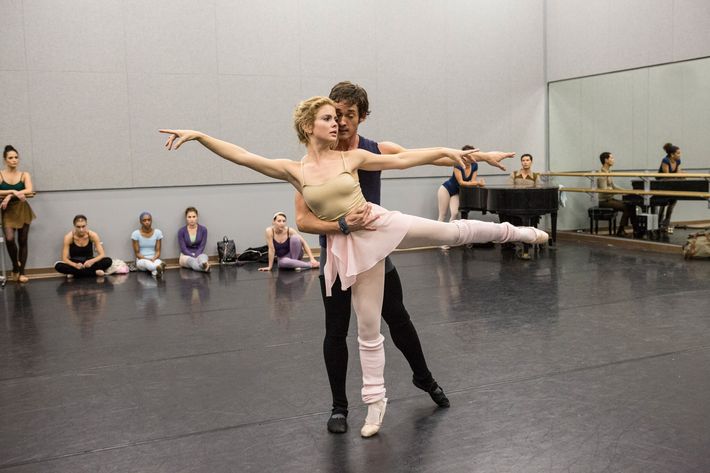 In one scene Vulture was on hand to observe, Julien explodes after he thinks he's seen Cathy flirt with a fellow ballet dancer during rehearsals for Romeo and Juliet. "I'm Romeo! I am!" he screams at her, throwing a chair across the room. "You're nothing … Why can't you love me?" Then he cries and makes out with her. To pull off the tonal balancing act, the director cast serious-minded actors who would have worked wonders in the enjoyably pulpy early seasons of Nip/Tuck and True Blood. McIver says for her the trick is to play the truth, and not the plotting, of the situation. "Romances do blossom in really inappropriate places. People do die. Cathy comes up against several difficult situations and she tries to stay grounded and fight her way through them," she said. "We have a tendency to want to dilute stories and make them 'realistic' by getting rid of the powerful moments."
"Being a struggling artist striving for perfection, juggling relationships … I can very well imagine what it's like to get to that degree of obsession," said Will Kemp, the actor who plays Julien and a former dancer for Britain's Royal Ballet. Not that it's so easy to make V.C. Andrews un-silly. "You leave real life at the door," Kemp said. "There's a pleasure in that, and there's also an absolute fear and dread and panic." Giving the ballets some heft helped. Moncrieff staged several dances, hiring a choreographer to create charged sequences for McIver and Kemp to beautifully and wordlessly work out their drama. (In some shots, McIver is helped by a body double.) Kemp drew inspiration from Kenneth MacMillan's 1963 version of Romeo and Juliet, which demanded a more authentic, lusty portrayal of the story than in previous ballets. "Petals happens to be set in a time when sex really did come in to the rehearsal room and into the pieces," he said.
Not everything in the novel needed fleshing out. Kayla Alpert, who adapted and pruned Flowers for Lifetime, did the same for Petals, opting to drop Cathy's first romantic arc in the book, a relationship with the Dollanganger kids' adoptive father. "After doing incest, we decided we didn't need pedophilia on top of it," Lifetime's Daly said. "It's a huge book so we had to condense it for the film, but all the beats are there." If it feels at times that Petals speeds through those many beats, it may be a reflection of the production's rapid pace. Lifetime ordered the sequel days before Flowers' January 18 premiere, a fortuitous move in light of the robust 6.1 million viewers who tuned in. The movie went into production a month later, and wrapped a month after that. But Moncrieff is used to the tight turnarounds of independent film, and with one day to go, she is reasonably sure she nailed a Petals that is a guilty pleasure to be proud of. "I think it's gonna be a good movie," she said before rushing off to direct a another volatile argument between Cathy and Julien. "I'm kind of scared to say that, but I think it is."