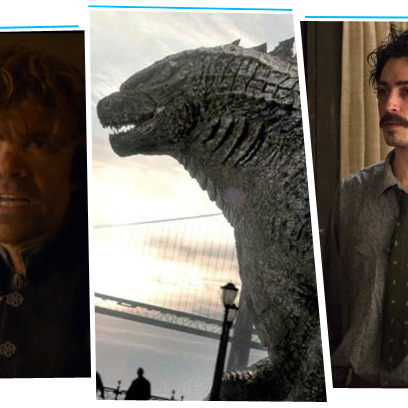 Every week, Vulture faces the big, important questions in entertainment and comes to some creative conclusions. This week, we freaked out along with Peggy after she opened Ginsberg's gift, gossiped about Solange and Jay Z, and evaluated TV upfronts. Naturally, spoilers follow. You may have read some of these stories below, but you certainly didn't read them all. We forgive you.
Q: How was your weekend?
A: You know that is SO nice of you to ask. We had our first-ever Vulture Fest this past weekend. We rocked out to M.I.A. and Solange, hosted a brunch with Rufus Wainwright, and chatted with Adam Scott. You can see all the good times you missed here, and hopefully, it will inspire some FOMO.
Q: Speaking of Solange, what the heck happened?!
A: In the family feud that rocked the internet, Solange attacked Jay Z in the elevator of the Standard Hotel after the Met gala. Since then, Solange, Bey, and Jay Z released a joint statement that did not tell us anything that we actually wanted to know: What did Jay Z say to Solange?
Q: What is going on in Westeros?
A: Recapper Nina Shen Rastogi writes, "It was great to see Peter Dinklage come roaring back to life this episode." Tyrion is on trial for the death of (bastard) King Joffrey, which prompted us to wonder how exactly the justice system works in these parts. There's also a fun, alternate ending to keep you entertained.
Q: That's fun! Any behind-the-scenes stuff that I can impress my nerd friends with?
A: Indeed! Did you catch the Monty Python reference in the third episode this season? There was also news that Lily Allen turned down a cameo on the show because, you know, double incest. We also chatted with 24: Live Another Day's Michelle Fairley on the genius of the show, even though she's no longer on it.
Q: What about Mad Men?
A: The latest episode had THAT ONE SCENE. Naturally, we kind of couldn't stop talking about it. Matt Zoller Seitz couldn't stop talking about it.  Margaret Lyons couldn't stop talking about it. So we talked to Ben Feldman about the magical moment, as well as a psychiatrist. Then we did a video mash-up with Se7en.
Q: How was Louie?
A: Louie had another gem of a moment with guest star Sarah Baker, who delivered a searingly honest speech about fat women. Recapper Danielle Henderson writes that the show keeps "bringing us to wildly uncomfortable and deeply scary places." She then writes about what the speech got right and wrong about fat women. We transcribed and clipped the speech Baker gives in "So Did the Fat Lady," and also chatted with her about her big scene. Meanwhile, in honor of the second episode of the night, "Elevator, Part 1," we talked with fake daughter Ursula Parker and made a supercut of all of her super whiny moments.
Q: Should I go see Godzilla?
A: Admittedly, American remakes of Godzilla have a long history of failure. David Edelstein writes, "I confess that, however much I enjoyed the boffo finale, I was taken aback by the upbeat slant." There are some surprising things about the new movie, and it's probably not what you think (you shouldn't click those links if you want to go in with virginal eyes).
Q: What's happening with Upfronts?
A: We had Josef Adalian analyze the 2014-15 schedules of NBC, CBS, ABC, and Fox, while Denise Martin assessed what we learned from each of the networks. You can also read Matt Zoller Seitz's snap judgments on each of the network's offerings. The big news of course was that CBS declined to pick up How I Met Your Dad. We talk about what we know and don't know about that decision.
Q: There are a lot of words there. Where can I watch the trailers?
A: Trailers are here for NBC, ABC, ABC's mid-season shows, CBS, Fox, TNT, and TBS. Oh, and there's a first look at The Flash that's coming to the CW.
Q: That's a lot already. But what about Cannes?
Cannes do! Our correspondent Jada Yuan got an exclusive interview with America Ferrera about that weird red-carpet incident and also hung out with Lupita Nyong'o and the likes of Nicole Kidman, Zoe Saldana, and Gael García Bernal. Meanwhile, Vulture senior editor Kyle Buchanan broke down the many grunts of Mike Leigh's new film and presented posters of the potential next-wave Sharknado candidates being shopped at the film festival. See you all next week.