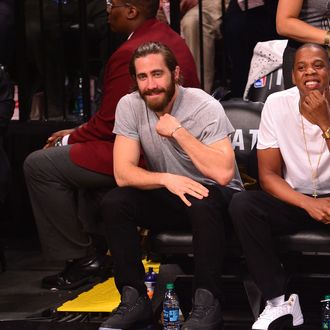 Jake Gyllenhaal.
Photo: James Devaney/GC Images
Each year at the Cannes Film Festival, Harvey Weinstein shows the press some clips and trailers from his studio's coming film slate, and this time, he came ready to tout movies like The Imitation Game, starring Benedict Cumberbatch, and Tim Burton's Big Eyes, with Amy Adams and Christoph Waltz. The general public will be seeing those trailers soon enough, but there's one bit of footage Weinstein showed today that he likely won't release unless your hashtag campaigns are really on point: a shirtless Jake Gyllenhaal workout video.
Weinstein had hoped to have Gyllenhaal there in the flesh to discuss his upcoming boxing drama Southpaw, but failing that, he presented Gyllenhaal's actual flesh, dimming the lights for a video meant to convey the actor's intense training regimen. We watched a bearded, ponytailed Gyllenhaal throw punches in the gym, grimace through sit-ups, and engage in countless torso twists meant to strengthen his six-pack. There was even a slo-mo pan up Gyllenhaal's heaving, sweaty, hairy torso. Could this minute-long beefcake clip be Weinstein's spoiler for the Academy Awards? Yes, yes it could be. I'm calling it now: Your Best Picture Winner Will Be Jake Gyllenhaal's Shirtless Workout Video.
Oh, but you want to know about the movie trailers, too? Sure, fine, we can tell you about those! Real quick, here are some first impressions of the films that Weinstein showed off for the very first time:
Big Eyes
Otherwise known as Please Give Amy Adams Her Damn Academy Award Already. The five-time Oscar nominee stars in this biopic of Margaret Keane, who's now known for painting those iconic pictures of doe-eyed children but initially suffered in the shadow of her gregarious husband Walter (Christoph Waltz), who claimed that he was the artist behind those works. Their battle for credit eventually culminated in a courtroom, where Walter was challenged to paint a big-eyes portrait from scratch and spectacularly failed. Adams is playing quiet and repressed here, so it's hard to get much of a sense of her performance from a brief trailer, though Waltz certainly made an over-the-top impression as the louder Keane. The film is a change of pace from director Tim Burton, though his sensibility was evident in one surreal scene where Margaret walks through a supermarket and pictures all the women staring back at her with those trademark humungous peepers.
The Imitation Game
Weinstein recently acquired this WWII-era biopic in a significant deal, likely positioning its star Benedict Cumberbatch for a major awards play as Alan Turing, the famed code-cracker who helped the Allies win the war but was then persecuted by his own government for being gay. There's no trailer cut for this holiday release yet, but Weinstein showed a truncated sequence where Cumberbatch has a code-related intellectual breakthrough as Keira Knightley and Matthew Goode look on breathlessly. As a script, it was revered — Leonardo DiCaprio was attached to star as Turing at one point — so this is one to keep an eye on.
St. Vincent
This one's adapted from another buzzy script, originally called St. Vincent de Van Nuys, and it stars Bill Murray as a drunken lout who reluctantly takes the son of his next-door neighbor (Melissa McCarthy) under his wing. Life lessons ensue. Looked a bit like a more conventional riff on Bad Santa, though Murray in a starring role is always welcome. The comedy also stars Naomi Watts as an overtanned Russian prostitute, and Watts was on hand in Cannes to hawk it. "This is not typecasting," she assured us. It will certainly be nice to see Naomi Watts in a movie that's not predicated on her suffering!
Suite Francaise
After the Nazis occupy France, a married villager (Michelle Williams) begins to fall for the German soldier (Rust and Bone hunk Matthias Schoenaerts) stationed to watch her. This made a rather wan impression, though maybe it's because the trailer was so uninspired. I'm hoping for more, based on the movie's cast of talented up-and-comers: Besides Schoenaerts, it also stars Margot Robbie, Sam Riley, and Ruth Wilson.
Paddington
This family film, based on the beloved bear from children's books, could bring the Weinsteins one of their biggest hits ever — and a potential franchise, to boot. Colin Firth voices the titular bear, who moves in with Hugh Bonneville and Sally Hawkins and is menaced by a fierce and fearsome Nicole Kidman, who plays an evil taxidermist. In an extended scene, we watched Paddington attempt to make sense of a human bathroom; the bear's boundless curiosity almost immediately leaves the place wrecked and flooded. People laughed. Paddington looked cute. Your kid will want one.