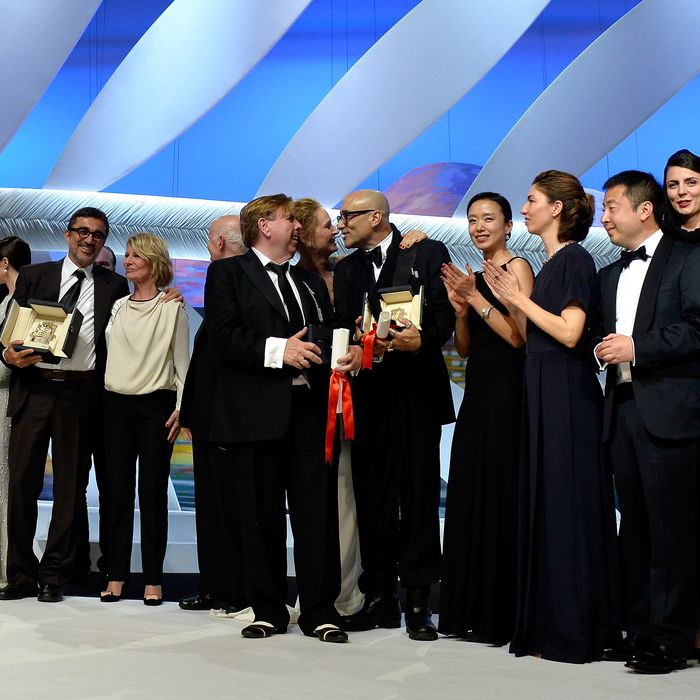 Photo: Pascal Le Segretain/2014 Getty Images
It's an unwritten rule of Cannes that potential award winners need to scram town before the final awards get announced. That way they can dramatically be in the middle of something mundane when they get the mysterious call from on high (in a French accent) that they are needed back in Cannes immédiatement. Why? They cannot yet be allowed to know!
This year's Best Director winner Bennett Miller (Foxcatcher) was in Paris having breakfast with an ex-girlfriend the morning before Saturday night's awards ceremony. "She was in the middle of a very intense story and I saw the phone ring," he said, though he wouldn't name his ex. "She's married now." The night before that, he told me he'd been "driving around with Roman Polanski, trying to find a movie theater that was open, in the rain, after a little bit of burgundy." Why? Because visiting Roman Polanski in Paris in your free time is something you do when you're the kind of director who wins big prizes in Cannes.
Wonderful, charming Timothy Spall, who won Best Actor for his grunt-laden performance as 19th-century British painter J.M.W. Turner in Mike Leigh's Mr. Turner, said he'd left Cannes and gone with his wife to their boat in Holland, where they live half of the year. (The boat is featured on his BBC series, Timothy Spall: Back At Sea; the other half of the year they live in London.) That morning, he said, "I had my hand rammed up a pipe," trying to fix his boat's greaser. "It's a disgusting job," he told me. "You don't want to know about it. No human feces involved, but it's about twisting things and making sure your boat doesn't sink." He was holding a toilet roll, a spoon, and a bucket of grease when the phone rang.
Some of the rationale for leaving town is superstition. Clint Eastwood famously didn't leave after Mystic River screened in 2003, when all odds makers were sure he'd win Best Director or the Palme d'Or, and never got the call, and was spotted — humiliatingly! — dining at a famed Antibes restaurant during the ceremony, according to a publicist with a very long memory. Ever since, the superstition has been that to stick around till the end of Cannes is to tempt fate. Last year, Michael Douglas was apparently holding out hope of winning Best Actor for Behind the Candelabra, but had the good sense to stay on a yacht, so he wasn't technically in Cannes when that prize went to Bruce Dern for Nebraska.
But many, like Spall, are guided less by superstition than by not having enough money to wait out the festival on a yacht. "They tell you to go away!" he said. "Contrary to popular belief, they don't let you hang about and pay for you to stay and, uh, luxuriate in these places. You have to bugger off and wait till the very last minute to bring you back." When he was in town earlier in the festival, he stayed at the Carlton Hotel with a partial sea view. He knew something big might be afoot when he came back Saturday afternoon and his room had a full sea view. "I didn't quite know what was going on, but we were shown into a far superior suite." The other clue: The police escort that greeted him and his wife at the Nice airport and followed them, shooing away paparazzi all the way to Cannes. "I got a feeling that something might be on the up," he said. "The police escort gave me a clue." He got into the hotel with 45 minutes to shower and no tux, because they hadn't brought one to Holland. "Next thing I knew I was on the red carpet. See, I didn't write in for this competition. All of a sudden, I'm in the middle of a competition and I fucking won it! It's very surprising. I've been entered into all sorts of competitions and I never won. But to win Best Actor at Cannes is like, 'Wait a minute.'"
Spall got incredibly emotional onstage in his acceptance speech. He's a perennial supporting actor (see: Peter Pettigrew in the Harry Potter series), and he said at a press conference, "I got used to not expecting [recognition]. I've spent most of my career as a supporting actor. I play the lead every five or six years." He seemed almost embarrassed about his blubbering. "No fool like an old fool," he said.
There was plenty of other emotion to be had at the closing-night dinner. After a two-week intensive summer camp of movie-watching and movie-discussing, the jury was saying their final goodbyes to each other. "It's a beautiful little cocoon for two weeks to be fed and to be ushered into a dark room to watch these movies," said Willem Dafoe. "At this moment we're feeling really sentimental, but you know how those things go."
Jury member Gael García Bernal had made a new close friend in director Nicolas Winding Refn; the two could be seen out together almost every night (that is, after Bernal's other bestie, Alfonso Cuarón had skipped town). "We became good friends. I wish we could have been good friends ages ago," said Bernal. Both he and Refn have kids, which meant they found it easy to wake up early for 8:30 a.m. screenings, but knew they'd fall asleep at later ones and tended to skip those — hence their frequent late-night socializing. Bernal seemed happy to finally be able to break his silence and tell the winners how much he loved their work. He was in a long, platitude-laden conversation with Anne Dorval, the amazing Québécois star of Xavier Dolan's Mommy, which split the jury prize with Jean-Luc Godard's Goodbye to Language, and excitedly told me how he'd gotten to meet everyone from veteran Turkish director Nuri Bilge Ceylan's Palme d'Or winner Winter Sleep. "I want to say hello to every single person who won and give them hugs and all my admiration!" he said. And then after that, he said, he didn't need just a nap: "I need a proper week of sleep."
Speaking of emotional moments, Jane Campion had one onstage that night when 25-year-old Mommy director Xavier Dolan had told her that The Piano had inspired him to want to write movies with strong female characters. She'd been stunned, she said at the dinner. "You think that [male] directors don't pay attention to movies by female directors. You always think they're going to think the guy's movies are groovy. I felt like I was running a relay and handing the baton. That I can inspire him is amazing, but I'm getting it back from him, too. He's such a genius. I had tears in my eyes." She was getting emotional leaving the jury she'd presided over as well. "It makes me sad, especially because it won't happen again," she said. "This is it. The romance of Cannes has to end." The biggest emotion she was feeling at the moment, though, was pain. "If anything's happening for me, it's that my feet are hurting," she said. "I never wear high heels. I've really womaned up, but after two weeks, I can't manage it anymore!"
Spall was the last one to leave, clutching the box containing his Best Actor prize — a two-inch crystal with the Cannes laurel leaf symbol on top. He was planning on placing it anywhere in his home that was "nowhere near my grandchildren, because my two-year-old or three-year-old will pick it up, suck it, lick it, dip it in something, and throw it across the room." He was looking forward to seeing his mother, who isn't doing well, but who perked up upon hearing, "'Your son won Best Actor in Cannes.' I love my mom," he said.
"Enjoy it," a friend told him, saying goodbye.
"I am," said Spall. "I'm not going to revel in it. I'm not a reveler. I'll enjoy it. I'll revel when I'm on the boat listening to Al Jolson. Right now, I'm tired and I'm pissed." He turned to this American reporter standing next to him and clarified. "That means I'm really drunk. What I'm looking forward to tomorrow is a headache."