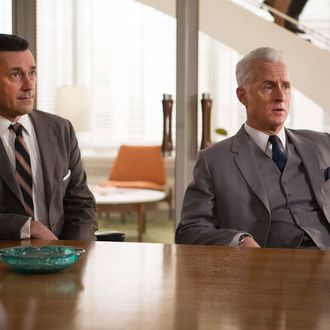 If you've already seen Mad Men's half-season finale, then there are likely many questions on your mind. One of them might be about the episode's final minutes, which closed out with a song, in much the way many Mad Men episodes close out. But also not like the way many Mad Men episodes close out. Spoilers follow:
Don Draper hallucinates the recently deceased Bert Cooper singing a song with lyrics that resonate with the historical event they all just experienced:
The moon belongs to everyone
The best things in life they're free
The stars belong to everyone
They cling there for you and for me
The song is "The Best Things in Life Are Free," with lyrics written by Lew Brown and Buddy G. DeSylva and music by Ray Henderson. It was first heard in the 1930 musical Good News. One of the song's earliest versions was recorded by English bandleader Jack Hylton:
It was a wonderful way for actor Robert Morse to exit the show, as he was once a Broadway man himself — he won the 1962 Best Actor Tony for his lead role in How to Succeed in Business Without Really Trying. Here's a clip of him in the movie version:
Notable versions have also been recorded by Bing Crosby …
… The Ink Spots …
… and Sam Cooke.