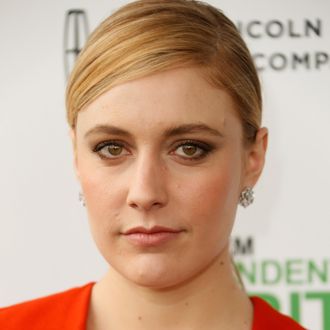 Here's how much everyone in Hollywood assumed that How I Met Your Dad would be on CBS's lineup next season: Last week, major Hollywood trades and entertainment-news sources didn't think twice about rushing up a story saying that the Greta Gerwig–led project had been ordered to series, even though the Eye network hadn't confirmed it. And yet, here we are today, with CBS chief Nina Tassler saying she was "heartsick" over the situation and confirming that the Eye wouldn't be moving forward with the show unless creators Carter Bays, Craig Thomas, and Emily Spivey and producer 20th Century Fox TV agreed to shoot a new pilot. Industry insiders tell Vulture that the producers are willing to try again — but only if CBS gives the tweaked HIMYD a series order. It amounts to a standoff and, as of Wednesday afternoon, there's little optimism about a resolution.
But that doesn't mean there's not still a chance we'll still get to see the How I Met Your Mother spinoff at some point. Vulture rang up some of our industry sources to find out what's going on and what's next. Here's what we currently know:
1. The network had to have had serious creative issues with HIMYD in order to pass.
That might sound obvious, given the outcome, but it's not as much a given as you'd might think. Some years, buzzy projects die because networks fall in love with too many shows, and something has to give. Last year, for example, CBS brass shocked everyone by passing on Shawn Ryan's Beverly Hills Cop adaptation, with Eye execs explaining that while the pilot wasn't bad, they just thought they had a wealth of other, better drama prospects. (Turns out those prospects all died this season, so maybe not.) But this year, CBS clearly didn't have a banner season developing new comedies. It has only added one sitcom (The McCarthys) to its fall schedule, while The Odd Couple reboot with Matthew Perry is being held for mid-season. CBS is even cutting back from eight comedies to six next season, another sign it doesn't sense a lot of opportunity with new sitcoms right now. Given the Eye's needs for new comedies, there's no doubt it really, really wanted to put HIMYD on the air: It's a franchise that would at least get sampled by viewers, and in success, would've gone a long way to solving CBS's Monday ratings issues (though it's possible it could've ended up on Thursdays).
2. Casting ended up being a problem.
According to multiple sources, the Eye's issues weren't with star Greta Gerwig. Everyone we talked to — nobody would agree to be quoted because of how sensitive the show situation is — said Gerwig was great as the titular character searching for true love. The problem, we hear, was with two of the main characters surrounding Gerwig. (We've heard different accounts of exactly which two.) Some sources think these other characters didn't pop opposite Gerwig. Also, while Gerwig's star wattage wasn't an issue, insiders suggest at least some CBS execs had issues with whether her character was "likable" enough. In the pilot, she's going through a divorce, of course; the dissolution of a marriage rarely brings out the best in people.
3. The fact that CBS doesn't own HIMYD isn't helping matters.
Sources sympathetic to the studio and producers have pointed out that CBS had issues with the pilot for Odd Couple — two roles are already being recast — and yet that project got a series order for later in 2015. The reason, they claim: CBS's in-house studio produces Odd, making the project far more attractive since, in success, CBS will make hundreds of millions in syndication revenue. (By contrast, any HIMYD profits would go to 20th.) But other industry sources note that the roles being recast on Odd are relatively minor; the two main leads are staying the same. By contrast, the HIMYD role in doubt represent two-fifths of the ensemble cast.
Leave aside the whole Odd Couple vs. HIMYD question, though, or whether CBS has a double standard for its own shows and those from  outside studios. It is clear that CBS — and all networks — increasingly are interested in owning as much of their lineups as possible. With ad revenue not as certain as it once was due to declining ratings, networks are looking to syndication, streaming, and international markets to make up the difference. This is why The Millers will be back on Thursdays behind The Big Bang Theory next season, even though the show loses half of TBBT's audience: CBS owns it, and it will do whatever it takes to keep it on the air for 100 episodes. Ownership may not be the main reason HIMYD isn't ordered at CBS, and it's also true that the Eye is willing to go the extra mile for some shows it doesn't own (Mom, from Warner Bros. TV,  got a second season despite meh ratings, and will now get to air behind TBBT on Monday for several weeks). But ownership issues are clearly clouding the conversation about the future of the project on CBS: There's lots of mistrust between CBS and 20th right about motives and intentions.
4. 20th has options for selling HIMYD elsewhere, but it's unclear how it will proceed.
The most logical home for the show would seem to be Fox. It's 20th's sister studio, which means that those ownership issues we just detailed would not only go away, but make the project more financially attractive to the network. And HIMYD, with its young cast and singles looking for love formula, would fit right in with The Mindy Project and New Girl. On the other hand, neither New Girl nor Mindy is exactly a ratings juggernaut, and Fox already has a full comedy slate for next year. Also? Fox didn't exactly endear itself to Bays and Thomas last year when it burned off their sweet and funny series The Goodwin Games. People patch over differences all the time in Hollywood, though. As for other possible homes, HIMYD, with its winning female lead, would seem very much at home on ABC, which targets young women and could very much use a well-known brand to help kickstart its new 8 p.m. Tuesday comedy hour. On the other hand, ABC just ordered its own sitcom about young folks falling in love in New York City (Manhattan Love Story), and it owns that show. NBC Entertainment president Jen Salke worked on How I Met Your Mother when she was at 20th, so she knows Bays and Thomas well. But NBC also has its share of romantic comedies next season. The question is whether HIMYD is seen as the perfect companion for ABC and NBC's new shows — or just too similar. As for cable, some outlets have noted FX/FXX might be an option, given they're also siblings of 20th and FXX is a comedy network. Maybe! But the show's star producers and semi-big lead actor might make it too expensive for cable. TBS would seem to be a great fit, though.
5. Just because CBS execs don't like HIMYD doesn't mean it's not good.
Sorry to drop a cliché, but comedy really is subjective. Eye brass thought last fall's We Are Men was hi-lar-i-ous, and gave it an amazing time slot right behind HIMYM. America violently disagreed. CBS has had better luck with comedies than any other network in the past five to ten years, producing the biggest and longest-running hits. It clearly knows what makes its viewers laugh, and that's fine. But as smart and worthy of respect the CBS brain trust is, their collective decision that a show is funny or not funny doesn't make it so. We haven't seen the finished pilot, but we've talked to many people who read the script and found HIMYD charming and well-written and very much in the spirit of the best of HIMYM. We'll probably know within a week or two whether any other networks agree.
6. The fact that Twitter didn't like the finale of HIMYM had absolutely nothing to do with CBS's decision.
Sorry, it just didn't. If CBS cared what the internet thought, it would've canceled Two and a Half Men years ago.