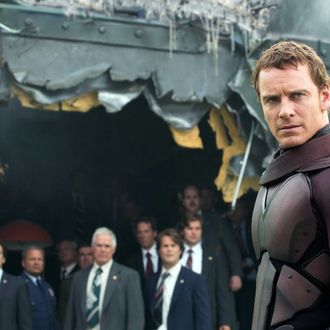 Photo: Marvel and Twentieth Century Fox Film
Memorial Day weekend began with the grand opening of X-Men: Days of Future Past. With a three-day worldwide haul of $261.8 million, Days of Future Past had the biggest opening ever for the X-Men franchise, as well as Fox's largest opening since Avatar in 2009. Stateside, the pretty good superhero sequel made a very respectable $90.7 million, though it's not quite enough to match last year's Memorial Day weekend, when Fast and Furious 6 topped the charts with $98.5 million in domestic earnings. The latest X-Men installment is also expected to pull in $110 million domestically by the weekend's end, despite some pretty uneven marketing.
Godzilla dropped to the second box-office spot with only $31.4 million in earnings. In two weeks out, the monster movie has brought in $157.6 million. With almost universally bad reviews, this weekend's other newcomer, Blended, only earned $14.2 million over the last three days, landing it in third place. Meanwhile, Neighbors fell to fourth place with a $13.9 million haul over the last three days. It now has $116.8 million to show for three weeks in theaters. The Amazing Spider-Man 2 rounded out this holiday weekend top five. The Sony sequel has been out a month now, during which time it made $186.8 million. Only $7.78 million of that was from this weekend, so better luck next time, Peter Parker.