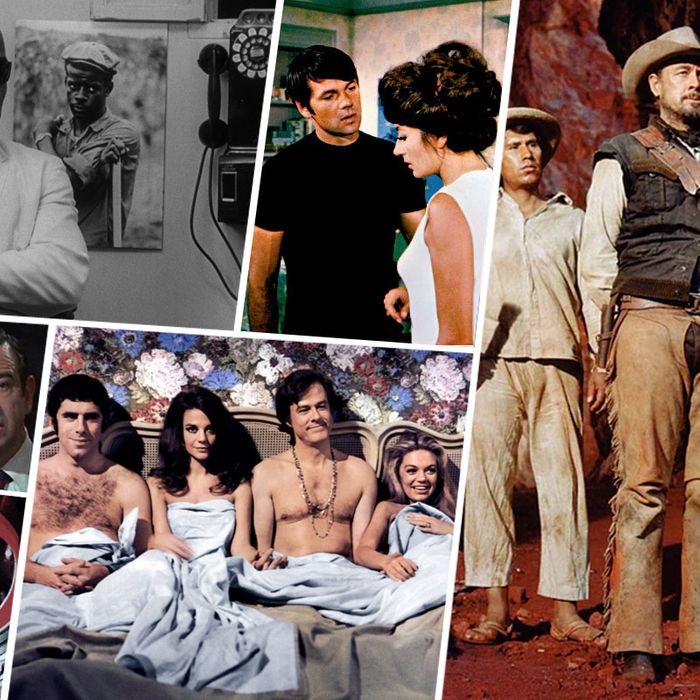 Photo: Criterion Collection; Columbia Pictures; Warner Brothers
Among Mad Men's many accomplishments has been its ability to depict its time period without relying on too much nostalgic sentimentality or irony. But for those experiencing withdrawal in the wake of last week's mid-season finale, here are 12 films from the year 1969 that can help tide you over — either because they share some similar themes, characters, and settings, or because they're key films from the period. Feel free to suggest more in the comments.
The Arrangement
In one of director Elia Kazan's most underrated and personal films, a successful but unhappy advertising executive (played by Kirk Douglas) has a nervous breakdown and winds up confronting his personal demons. Deborah Kerr plays his wife and Faye Dunaway plays his mistress.
Bob and Carol and Ted and Alice
Infidelity, experimentation, and emotional honesty run amok in Paul Mazursky's seminal comedy-drama, a massive hit at the time that someone in the second half of Mad Men's season seven has to see at some point.
Putney Swope
Directed by Robert Downey Sr., this is a cult classic about a black man who becomes the head of an advertising firm and immediately turns it into a revolutionary enterprise. A satire of the advertising business that is absolutely nothing like Mad Men, but you kind of have to see it anyway.
Sweet Charity
Bob Fosse's film directorial debut, this expensive musical almost bankrupted its studio. But it's wonderful — elaborate and atmospheric, and practically dripping with romantic despair. A perfect time-capsule movie.
Last Summer
Frank and Eleanor Perry's oddly lyrical tale of a trio of neglected bourgeois teenagers in a coastal Long Island town, and their twisted games, is an essential work of late '60s psychic unease.
Model Shop
The great French musical master Jacques Demy's Los Angeles–set film, in which 2001's Gary Lockwood abandons his aspiring actress-girlfriend for the ethereal Anouk Aimée, flopped upon release, but time has been a lot kinder to its strange rhythms. Significantly, we know for a fact that Don Draper saw this movie.
The Wild Bunch
Sam Peckinpah's revolutionarily violent neo-Western is referenced in the mid-season finale by Megan. Seems like an odd choice. But maybe not, given that Peckinpah's film was: (1) about a dying breed of outlaws in a rapidly changing world; and (2) the last word in macho existentialism. Also, it's awesome.
Easy Rider
If you want to understand the '60s in any meaningful way, see Dennis Hopper and Peter Fonda's seminal road movie, full stop.
A Married Couple
Canadian documentarian Allan King made this remarkable "actuality drama," in which he was given total access to the life of a middle-class Toronto husband and wife. The result is almost unbearably intimate, and one of the most unflinching films ever made about the power dynamics within a marriage.
Cactus Flower
This lighthearted comedy about romantic duplicity won Goldie Hawn an Oscar, but it's largely known these days (if it's known at all) as the film that inspired the Adam Sandler–Jennifer Aniston vehicle Just Go With It. What exactly does it have to do with Mad Men? Nothing really, except that Mad Men, for all its desolation, clearly owes something to the work of American comedy maestro Billy Wilder, and this film's bright, bubbly script was written by frequent Billy Wilder collaborator I.A.L. Diamond.
Marooned
2001: A Space Odyssey inspired an entire episode this season, but that was technically not a 1969 film — so we can't include it here. But John Sturges's Marooned, about a group of Apollo astronauts (among them, a young Gene Hackman) stranded in orbit, was. Indeed, this surprisingly tense and absorbing drama happened to come out in theaters just a few months after the Moon Landing.
Women in Love
Earlier this season, Don and Megan went to see I Am Curious (Yellow), the notorious softcore Swedish film that set new standards for mainstream nudity when it featured a male member onscreen. That film, of course, technically dates to 1968. (It got, uh, held up in customs on its way to the U.S.) But you know what doesn't? This beautiful and wild D.H. Lawrence adaptation from director Ken Russell, which featured a notorious Alan Bates-Oliver Reed naked wrestling match.