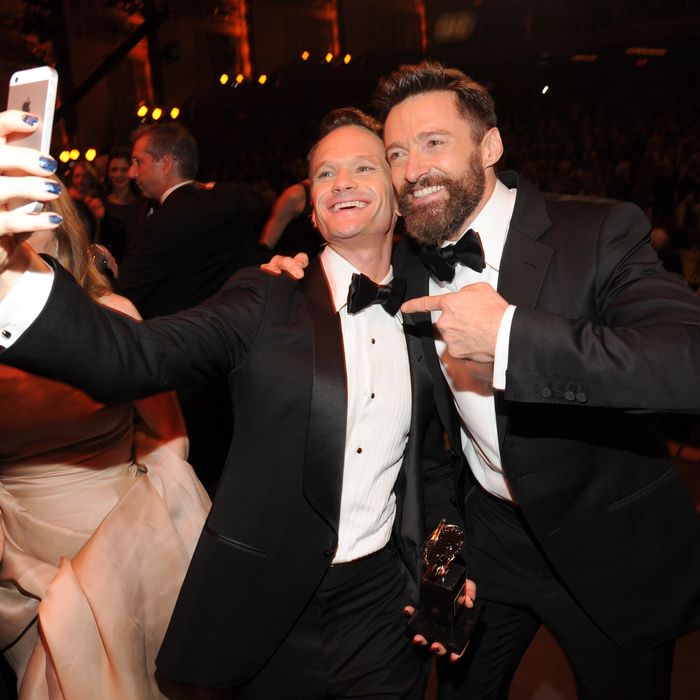 NEW YORK, NY - JUNE 08: Neil Patrick Harris and Hugh Jackman attend the 68th Annual Tony Awards at Radio City Music Hall on June 8, 2014 in New York City. (Photo by Kevin Mazur/Getty Images for Tony Awards Productions)
Photo: Kevin Mazur/Getty
While the rest of us watched the Tonys on TV, Vulture's Jennifer Vineyard and Jada Yuan ran around town — sitting through rehearsals, hitting the pre-ceremony red carpet, attending the show, manning the press room, and floating through as many after-parties as possible. Here are their behind-the-scenes highlights from a 20-hour day.
9:31 a.m. Rehearsals are about to start. We're warned that Hugh Jackman will be out in the crowd during the opening. "Keep the aisles clear! Do not stand in the aisles!" Or he might swipe us with his claws?
9:51 a.m. Show starts with video of Jackman on the carpet, hopping into theater, and then hopping from aisle to stage. He bunny-hops through a quick wardrobe change, he bunny-hops backstage, he slaps hands with Sting and jumps rope with Rocky's Andy Karl, and then bunny-hops, hops, hops, through costumed casts from various shows and then bunny-hops back onstage.
10:00 a.m. He also teases Neil Patrick Harris for not hosting tonight and says that when he got the news he would be the host, Harris texted him, "Well that's fantastic! That's what WTF means, right?" The joke falls flat in rehearsal, but works during the show because of NPH's perfect facial reaction.
10:16 a.m. Leighton Meester is here to rehearse her presentation of Featured Actress in a Musical. She's almost unrecognizable in jeans, flats, and no makeup.
10:29 a.m. Jonathan Groff, in a black T-shirt and black jeans, introduces Idina Menzel. He gets huge applause when he calls her "WICK-ed-ly talented."
10:45 a.m. Zachary Levi teases Fran Drescher for not having a big singing part. "I wonder why-y," she responds nasally.
11:12 a.m. Hedwig time!
11:16 a.m. Neil Patrick Harris climbs the speaker stacks, drops the mike, goes out into the audience, and gives a lap dance or two. "Watch this!" He then kisses a guy in the mosh pit — who turns out to be a surprised Jonathan Groff.
12:38 p.m. Jackman: "I just have to say, you guys have been an awesome audience." He asks us all to bounce with him. "Bounce for four minutes and I swear you won't be able to walk for four days."
5:20 p.m. The red carpet starts.
5:42 p.m. Hedwig's sound designer Tim O'Heir says that anybody could get a lap dance or a kiss from Neil Patrick Harris tonight. "It's whatever Hedwig wants, because Neil is gone at that point. He won't remember a thing tomorrow. The persona will take over." He says Harris picked "Sugar Daddy" because it is the song with the most audience participation and he wants people to "get excited …"
5:43 p.m ".. and embarrassed."
5:53 p.m. Harris's hair-and-makeup man for Hedwig, Mike Potter, says that when he gave Harris his first wig (custom-made with human hair for thousands of dollars), Harris insisted on taking it back to L.A. so he could walk around the house with it. "I told him he had to sleep with it, and carry it on the plane. I was like, 'Do not check it! And if you have any pets, do not let them anywhere near the wig!'" Potter says the show is going to start selling Hedwig-themed glitter nail polish in the theater in the next few weeks.
6:16 p.m. Nominated actor Reed Birney (for Casa Valentina) misunderstands our question about hopping with Hugh Jackman and thinks we said "humping with Hugh Jackman." Either way, he is game. "Pardon my blooper!" he laughs.
6:26 p.m. Bridges of Madison County composer Jason Robert Brown says he would hump Hugh Jackman too, as long as his wife approves. She does: "If I could be there …"
6:39 p.m. Zach Levi jokes about being confused with Zach Quinto and Zach Braff, who are also presenters. "Hey, I'd be happy to take either one's place."
7:25 p.m. Bryan Cranston's Breaking Bad wife, Anna Gunn says she came to the Tonys just for him. She takes the carpet at such a leisurely pace that her publicist has to remind her that she's presenting the first award. "Oh yeah," says Gunn. "I forgot about that."
7:39 p.m. During the pre-telecast, Rosie O'Donnell takes advantage of being able to curse. "This part will never be on TV… I can do whatever I want!"
7:47 p.m. Zach Braff and his date (his father) look for their seats.
7:59 p.m. We are live in 15 seconds.
8:01 p.m. Pre-tape of Jackman is playing, but he's actually already hopping on the stairs, hanging onto the railing on the way down, even though that won't be seen by folks in the room.
8:04 p.m. Jackman takes a bow. The crowd loved it!
8:28 p.m. "Friendship is magic."
8:33 p.m. A reporter in the media room asks Best Featured Actor winner Mark Rylance (for Twelfth Night) why he didn't recite any poetry in his acceptance speech, like usual. "I thought you might be expecting it," he quips.
8:46 p.m. Clint Eastwood fumbles. Maybe he should have shown up to rehearsal!
8:57 p.m. "Ooh, burn!" Groans go up in the press room when Jason Robert Brown makes a dig at the Tonys in his acceptance speech, saying that the music from Bridges of Madison County that played as he was walking up to the stage was the only music from that show anyone would hear that night. Because of weird rules, it didn't even get nominated for Best Musical, but went on to win for Best Score and Orchestrations.
9:40 p.m. Before we're back from a break, Jackman takes a moment to tell everyone how happy he is for Audra McDonald, because she broke a record.
9:53 p.m. What's Featured Actor in a Musical winner James Monroe Iglehart (a.k.a. the Genie in Aladdin) gonna do next? Go to McDonald's! It's a tradition he has with his wife after all big occasions. "It keeps us humble, it keeps us grounded. We don't go to some fancy restaurant. We take our Tony, we take our tux, we take our nice dress, we get in the car, we get a Big Mac and fries, we go back to the house, and we kick it with our cats, because it lets us know that this is still real life."
10:11 p.m. Cranston can barely be wrenched away from watching the awards on TV to do his press-room interviews. "I want to see that," he fake-whines. "This is just like doing a play on Broadway. I miss all the other shows!" He compares the empowerment he gets from acting in front of an audience night after night to a drug. "It's stronger than blue crystal meth, I believe."
10:17 p.m. "Suppose you want to know the score in the game?" Jackman asks the audience during the commercial break.
10:24 p.m. Lena Hall, winner for Featured Actress in a Musical for Hedwig, confirms that her "friendship is magic" line at the end of her speech was a My Little Pony reference. "I'm obsessed with the show. I found it on Netflix," she says. "It teaches lessons to kids about friendship, but in watching it, I learned a lot about friendship again and what it really means to have friendship in your life." She's not sure how Neil Patrick Harris picked which people in the Tonys audience he was going to gyrate on. "Hedwig does what Hedwig does. I can't stop her from accosting whoever she's going to do that to."
10:36 p.m. Kevin Adams, winner for Lighting Design of a Musical for Hedwig walks in and the room deflates. "You guys are so uninterested in lighting," he says from the stage. "Your faces just fell when I came out here."
11:02 p.m. Jackman explains the game plan for gathering the Tony winners on stage and hopping during a commercial break. "You in, Audra? If you're in, everyone is." When he gives the cue, he says, bounce!
11:24 p.m. As we leave Radio City Music Hall, we notice a woman wearing the same red empire-waist Nicole Miller gown. (She got hers from Nicole, we did from Rent the Runway). Talking to a colleague, we compare dress notes — how comfortable is your dress, compared to last year's scratchy sequined number? A sequin-dressed Anna Wintour walks by and seems to give us a Devil Wears Prada glare — how dare we consider comfort? Beauty is pain! A woman outside nearly collapses upon seeing Wintour walk by, grabbing her companions and gasping. Of all the celebs at the Tonys, this is the one who inspires panic and passion at the same time.
11:30 p.m. Considering we haven't eaten since earlier in the day, we're too hungry to think straight. Chris O'Dowd has the same idea — "I'm starving!" he tells us, grabbing our arm as we go down the escalator to the Todd English Food Hall, one of two floors open at the Plaza for the Tonys Gala.
11:37 p.m. At the Plaza, we run into Patricia Clarkson and Alessandro Nivola, who can't stop saying, "Hedwig!" Nivola reports that the whole Hedwig band Tits of Clay were giving lap dances backstage, and he was one of the lucky few who got one. "I don't know where Neil was. He was missing out! Neil Patrick Harris missed his chance."
11:40 p.m. At the Plaza, Stephen Fry really needs to go to the bathroom ("I will die of urine retention!"), but he wants to complain first about the speeches. "Disappointingly not too insane, the speeches. I usually gauge them on a level of insanity. To be a member of SAG, you have to be clinically insane. I certainly am. But most of them were relatively sane. Not by normal human standards, of course. You wouldn't trust any one of those individuals who won or was nominated to use the street without supervision, because some of the fuckingly mad things they said [were] hilarious, but that's theater!"
11:48 p.m. "Does anyone have a Power Bar?" John Cameron Mitchell asks the press room. Someone throws him a granola bar and he immediately eats it. He says he just spoke to his mother and she'd been watching the show with her entire retirement home. "Palisades Independent Living in Colorado Springs," says Mitchell. "I had to scream 'Mom!' really loud over the music because she's a little bit hard of hearing. She's really happy. My dad died last year and she's been feeling kind of sad, and the last few months she's been really happy to hear the show's going well, and making new friends now, so it's a really good night for her."
Asked about the Hedwig sequel he's writing and plans to star in, Mitchell says it's too weird to premiere on Broadway. "We're going to have to wait another 15 years for Broadway to change again." It'll be about the second half of one's life. "The first half of your life is Hedwig I, which is 'Who am I,'" says Mitchell. "The second half of your life is, 'I don't have any time left.'" One of the titles he was thinking about is "Hedwig's Dick Is Huge in Japan." Then suddenly he shouts out, "Kind Bar!" A female reporter has found one in her bag and is waving it so he can see it. Mitchell seems antsier with every question. As soon as the last question is answered, he jumps off the stage. "Can I get my Kind Bar now?" he asks.
11:50 p.m. At the Plaza, Audra McDonald has arrived, and everyone wants a picture. Since Jackman had asked her to be the leader in starting the bouncing at the end, we wondered — did she hop? "I was in the back," she laughed. "I was hopping, but way in the back. I was hopping, major time." She did tease Jackman for not recognizing it might be harder for the women "in heels and gowns" to play hop-along. "I think he feels if he can do it all over the world, we can do it for a few seconds."
Midnight Anna Gunn reports that she did the hop, even though she is wearing "impossible heels to hop in." She hung onto Orlando Bloom for support. "I said, 'I'm going to teeter-totter, so can I hold on to you?' And he said, 'Of course.' He's such a gentleman."
12:10 a.m. RuPaul gets the dance floor started, busting some moves to "Stand by Me."
12:15 a.m. Zachary Quinto is trying to find his boyfriend. As we walk by, we overhear him saying, "He just texted me. He's all the way in the back." It's a big space, so good luck finding each other.
12:30 a.m. Lena Hall and Sting hug it out, and Sting laughs about his lap dance. "You know, I couldn't reach for my $20!" he tells us. "It was worth it. I thought it was really good. I enjoyed it. I think he enjoyed me, too!" Sting also discloses that the moment was pre-arranged. "It wasn't a total surprise, but I was looking forward to it. He tweeted me, 'Do you mind if I give you a lap dance?' And I said, 'Be my guest!'"
12:35 a.m. At the Plaza, Lena Hall finally gets a chance to eat, because she didn't get to chow down on her "breast cookies," so she grabs a plate of crudités. When her name was called, she says, all that could flash in her head was the time limit for speeches: "90 seconds!" "I was just totally overwhelmed, and it was hard, because everybody kept telling me to speak from the heart. All I had were these bullet points." Were those stored in her "second purse," her cleavage? "Yes! Yes!" she squeals. "I pulled it out! Perfect. It's the perfect place, it honestly is." Then she hands us her Tony, which was heavier than she expected, but she doesn't mind. "I am so happy to carry it around all night." Plus, the top spins. "It's awesome. It's the best. It's so cool."
1:18 a.m. Down in the Food Hall at the Plaza, Jonathan Groff takes selfies with friends. "Dude, that's going to end up on Queerty!" one of them exclaims. We ask about the kiss he got from Hedwig during rehearsal. "He made out with me! It was amazing!" But it wasn't as pre-arranged as Sting's lap dance — he was given a seat and told he'd have an "audience-participation moment," and that was it. Afterwards, "I went home, and I was like, 'Oh my God, I have glitter between my teeth!'" He did know, however, about his "WICKED-ly talented line" — which both he and the show writers came up  with independently. "They put that in the script for me," he laughs. "I had told my friends earlier in the week that I would go rogue, and I would say, 'the WICKED-ly talented one-and-only Idina Menzel.' And they were like, 'You have to do it.'" Then, two days before the show, it was in the script anyway, "so I didn't have to stress. Best of both worlds."
1:19 a.m. Tyne Daly cuts a rug, wearing a clown nose, to DJ Snake and Lil Jon's "Turn Down for What" at the Gentleman's Guide party, which Andrew Andrew are DJ'ing. At some point the clown nose goes missing, and one of the Andrews surmises that Daly danced so hard it fell off. No, someone tells him, she stuck it in her cleavage.
1:24 a.m. As we leave the Plaza, Jason Robert Brown reports that his two Tonys "are making out with each other now."
1:40 a.m. Lena Hall kicks off her red heels at a suite in the Carlyle Hotel, O+M's annual after-after party for the Tonys. "Finally!"
1:55 a.m. At the Carlyle, Reeve Carney tells us he skipped the Tonys (he had Penny Dreadful business), but wants to know who won. "Will you fill me in?" We share the info with him, and he tells us that he really wants to see Hedwig because he loves the score. "One of the advantages of seeing the show is that you might get a lap dance from Neil Patrick Harris," we tell him. "Really? I better sit close to front. That would be great."
2:00 a.m. The Gentleman's Guide party, held in the space that's usually the Rockefeller Center skating rink, is supposed to shut down, but the dance floor is so good, Andrew Andrew stay on to DJ for another half hour, playing Pharrell's "Happy" for a fake ending, then finally pulling the plug after Frank Sinatra's cover of Liza Minnelli's "New York, New York." Lest you thought that was Sinatra's song first, any number of theater nerds were on hand to explain that it's actually a Liza original. Liza herself makes that fact known every time she performs it.
2:20 a.m. As more folks arrive at the Carlyle — Harvey Fierstein, Billy Porter, Zachary Quinto, who bumps into us and apologizes, "So sorry!" — we spot A Gentleman's Guide to Love and Murder star Jefferson Mays carrying a fluffy dog in his arms, which he takes outside.
2:30 a.m. Hedwig's Lena Hall is standing, barefoot, in the crowded hallway of the O+M Carlyle apartment, scarfing an omelette.
3:36 a.m. A deluge is coming down outside and the Carlyle starts handing out giant umbrellas, on the house, to guests in eveningwear who want to run over to Park Avenue to get a cab.
3:45 a.m. Zachary Quinto hands Beautiful star Jessie Mueller one last glass of champagne in Bemelman's Bar.  She takes a couple sips,  realizes the hour, grabs her Tony and makes a fast exit.
4:02 a.m. A "cookie train" begins: A sort of impromptu conga line behind the lone dessert plate being passed through the Carlyle's crowded 26th-floor penthouse.

4:36 a.m. More and more guests start wandering through the penthouse in bathrobes and slippers they've found in various bathrooms throughout the suite.

5:00 a.m. Champagne is still being served, but glassware has run out. Someone finds plastic cups, but a lone maverick, lighting designer Kevin Adams, is drinking his out of a Dunkin Donuts cup. He brought it himself
5:30 a.m. The last of the stragglers pour out of the Carlyle, into the rainy night, and presumably, to bed.