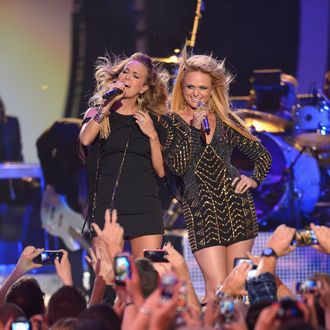 Photo: Michael Loccisano/2014 Getty Images
Did you miss the CMT Music Awards last night? Or maybe you just forgot to DVR them. (Or maybe you never planned to even watch.) No matter! Kristen Bell hosted, Carrie Underwood, Miranda Lambert, and Blake Shelton took home lots of awards, and weirdly, so did Lionel Richie (for a Luke Bryan duet called "Oh No/All Night Long.") Here's the rest:
Kristen Bell's cold-open featured Malin Akerman and Cheryl Hines talking about Bell's hosting gig last year and how she needs to use Tinder-like app, HOLLR, to find a co-host for this year. And then she gets in an elevator for a very silly parody of the Solange–Jay Z elevator fight. Yep! They went there.
Jason Derulo was there! Seriously. After ZZ Top performed "La Grange" and Florida Georgia Line did a bit of their "This Is How We Roll," out popped Jason Derulo to talk dirty to them. Because that's the name of his song, "Talk Dirty."
Ever wondered what John Legend's "All of Me" might sound like as a country song? Well, here:
And two of the big winners of the night, Carrie Underwood and Miranda Lambert, performed their new duet: "Somethin' Bad." Not so bad.