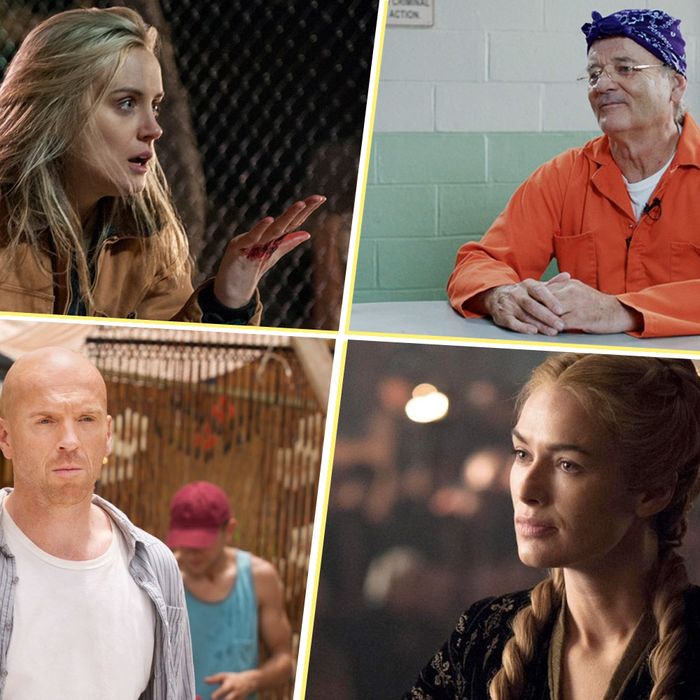 Photo: Netflix; Amazon; HBO; Showtime
When it comes to the hunt for Emmy nominations, anything goes. Shameless is trying its luck as a comedy after three years of submitting into drama, and HBO made headlines in March when it threw True Detective into the drama-series competition, surprising everyone (and especially Breaking Bad!) who thought the close-ended mystery was headed for the miniseries category. As it turns out, there's much, much more maneuvering going on. We parsed the official list of submitted entrants released Monday (Emmy nominees will be announced July 10) and found a slew of other surprising and creative attempts at a nomination, several curious omissions, and a few real head-scratchers. Here's looking at you, Damian Lewis and Psych: The Musical.
* In the grand tradition of Ellen Burstyn in Mrs. Harris, Bill Murray wants an Emmy for his less-than-a-minute guest appearance on Amazon's Alpha House. Still, he cursed a lot, and probably has a good shot at a nomination because he's Bill Murray. John Cusack did about a minute's work on HBO's Doll & Em but has zero chance.
* Hannibal's Mads Mikkelsen, Bates Motel's Freddie Highmore, Grey's Anatomy's Kevin McKidd, and Downton Abbey's Elizabeth McGovern have promoted themselves to lead actors and actress, respectively, after competing last year in supporting categories. (To note: McKidd's onscreen love interest Sandra Oh, per usual, submitted herself as a supporting actress.)
* Homeland's Damian Lewis is repeating his bid for lead actor despite appearing in just six of 12 episodes last season. Parks and Recreation's Rob Lowe, who always submits as lead, appeared in 13 of 22.
* Seems like an oversight that CBS's The Millers, the only returning network sitcom missing from the category, won't compete for top comedy series. Also curiously absent from CBS' contenders: The Good Wife's Alan Cumming, Stockard Channing, and Michael J. Fox, all of whom were named in the show's For Your Consideration campaign.
* Mad Men series regulars who were submitted in the less competitive guest-actor category: Ben Feldman (Ginsberg), Kevin Rahm (Ted), and Robert Morse (Bert Cooper). Series regulars who were not submitted at all: Aaron Staton (Ken Cosgrove), Rich Sommer (Harry), Jay R. Ferguson (Stan), Christopher Stanley (Henry Francis), and Mason Vale Cotton (Bobby Draper).
* Catfish's Nev Schulman will compete for the reality-host prize, but fellow cybersleuth Max Joseph will not.
* Best writing on TV? FX's Justified is pretty proud of itself, submitting 10 of 13 episodes, the most of any entered drama series. (Mad Men entered all seven of its eligible episodes.) FXX's Wilfred put up nine of 13, the most of any comedy.
* The only one of the final eight Breaking Bad episodes not submitted for a writing Emmy is "Blood Money," written by Peter Gould, in which Hank finally connects the dots between Walt and Heisenberg. Meanwhile, Game of Thrones isn't leaving it up to Emmy voters to choose its best: The show's only writing submission is "The Children," this season's finale, which won't even air until Sunday.
* In the battle for Game of Thrones acting nominations, HBO favors King's Landing (Jaime, Cersei, Tywin, Tyrion, and Margaery), House Stark-4-Lifers (Arya, Sansa, and Jon Snow), and the Mother of Dragons (Emilia Clarke). Among the Westerosi who aren't getting any consideration love: Littlefinger, The Hound, Ser Jorah, Daario Naharis, Brienne, Sam, the Wildlings, and everyone on Team Stannis.
* Actors who want an Emmy gold star for their debut directorial efforts: Melissa McCarthy (Mike and Molly), Don Cheadle (House of Lies), Eva Longoria (Devious Maids), Robin Wright (House of Cards), and Michael C. Hall (Dexter).
* Canceled shows taking advantage of the blurred lines between series and miniseries by submitting as miniseries: CBS's Hostages and TNT's Mob City. Also fishy: Sundance TV's The Red Road, a six-episode continuing drama that was renewed for a second season, is competing as a miniseries.
* How about competing as a TV-movie and a series? USA's just-concluded Psych is entered as both a comedy series (for the ten-episode final season) and as a telefilm (for last year's two-hour special, Psych: The Musical). The cast members apparently preferred the musical: They're only entered in the mini/movie acting races.
* Will Orange Is the New Black dominate the guest-actress category? Probably. Uzo Aduba, Madeline Brewer, Laverne Cox, Natasha Lyonne, and Taryn Manning are all in the running for their meaty flashback episodes. The show could have made a clean sweep, but Dascha Polanco, Yael Stone, Selenis Levya, and Elizabeth Rodriguez were not entered into competition.
* Even weirder omission! Oscar nominee Robert Forster, who disappeared Walter White out of New Mexico, was not submitted for his incredible guest role on Breaking Bad. (Only the actors who played Uncle Jack, Gomez, Elliot, and Gretchen were submitted.) On the other hand, Forster is in contention in the comedy guest actor category for playing Tim Allen's father on Last Man Standing.
* Musicians who want an Emmy for playing themselves: Kenny Loggins (Raising Hope), Prince (New Girl), k.d. Lang (Portlandia), and Sting (The Michael J. Fox Show).
* Of his many Fox shows, Gordon Ramsay singled out the great Masterchef Junior as his submission on the reality-host ballot. Ryan Seacrest, on the other hand, submitted himself for both American Idol and long-forgotten The Million Second Quiz. Ditto someone named Luke Tipple, who's up for both CW's Capture and Syfy's Opposite Worlds.
* Give Shaft an Emmy! Richard Roundtree is seeking his first TV award for his work on BET's Being Mary Jane.
* SNL hosts hoping to follow in Justin Timberlake's footsteps with an Emmy win: Tina Fey, Kerry Washington, Jimmy Fallon, Drake, Jonah Hill, Melissa McCarthy, Louis C.K., and Andy Samberg. Among the hosts passed over: Lena Dunham, Josh Hutcherson, Anna Kendrick, Seth Rogen, and Edward Norton.
* Flying solo as the lone acting submissions from their shows: Teen Wolf's Dylan O'Brien, The Carrie Diaries' AnnaSophia Robb, Nikita's Maggie Q, Criminal Minds' Kirsten Vangsness, Hawaii Five-O's Alex O'Laughlin, Mistresses' Alyssa Milano, From Dusk Till Dawn: The Series' Jesse John Garcia, and Beauty and the Beast's Austin Basis.
* Ed Helms is submitted as a supporting actor in a comedy as the lone representative in any category for Tiny Commando, a web series he created for Yahoo that starred Gillian Jacobs and Zachary Levi.
* Big stars on canceled shows who said, "Eh, screw it!" and left themselves off the ballot: Super Fun Night's Rebel Wilson, The Crazy Ones' Sarah Michelle Gellar, and Sean Saves the World's Sean Hayes.
* Actors from shows canceled after a single season hoping for some Emmy love anyway: Matt Lanter (Star Crossed), Gillian Anderson (Crisis), Greg Kinnear (Rake), Seth Green (Dads), Chloe Sevigny (Those Who Kill), Robin Williams and James Wolk (The Crazy Ones), James Van Der Beek and Zoe Lister-Jones (Friends With Better Lives), Christopher Meloni and Rachael Harris (Surviving Jack), Parker Young (Enlisted), Kyle MacLachlan and Jake McLaughlin (Believe), Vanessa Redgrave and Kelly Riley (Black Box), Lili Taylor (Almost Human), Luke Mitchell and Aaron Yoo (The Tomorrow People), Lauren Ash (Super Fun Night), the adults on The Michael J. Fox Show and the casts of Sean Saves the World (except Hayes), Growing Up Fisher, Dracula, Family Tree, Low Winter Sun, Mixology, and Trophy Wife.
* Some of the series regulars who want Emmys for moonlighting on other shows: Modern Family's Jesse Tyler Ferguson (Hot in Cleveland), New Girl's Max Greenfield (The Mindy Project), Parks and Recreation's Rob Lowe (Californication and Franklin & Bash), Suburgatory's Cheryl Hines (The Crazy Ones), House of Lies' Ben Schwartz and Kristen Bell (both on Parks and Recreation), Justified's Timothy Olyphant (The Mindy Project), Justified's Walton Goggins (Community and Sons of Anarchy), Portlandia's Fred Armisen (Broad City), Boardwalk Empire's Steve Buscemi (Portlandia), Veep's Tony Hale (About a Boy), and True Blood's Carrie Preston (The Good Wife).