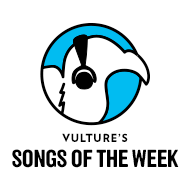 Every week, members of the Vulture staff will highlight their favorite new songs. They might be loud, quiet, long, short, dancey, rawkin', hip, square, rap, punk, jazz, some sort of jazz-punkrap fusion — whatever works for the given person in that given week. Read our picks below and please tell us yours in the comments. Enjoy!
Lane Brown (@LaneBrown): Your Old Droog, "Bad to the Bone"
Before this week, he'd only ever released one song (April's "Nutty Bars"), so we barely know anything about this guy — only that he's 24 and from Coney Island (reportedly), sounds a little like Nas, and favors beats like the kind rappers did when you were in high school. This is the best track on his new EP, but the other nine are great, too.
Gilbert Cruz (@GilbertCruz): Sharon Van Etten, "Your Love Is Killing Me"
Yes, it's finally warm out, and yes, it's time for songs of summer and old Top 40 hits. But Sharon Van Etten's new album has a powerful dark pull, this six-minute centerpiece most of all. She's always had beautifully blunt lyrics, but "Break my legs so I won't walk to you/Cut my tongue so I can't talk to you/Burn my skin so I can't feel you/Stab my eyes so I can't see" smacks you in the face with some "I've hurt that way too" truth. This song is slaying me and I love it.
Jesse David Fox (@JesseDavidFox): Parquet Courts, "Instant Disassembly"
I was going to pick "Black and White," the kickass lead single and arguably the best song off Parquet Courts' acclaimed new album, Sunbathing Animal, but upon relistening, I became obsessed with the relaxed "Instant Disassembly." I wish I had a cool reason, but ultimately it's because the lead guitar part sounds so close to the melody of "Tomorrow" from Annie. Every single time it's played in the song, which is a lot, I get my hopes up that this time it will be "Tomorrow," and yet over and over, I'm surprised.
John Sellers (@JohnSellersNYC): R.A. the Rugged Man, Definition of a Rap Flow"
Admittedly, I don't know who R.A. the Rugged Man or what a rap flow even is. But given that this De La Soul–y track, built around Friend and Lover's 1968 jam "Reach Out of the Darkness" and Mr. R.A. the Rugged Man's staccato braggadocio ("I'm feeling so groovy now/Rugged Man's flow will fuck your whole head up"), has been bouncing around my brain all week, I have faith that those blind spots will soon be corrected. I'm also a sucker, apparently, for the song's associated video, stuffed as it is with visual homages to many things I hold dear: the Atari 2600, the Rubik's Cube, Miami Vice, the Karate Kid crane-kick scene, Ferris Bueller's Day Off, the arcade games Donkey Kong and Q*Bert, and many more. None of this seems particularly rugged, but I guess R.A. the Bringer of Gen-X Touchstones Man doesn't roll off the tongue.
Lindsey Weber (@LindseyWeber): JUCE, "(H)ours"
Georgia, Chali, and Cherish make up JUCE, a girl group that is as influenced by U.K. girl groups Girls Aloud and Sugababes as they are by U.S. girl groups TLC and Xscape. (If that doesn't make you nostalgic enough, notice how similar their logo is to the one in Clueless.) No matter the throwback, JUCE's new single "(H)ours" is as good as their debut "Call You Out" — both catchy pop numbers that span R&B and disco. The fanny packs are just an added bonus.
Pharrell ft. Jay Z – "Frontin'" (Disclosure Re-Work)
With all the waves made by "Get Lucky," "Blurred Lines," and "Happy," it's easy to forget Pharrell's early stuff. Fortunately, acclaimed electronic duo Disclosure hasn't forgotten about "Frontin'," releasing an unsurprisingly delightful remix of the over-a-decade-old song. The result is arguably better than the original, with the song's dated smooth jazz vibe replaced with a beat that will get your head bouncing on first listen.