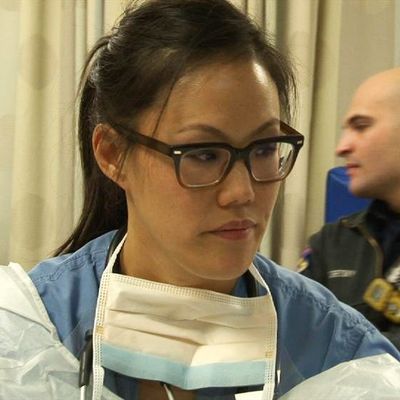 Debbie 5
Photo: Donna Svennevik/ABC
Among the purest forms of television joy is a good episode of a good doctor show. Hospital shows, doctor shows — the drama and stakes are built right in, and the doctors and nurses are inherently valorous while the patients are inherently vulnerable. NY Med, ABC's documentary series that returns for its second season tonight, plays along with those familiar ideas, but with the rare kind of urgency and intimacy that can feel forced in a scripted drama and that are hard to expose in an unscripted format. The series is emotionally rich and compelling, and its subjects range from interesting to incredibly interesting, but NY Med's real strength is its candor.
NY Med's first incarnation was the 2000 miniseries Hopkins 24/7, which is one of my favorite shows of all time. That show set up the style and tone of the subsequent iterations: The show zooms in and out of a hospital, sometimes following a patient all the way from a consultation through his surgery and recovery. Other times we see a trauma patient brought into the ER, and that's all we see — he or she is treated, and then the show moves on. We get full backstories on some of doctors and nurses, but not all of them. There's an ingrained social commentary to the series — this is America, and it's a show about health care — but it's an activism of attention; depicting, with dignity, the lives of poor people is a radical act on television. Producer Terence Wrong returned with Hopkins in 2008, Boston Med in 2010, and then NY Med in 2012. While the original is still the high-water mark (thanks perhaps to the fact that it was filmed before reality TV was such a dominant format), each version is terrific in its own right.
This season bounces between New York-Presbyterian Hospital and Newark's University Hospital, and quietly acknowledges the differences between the two, namely the number of gunshot victims we see being treated by the hospitals' respective trauma specialists. Dr. Debbi Yi, at New York-Presbyterian, and Dr. Hugo Razo, at University Hospital, are the standout subjects this year (Yi was also on the first season of NY Med), funny and capable, compassionate and devoted, street-smart and hip to their patients' bullshit — which is why the rare moments that rattle them really hit you. Nurse Diana Costine (who should probably be cast as Ellie Kemper's sister in something) navigates her own health issues this season, and watching her break down and cry on the phone with her mom left me gutted. She's a nurse! She's knowledgeable! And part of her job — a part we know she's really good at — is staying calm in crisis! But there she is, and she's scared. Savvy success and polished professionalism can be fun to watch. But it's those "oh, shit" moments where you really learn something about someone. (True on television, true in life.)
Each episode of NY Med is gripping, but this season almost conspicuously avoids tragedy. While I don't want to be mired in the agony and worthlessness that is the human condition, not every story can possibly have a happy ending. Surely some of the patients die; surely sometimes doctors disagree about the correct course of treatment. That angle is missing, and it makes the picture feel a little incomplete, particularly in comparison to other seasons.
I suppose I have to mention that snake-oil television personality Dr. Oz is on this show. He is, and we see him practice what appears to be good doctoring. Don't let his presence dissuade you from enjoying what's otherwise an almost freakishly absorbing series. Here's hoping we don't have to wait another two years for the next season.