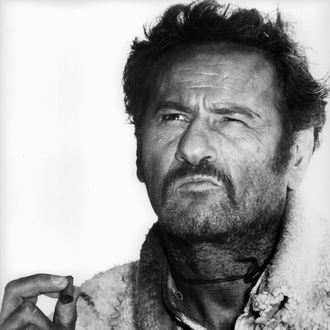 Photo: Michael Ochs Archives/Getty Images
The first time I saw Eli Wallach was in a movie no one liked and few remember. It was called The Deep, a sexy scuba-diving thriller starring Nick Nolte and Jacqueline Bisset's T-shirt, and Wallach played an ancient sailor named Coffin. I liked it. I was 6 years old, and the best things about it to my eyes were a giant moray eel and this larger-than-life character. And the riveting actor who played him.
That was a minor entry in the long and diverse career of Wallach, who died Tuesday at 98, but it speaks a little to his greatness. Whether the movie was good or bad, he was the guy you remembered — the one who stood out because his performance was so often bigger than everybody else's. That was his great gift, and maybe to some, his great flaw. Sure, there was often a theatricality to his performances, but it was never staginess. Rather, he conveyed a kind of delight in the ability to be larger than life. His great-nephew, New York Times film critic A.O. Scott, put it rather well in a touching profile of Wallach in 2010: "With Eli, there is an impish, sly quality, not self-conscious winking, exactly, but a relish at the sheer fun of acting." You loved watching him chew scenery. He made you feel like you were chewing it along with him.
Wallach was often a lead — a legend, actually — on Broadway, but a supporting actor on film. That maybe speaks to the fact that he didn't have movie-star good looks (though he was apparently everybody's first choice for the part that won Frank Sinatra an Oscar in From Here to Eternity). But he had a star's ability to transform the movies he was in. He didn't disappear into a part like a typical character actor, but brought things to his level; he never really stopped being Eli Wallach.
Think about it: The Good, the Bad and the Ugly is his movie. It starts and ends on him, and he's the one we're invested in. He's the one forever zig-zagging between nobility and betrayal, between desperation and cockiness — his features and his frame dancing between those two monumental stone faces, Clint Eastwood and Lee Van Cleef. Even at their worst, Wallach's characters carry you along with them, almost confiding in and charming you. It's his boisterous, sneering villain in The Magnificent Seven who establishes that film's baseline of cruelty and vengeance, who sells the film's sadism. (I'd say he steals the show there, but that would be unfair to James Coburn and Yul Brynner.) "I always end up being the evil one, and I wouldn't hurt a fly," the actor once said.
It's interesting to see Wallach's early performances, both in films like his friend Elia Kazan's Baby Doll (his first feature film role) and in TV dramas like Playhouse 90's The Plot to Kill Stalin. So often he had to play the vengeful rival, the bandit, the sneering functionary. But he's riveting in these parts, and you wonder if maybe he'd been a little younger, he might have gotten the big leads when the New American Cinema of the 1970s rolled around, with its carnival of paranoid antiheroes and charming hucksters.
But why wonder about that? In the end, he got the better end of the deal. He got to be Eli Fucking Wallach.