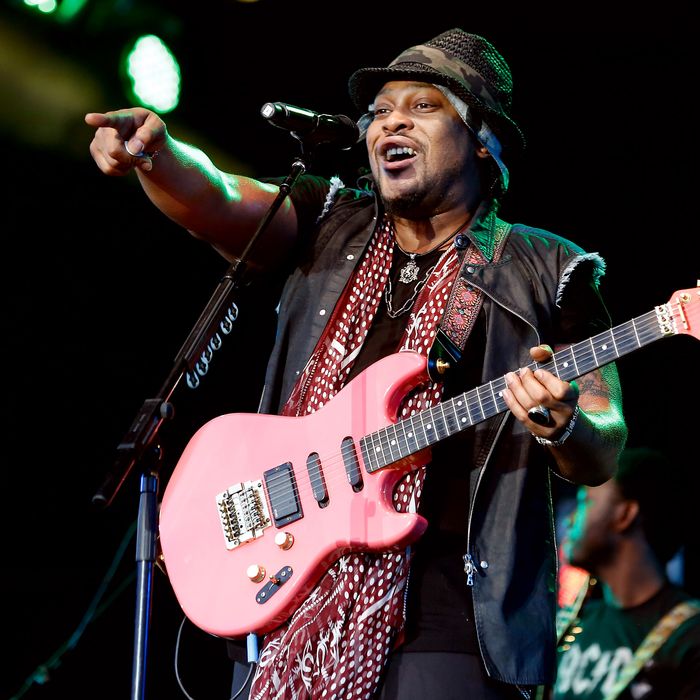 Photo: Simone Joyner/Getty Images
Earlier today, D'Angelo's manager confirmed with Billboard that the singer's long-awaited follow-up to 2001's Voodoo is coming sooner rather than later. "There'll be an album this year," said Kevin Liles. "There's 14 records so far, we might have a couple of bonus records, but all the recording is basically done and we're mixing and mastering now. Definitely, he'll be back." The problem is, we've heard that before. A lot. So many times, actually, that it is possible to make a long list of D'Angelo's broken album promises — which we did, below. Cross your fingers and pray for soul, folks.
April 2005
Rumors begin swirling on message boards about the Voodoo follow-up. "Damn near an hour and a half of new music," one fan speculated. Working title(s): D or James River
September 2008
"I Found My Smile Again," the first new D'Angelo single in years, hits iTunes unexpectedly, a supposed precursor to a 2009 album. "He's coming back," his manager Lindsay Guion told Billboard. This is neither the first nor the last time we'll hear this. Don't hold your breath.
February 2009
Following rumors of John Mayer, Mark Ronson, and Prince's involvement on the still-unnamed album, Guion talked to Billboard again to confirm the identities of collaborators like Cee-Lo Green, Raphael Saadiq, Roy Hargrove, and Q-Tip.
August 2010
More than a year after rumors of his involvement in D'Angelo's LP, Mark Ronson confirmed that he was set to spend time in the studio with the R&B singer working on songs. "I have equal parts intimidation and awe and excitement," he said. The sands of time sweep on.
December 2011
More than a year passes without any news. In December, Questlove sat down with Pitchfork to talk all things D'Angelo. "For all intents and purposes, this album is the black version of [The Beach Boys'] Smile," he said. "There's stuff on there I was amazed at, like new music patches [keyboard sounds] I've never heard before." According to Quest, the album is now 97 percent done.
January 2012
D'Angelo hit the road again, premiering two new songs, "Sugar Daddy" and "The Charade," at a tour stop in Stockholm.
June 2012
Questlove brought D'Angelo out onstage at Bonnaroo for his Super Jam set. Later that month, D'Angelo gave his first extensive interview in a decade to GQ. Nobody has any idea when the album is coming, but sources confirm that he's been in the studio working relentlessly. "This year would be nice," said Tom Corson, the president of RCA.
July 2012
Mary J. Blige and D'Angelo teamed up for the Liberation Tour, with several dates on the East Coast. No new music is released.
January 2013:
"Right now, we're just tightening up the loose ends," Quest told Billboard. "But I still stand by, 99% of it is done." This feels like déjà vu.
March 2013
D'Angelo and Questlove played an intimate show at Brooklyn Bowl in New York City. Before the final song, Questlove turned to D'Angelo and asked if the album was almost finished. "Yes," D'Angelo said. Oh.
June 2013
"Without a doubt, we will have an album in 2013. Without a doubt," Questlove told an interviewer during a book tour for his memoir Mo' Meta Blues. Later that month, at a Red Bull Music Academy appearance, he went further: "Ten songs are now mastered," he said. "I know for a fact there's only one song left to be mastered on that record, so it's definitely a fourth quarter release for that record … It has taken 11 years to make, but the amazing thing about it is that it still sounds like it came out tomorrow. " D'Angelo himself chimed in during another interview, adding, "I'm dying for people to hear the new stuff." "So just release it then," people respond.
August 2013
D'Angelo canceled tour dates in the wake of a medical emergency. What does this mean for the state of the album?
March 2014
In the spirit of crushing his fans' hopes and dreams, D'Angelo released a live version of a song he played in 1995. This is not what anybody wants, but you know the saying: "You get what you get."
June 2014
"There'll be an album this year." Don't hold your breath?