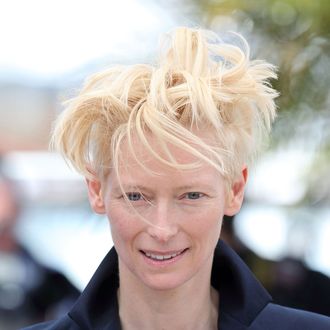 Photo: Photos via Getty Images
Today, international woman of mystery Tilda Swinton took to Reddit to field questions from fans and to plug her new film, Bong Joon-ho's sci-fi epic Snowpiercer. Along with discussing her craft and career, we also learned that she loves Amy Schumer (Tilda: She's just like us!), has been known to make lewd sculptures out of vegetables, and that she may in fact be a clone of David Bowie. Here are some of the best bits:
On the difference between working with Jim Jarmusch and Wes Anderson:
"Working with both Jim Jarmusch and Wes Anderson is like the summer camp of dreams.. with significant themic differences.. Wes Camp means all staying in a big house together and eating round one big table every night, none of that trailer stuff that big movies do, which tends to divide people out and make for lonely days (so I hear).. Jim Camp is rock n' roll camp, nocturnal, super mellow, like the endless morning after a crash-out sleep-over when noone really wants to go home.."
When asked whether she would consider returning to Narnia:

"I have always hoped that there would be the chance to make THE MAGICIAN'S NEPHEW.. the prequel to THE LION THE WITCH AND THE WARDROBE - such a fantastic story.. the creation of Narnia and the Witch driving a coach and four horses around Victorian London at breakneck speed.. but no word as yet.. let's cross our fingers.."

On an "interesting" experience she had while filming The Curious Case of Benjamin Button:

"The time when Fincher failed to notice that BP and I had arranged two potatoes and a carrot in a specific configuration on the kitchen table we were sitting at.. and had to have it pointed out to him at the END of a take.."

About whether she's looking forward to working with the Coen Brothers:

"YES YES YES"
On what she would have done if she weren't an actress:

Professional gambler
Talking about her role in Sally Potter's 1992 film Orlando:
"Orlando is a very dear memory for me: it was the first time I had worked alongside a project for so long - it took us five years, from first deciding to try to make it, to finishing the film - and Sally is a great friend of mine: we thought at the time we would never get to the finish with it.. but once it was done, we realised we savoured every minute of the ride.. if you mean would I ever play another cross-dressing, gender transitioning, four hundred year old English aristocrat again, I feel like saying it's not likely, as those stories aren't told so often..but then again, Orlando never feels very far away from me, somehow.."
When asked who her favorite comedians are:

"AMY SCHUMER!! BILL MURRAY MITCH HEDBERG WILL FERRELL BILL HADER CHRIS MORRIS GRAHAM LINEHAN JOHN FINNEMORE and many many many many many more
Comedy = lifeblood"
Her favorite part of filming Snowpiercer:

"SNOWPIERCER is something all of us who made it are so excited about everyone seeing.. Bong Joon Ho is a total master and it is such a privilege to be his colleague.. the more of you in the US who see it this weekend, the more theatres will play it over the next weeks, so GO HARD! My favourite part of filming was probably making Director Bong laugh.. he kind of sniggers like a kitten.."
On working with Bong Joon-ho and Song Kang-ho:

I was a MASSIVE fan of Bong Joon Ho's before I met him: MEMORIES OF MURDER, THE HOST, MOTHER and even his first film BARKING DOGS NEVER BITE.. some of my favourite films of the last fifteen years.. and, Song Kang Ho is a great, proper film star in the best sense.. I would work with them on anything we could dream up together..
How she chooses her projects:

"I first started making films with Derek Jarman in England in the 1980's.. we were very close friends and we made 7 films together over the nine years before he died in 1994. I learned very early on that filmmaking is amongst the most fun things that can be done in a group, in the cold and the rain in the middle of the night when the food has run out.. so ever since then, I have chosen the people first above every other element.. life is too short to be working alongside people you don't like A LOT for years on end.."
When asked whether she plays a role in how her characters look:

"The whole business of dressing up and playing is the greatest of fun for me.. every time, it doesn't have to be something as extreme or pantomime ridiculous as Mason in SNOWPIERCER or intricate as the extraordinary prosthetics for GBH.. even when working out the look of someone pretty regular like the woman in I AM LOVE or KEVIN.. the look is, in a pretty big way, where I mainly do my work.. once we start shooting, then: I play.."
In response to the rumor that she has "a young lover and an old lover":

"This is not true, lukeyrads.. it never was.. someone once ran with a misunderstanding.. I suppose there may be people out there who believe it, though, so their perception would be skewed.. I'm sorry if this is a disappointment for anybody.."
On whether she is, in fact, a clone of David Bowie:

"The laboratory gave me strict instructions to issue no comment."