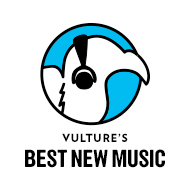 Every week, members of the Vulture staff will highlight their favorite new songs. They might be loud, quiet, long, short, danc-y, rawkin', hip, square, rap, punk, jazz, some sort of jazz-punk-rap fusion — whatever works for the given person in that given week. Read our picks below and please tell us yours in the comments. Enjoy!
Gilbert Cruz (@GilbertCruz):
The New Pornographers, "Brill Bruisers"
Normally, if I heard a song that started with the lines, "Bo ba, bo ba ba bo, Bo ba, bo ba ba," I would run far, far away on the chance that it was about to go into full a capella mode. But this is the first track from the New Pornographers' upcoming album, Brill Bruisers, and there are few things I want more in this world than more songs from A.C. Newman and Co.
Jesse David Fox (@JesseDavidFox):
Death Grips feat. Björk, "Have a Sad Cum"
Earlier this week, noise-rap band, Death Grips dropped a new EP, Niggas on the Moon, which they claimed to have collaborated with Björk on. Though Björk confirmed that it is her voice being sampled, it's hard to tell how much involvement she actually had. "Have a Sad Cum" uses one of those samples to leaven their style of abrasive noise-collage.
Spoon, "Rent I Pay"
There is something so deceptively simple about Spoon that, with the band having been out of commission for four years, it might have been easy to forget about them. Their new single "Rent I Pay" is a quick reminder of how they sound cooler than just about anyone else.
Yellow Ostrich, "Neon Fists"
Today, Stereogum premiered the new video from Brooklyn's Yellow Ostrich. A standout from their most recent album, Cosmos, "Neon Fists" feels like an R&B ballad, albeit one filtered through the last decade of indie rock. It sounds like a song that would play at the end of the second act of a Zoe Kazan movie.
E. Alex Jung (@e_alexjung):
Taeyang, "Eyes, Nose, Lips (눈, 코, 입)"
The pint-size R&B crooner of Big Bang is back to his balladic roots with this stripped-down love song. While the video is very D'Angelo circa 2000 with a slow pan away from a shirtless Taeyang, it's still fairly modest (hey, it's Korea, after all). The song demonstrates everything that's great about the sentimental side of K-pop, which usually gets short shrift next to the bright beats and intricate choreography of its boy/girl groups. This is an all-in, giving-your-eyeballs-to-your-blind-lover kind of love. Enjoy it.  
Lindsey Weber (@LindseyWeber): 
GRL, "Ugly Heart"
G.R.L. is a girl group I hadn't heard of until recently — for me, they'd been buried beneath Girls Aloud, Sugababes, Fifth Harmony, Little Mix, and all of the other (mostly good!) girl groups that have steadily emerged from the U.K. But a friend pointed me toward their newest, "Ugly Heart," and damn is it sticky. Never has a ukulele been overlaid with so many, many layers of production.   
Becky G, "Shower"
Thank Dr. Luke (or blame him) for this one. He chose Becky G, a YouTube phenom with a record deal, for his song "Shower" — one that has her sounding like Icona Pop (la-da-dee-la-da-da-la-da-da) meeting up with Keri Hilson ("Pretty Girl Rock") for a duet. Let's just say it's already at the top of my karaoke list.