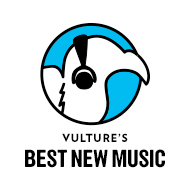 Every week, members of the Vulture staff will highlight their favorite new songs. They might be loud, quiet, long, short, dance-y, rawkin', hip, square, rap, punk, jazz, some sort of jazz-punk-rap fusion — whatever works for the given person in that given week. Read our picks below and please tell us yours in the comments. Enjoy!
Brennan Carley (@Brennan_Carley) 
Tiesto feat. Ou Est Le Swimming Pool, "The Feeling"
I'd like to pretend I'm cooler than this, but I can't stop listening to Tiesto's new hyper-pop album A Town Called Paradise. He's known for more trance-house cuts but Paradise is stamped with Top 40's seal of approval. I usually skip over the obvious singles like "Wasted" and "Let's Go" (Icona Pop is back, everyone!) for "The Feeling," which is a quintessential "don't need to know the words, just need to roll the windows down and drive" song. It's blunt and in your face and goofy. Just let it happen.
Jesse David Fox (@JesseDavidFox)
alt-J, "Hunger of the Pine"
You can't escape Miley Cyrus. She's now even popping up in atmospheric, moody songs from Mercury Prize–winning British indie rock acts. alt-J uses a sample of Cyrus singing "I'm a Female Rebel" (from her very different song "4x4") to great effect, bringing a certain edge and humor to what could easily be slagged off as background music.
The Antlers, "Intruders"
Once, if you talked about the Antlers, the first thing people would think is "sad" and the second was "falsetto." Their new wonderful and critically acclaimed album, Familiars, seemingly aspires to change that. It's far from super poppy, but it's definitely more upbeat than previous records. And most refreshing is lead singer Peter Silberman rich mid-range vocals. As a result, when he does break out the falsetto, like on "Intruders," it's instantly affecting.
Jessie Ware, "Tough Love"
After a two-year absence, Ware is back, and her voice voice really pops over this minimal, "When Doves Cry"–esque beat.
White Lung, "I Believe You"
You can't casually listen to Canadian feminist punk band White Lung. It demands attention, partially because of its subject matter and partially because of how much ass they kick. "I Believe You" is a blistering one minute and 40 seconds of music with the most badass ending of the year so far.
John Sellers (@JohnSellersNYC): 
Guided By Voices, "Bad Love Is Easy to Do"
This song is great and all, and the video starring Rob Corrdry and Brian Huskey as a 1960s folk-duo version of Robert Pollard and Tobin Sprout is even better. But the main reason I'm singling out this recently released track from Cool Planet (the sixth proper Guided By Voices album in the past three years and its 21st overall) is that tomorrow marks the 20th anniversary of Bee Thousand, an album featuring precisely eight songs that would have gone straight to number one if I ran the world, most notably "I Am a Scientist," inarguably the best song ever written in the world I will never get to run.
Lindsey Weber (@LindseyWeber): 
Katy Perry and Kacey Musgraves, "Firework"
I can conclusively say that there was not enough excitement surrounding Katy Perry/Kacey Musgraves's Crossroads special. They made wonderfully charming chit-chat, sang two CMT-curated covers (Dolly Parton's "Here I Go Again" and Bonnie Raitt's "I Can't Make You Love Me") and achieved impressive harmonies. One of their best efforts was a duet of Katy's "Firework," to which Kacey added her low-key (but equally lovely) timbre — proving that it doesn't have to be all belt.
Sam Smith, "Restart"
In case you missed it, this is Sam Smith's album release week! Congrats to you, Sam Smith, on your full-length debut, In the Lonely Hour. So far, so good, but you'll have to grab the deluxe version (or, I guess, click play on the YouTube below) to hear the "Little Red Corvette"–inspired track, "Restart" — not only one of the album's few non-ballads, but also proof that Smith shouldn't just stick to the slow stuff.