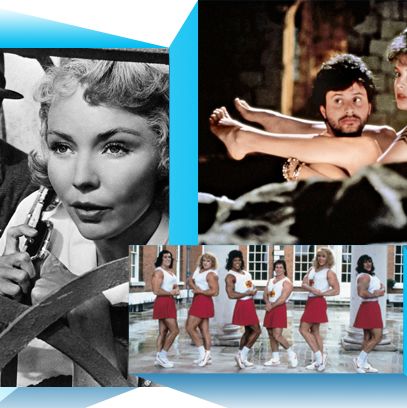 Photo: United Artists; MGM; Paramount Pictures
This weekend, as you search for a movie to watch, you can go see romantic comedy They Came Together or you can pick one of approximately 14 billion movie options available to stream over a variety of services, be it Netflix, Hulu, Amazon, On Demand, or other sites. Every Friday, Vulture tries to make life easier by narrowing it down to a handful of heartily recommended options. This week, five choices for you.

Top Secret! (Stream on Netflix, Amazon Prime, Rent on iTunes, Vudu, Amazon, Xbox)
David Zucker, Jim Abrahams, and Jerry Zucker's Airplane! follow-up is a spy thriller, a Western, an Elvis vehicle, a war movie, and one of the weirdest comedic experiments ever concocted. Where Airplane! is lean and mathematical in its spoofing of 1957's Zero Hour!, Top Secret! is a hurricane of jokes with a young Val Kilmer (straight out of Julliard) at its eye. There's slapstick, visual gags, and wordplay ("I know a little German," cut to a little German person), and then there's the transcendent humor, sequences where the filmmaking becomes the gag. One scene is visibly performed backward and reversed into forward motion; The film's major fight scene — an old-timey bar fight — takes place underwater. For a genre not known for its ambition, Top Secret! remains next-level.
Beat the Devil (Stream on Amazon Prime, Hulu, Rent on Amazon)
The story goes that on the first day of filming Beat the Devil, John Huston tore up his original, somber screenplay, flew Truman Capote to the Italian set, and wrote scenes day-by-day until they had something resembling a movie. The result is a film-noir spoof played dangerously close to straight. Humphrey Bogart, Jennifer Jones, Peter Lorre, and the character-actor pool's best imbue the movie with the swagger of The Maltese Falcon, the picture Huston aimed to skewer with this on-the-fly production. It's a strange cookie — a rarity for the notoriously picky Bogart.
A Man Called Sarge (Stream on Netflix, Amazon Prime)
Ah, the 90s. When it didn't take a comedy group or pop-culture phenomenon to push a parody comedy through the system. Future Teenage Mutant Ninja Turtles III director Stuart Gillard wrote and directed this lesser-known war-movie spoof, which utilizes Airplane! tactics to turn World War II's Western Desert Campaign into a gag-filled escapade. Former Saturday Night Live player Gary Kroeger stars as the chiseled anti-hero Sarge, leader to a band of misfits looking to stick it to the Nazis. A Man Called Sarge isn't as sharp or demented as the Zucker-Abrahams-Zucker movies it cribs from, but there's enough money poured in to lampoon war on the scale required to sell it.
The Little Train Robbery (Stream on YouTube)
Often cited as cinema's first spoof movie, director Edwin S. Porter skewered his ground-breaking action movie, 1903's The Great Train Robbery, two years later with a juvenile remake. The Little Train Robbery was the Bugsy Malone of its time; Porter re-cast the original adult roles with children, swapped a racing locomotive for a mini-train kiddie ride, and used dolls and candy as stand-ins for the stolen valuables. Why? Because, c'mon, that's adorable!
George Lucas in Love (Rent on iTunes)
Another bite-size parody, director Joe Nussbaum's renowned short reimagines Shakespeare in Love as the poetic, epiphany-filled journey that leads to the creation of … Star Wars. Desperate to finish his science-fiction screenplay, George Lucas roams the USC campus in search of inspiration. It's staring him in the face — his hippie roommate babbling on about "The Force," his creepy next-door neighbor with respiratory problems, his Zen-master-like professor who talks with a particular cadence, and an attractive young woman — complete with side-buns hairdo — who becomes his muse. To celebrate its 15th anniversary, George Lucas in Love received an HD upgrade and a proper release on iTunes. It's a must for Star Wars nuts and more casual Jedi.
Other movies available:
Austin Powers: Goldmember (Rent on iTunes, Vudu, Amazon, Xbox, Target Ticket)
Austin Powers: International Man of Mystery (Rent on Vudu, Xbox, Target Ticket)
Austin Powers: The Spy Who Shagged Me (Rent on iTunes, Vudu, Amazon, Xbox, Target Ticket)
Blazing Saddles (Rent on iTunes, Vudu, Amazon, Xbox, Target Ticket)
Creature from the Haunted Sea (Rent on Vudu, Amazon)
Dracula: Dead and Loving It (Rent on iTunes, Vudu, Amazon, Xbox, Target Ticket)
Jane Austen's Mafia! (Rent on iTunes, Vudu, Amazon, Xbox)
Spaceballs (Stream on Netflix, Amazon Prime, Rent on iTunes, Amazon, Xbox, Target Ticket)
Galaxy Quest (Stream on Amazon Prime, Rent on iTunes, Vudu, Amazon, Google Play, Xbox, Target Ticket)
A Haunted House (Stream on Netflix, Rent on iTunes, Amazon, YouTube, Google Play, Xbox, Target Ticket)
High Anxiety (Stream on Netflix, Rent on iTunes, Vudu, Amazon, Xbox, Target Ticket)
Hot Fuzz (Rent on Vudu, Amazon, Xbox)
Kung Pow: Enter the Fist (Rent on iTunes, Amazon, Xbox, Target Ticket)
The Naked Gun (Stream on Netflix, Rent on iTunes, Vudu, Amazon, Xbox, Target Ticket)
Our Man Flint (Rent on iTunes, Vudu, Amazon, Xbox, Target Ticket)
Casino Royale (1967) (Rent on iTunes)
Casa de mi Padre (Stream on Netflix)
The Cheap Detective (Rent on iTunes, Vudu, Amazon)
Robin Hood: Men in Tights (Stream on Netflix, Amazon Prime, Rent on iTunes, Vudu, Amazon, Xbox, Target Ticket)
Shaun of the Dead (Rent on Vudu, Amazon, Xbox)
Stay Tuned (Rent on iTunes, Vudu, Amazon, Xbox, Target Ticket)
Hot Shots! Part Deux (Rent on iTunes, Amazon, Xbox, Target Ticket)
Undercover Brother (Rent on iTunes, Vudu, Xbox)