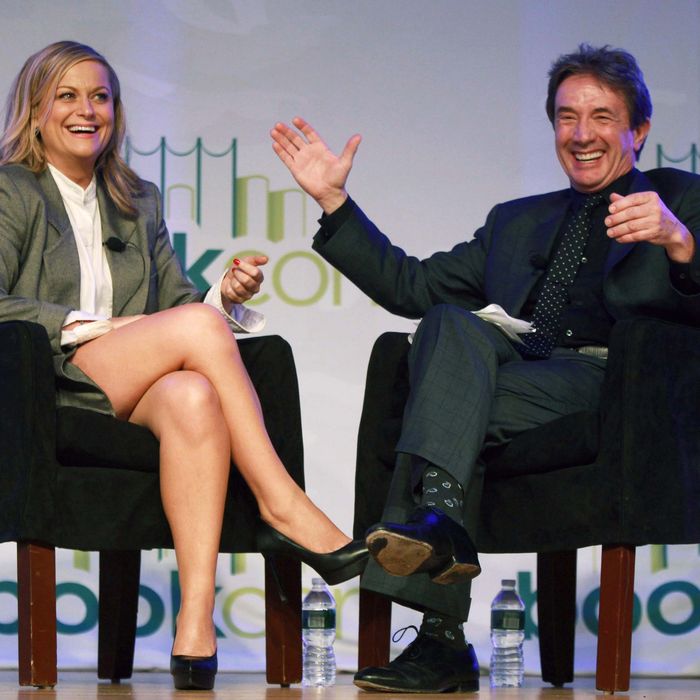 Photo: Steve Sands/WireImage
Attendees at Saturday's sold-out BookCon, the new Comic Con–styled consumer day at Book Expo America, grasped for comparisons while assessing their experience. It was smaller, more subdued, and more disorganized than Comic Con. It was poppier and noisier than a book festival. It was a refreshing opening-up of what BEA has always been — a trade show. (There were less charitable descriptions, mostly on Twitter.) To organizers, though, it felt a little like the rollout of Obamacare: bumpy, glitchy, and easy to mock, but ultimately redeemed by a last-minute surge.
In this case, the surge itself caused the chaos — fire-code violations, closed-off sections, guards barking orders, and hours-long lines snaking through the basement cafeteria. BookCon only uses one wing of the convention rooms and a sliver of the floor space at Javits — the rest is for BEA. Only 7,000 had bought tickets a week out from the show, but by Friday night, they'd hit the limit of 10,000 — a thousand of them in the last 24 hours, according to show manager Brien McDonald. "At midnight, we had people back in Connecticut prepping sold-out messages."
It was a good thing because, as McDonald says, "it was hairy today with ten. Believe me, we have a lot of work to do for next year." Fans took their cues from shows like Comic Con, lining up so early for panels that organizers quickly lost control. By 10:45 a.m., the lower level was cordoned off. From the escalators above, the group waiting to see Stan Lee looked like a refugee camp. McDonald regrets front-loading most of the big stars and putting them in too-small conference rooms. "You want to fire the cannon right away," he says, "but maybe next year there'll be a little more staggering."
Things eased up later in the day, but in front of the main events hall — host to Amy Poehler and Martin Short, followed by a slate of blockbuster children's authors and the biggest draw, The Fault in Our Stars author John Green — the line turned into a roped-off swarm. Screaming teenage girls knocked over a barricade. Parents crowd-surfed out while the children remained. "It's got to improve," says McDonald. "But who wants to keep doing the same thing and not get better at it?"
They'll definitely get their chance. ReedPop, the subsidiary of Reed Exhibitions that set up BookCon, will propose splitting next year evenly between BEA and BookCon, with two days per show. (This year it was two-and-a-half days for the trade and one for consumers.) That might appease attendees who seemed to feel the event would have been great — if not for all the kids, or all the movie stars, or the cramped space, or the long lines (everyone agreed on the last one). The most satisfied customers were those who had come in (from as far away as Rhode Island and Virginia) to see one major author worth waiting three hours for.
"Now," says McDonald, "instead of going home and saying, 'Do we do this next year?' we're saying, 'What is the expansion plan?' Two days is the obvious answer; there's no doubt from what I saw with my eyes." ReedPop is also looking to partner with retailers to sell books on a major scale.
It might help alleviate the long lines for galley giveaways — a concept that works at BEA but not so much at Comic Cons. Several people told me they'd come packing plenty of cash. "Scholastic could have made $500 from me, and more later," said one schoolteacher, miffed that publishers seemed ill-equipped to engage customers. You only had to cross over from breathing-room-only BookCon floor to the vast BEA space, nearly deserted on its last half-day, to see that there was an imbalance.
ReedPop is doubling down not only on the show but on the Comic Con values they'd hoped to infuse into it. Early complaints around New York Comic Con, which ReedPop manages, didn't dissuade fans from returning, and neither will this year's hairier moments. A couple of attendees may have tweeted #neveragain, but everyone I talked to planned on coming back. And almost all of them were excited about the notion that books matter this much to so many people — even if books sometimes took a backseat to celebrities, and literary fare lost out to genre giants.
McDonald says he personifies the point he's trying to make, which is that a bigger fair will have more room for all kinds. "I was personally psyched to have [Cloud Atlas author] David Mitchell here," he says. "I was also psyched to get Jason Segel," the actor who's got a children's book out in the fall. "Segel's a storyteller in all fashions. He's onscreen, he writes beautifully, and he's a screenwriter, and that's the perfect BookCon panelist."
Maybe next year, it'll be easier for fans to get in to see him. "But you see what we're going for," McDonald told me as we made one last walk across Javits in the closing minutes of the show. "This isn't a book festival."