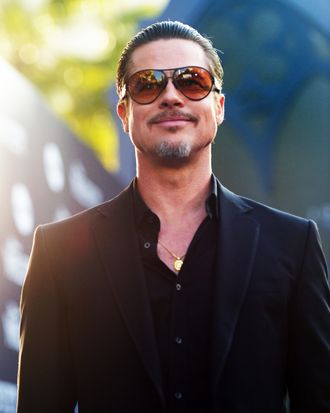 Actor Brad Pitt attends the World Premiere of Disney's "Maleficent", starring Angelina Jolie, at the El Capitan Theatre on May 28, 2014 in Hollywood, California.
Photo: Jason Kempin/Getty Images
Today Brad Pitt spoke out about being attacked on the red carpet at Wednesday's Maleficent premiere in Hollywood. The assailant was Vitalii Sediuk, a former Ukrainian television reporter and "celeb prankster" who also made headlines for sticking his head under America Ferrera's dress at Cannes. "I was at the end of the line signing autographs, when out the corner of my eye I saw someone stage-diving over the barrier at me," Pitt told People magazine. "I took a step back; this guy had latched onto my lapels. I looked down and the nutter was trying to bury his face in my crotch, so I cracked him twice in the back of the head – not too hard – but enough to get his attention, because he did let go. I think he was then just grabbing for a hand hold because the guys were on him, and he reached up and caught my glasses. I don't mind an exhibitionist," Pitt continued, "But if this guy keeps it up he's going to spoil it for the fans who have waited up all night for an autograph or a selfie, because it will make people more wary to approach a crowd. And he should know, if he tries to look up a woman's dress again, he's going to get stomped." God bless Brad Pitt, champion of women and selfie-takers everywhere.