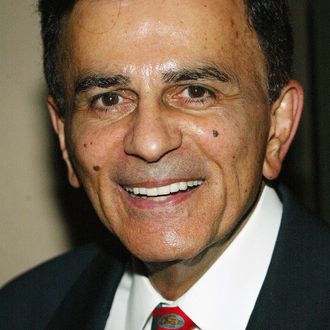 Photo: Frederick M. Brown/Getty Images
Casey Kasem, the voice of Shaggy from Scooby-Doo and co-creator and host of "American Top 40," passed away early Sunday morning at St. Anthony Hospital in Gig Harbor, Washington. He was 82 years old. Kasem's daughter Kerri broke the news via Facebook, posting a photo of them when she was a child and a note:
Early this Father's Day morning, our dad Casey Kasem passed away surrounded by family and friends. Even though we know he is in a better place and no longer suffering, we are heartbroken. Thank you for all your love, support and prayers. The world will miss Casey Kasem, an incredible talent and humanitarian; we will miss our Dad. 
Kasem's death ends a protracted legal battle between his three oldest children and his wife and their stepmother Jean. Kasem was suffering from Lewy body dementia.
Kasem was born to Lebanese immigrant parents in Detroit, Michigan, where they owned a grocery store. He worked as a disc jockey in the army during a stint in Korea and went on to work at KRLA in Los Angeles after that. His two biggest roles came within a year of each other: first doing the voice of Shaggy in 1969's Scooby-Doo, Where Are You!, and then hosting the first show of "American Top 40" on July 4, 1970, which soon became a nationally syndicated program.
In this video — a charming convergence of the two roles — Kasem voices a scene of Scooby-Doo where Shaggy puts on his best "radio voice": It's Casey Kasem as Shaggy as Casey Kasem!