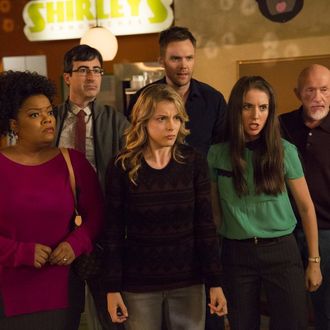 Community lives! Internet giant Yahoo, which made it clear last spring that it wanted to jump into the same original programming waters as Netflix, Amazon, and Hulu, has struck a deal with producer Sony Pictures Television to stream a 13-episode, sixth, and almost certainly final season of the Dan Harmon comedy. And yes, Harmon will be back as showrunner. "I am very pleased that Community will be returning for its predestined sixth season on Yahoo," Harmon said in a release announcing the deal. "I look forward to bringing our beloved NBC sitcom to a larger audience by moving it online. I vow to dominate our new competition. Rest easy, Big Bang Theory. Look out, Bang Bus!" Community was canceled by NBC in May, but lead production studio Sony Pictures Television has been working relentlessly to find a new home for the show ever since. The studio engaged in serious conversations with Hulu about a deal, with the internet streamer seriously interested in acquiring exclusive rights to season six (it already syndicates past seasons). The two sides couldn't make the economics work, however, people familiar with the discussions said. By contrast, Yahoo, eager to land a show with a built-in audience and flush with cash, didn't have a problem figuring out the financial details. Indeed, Vulture hears the production budget for Community's sixth season will not be dramatically different than the most recent NBC season of the show.
In addition to Harmon returning as showrunner,  Community vet Chris McKenna is also in talks to return as exec producer and Harmon's top lieutenant. And while the six seasons part of #SixSeasonsAndAMovie has come true, there's nothing official — yet— about the feature film part. Industry insiders, however, say there have been discussions about how that might still happen, too. NBCUniversal-owned Universal Televison, meanwhile, blessed Sony's talks with Yahoo and will remain as a co-producer on the show (though Sony, as it always has, will remain lead studio in day-to-day production of the show.) Series star Joel McHale was, no surprise, happy about the reprieve: "Thank you, Sony. Thank you, Yahoo. Thank you, Dan Harmon," the actor said. "And thank you to the greatest f%$#ing fans in the history of the human race. It's the internet. We can swear now."
The Yahoo deal represents an amazing reprieve for Community, which many Hollywood types considered to be well and truly dead after NBC's axing and after various cable nets passed on the show. But Sony programming chiefs Zack Van Amburg and Jamie Erlicht, as they have in the past with many shows on their roster, continued to explore all options to keep the show alive. (The studio has developed something of a rep for not accepting network cancellations as final verdicts, having previously resurrected Damages, Rules of Engagement, 'Til Death, and Unforgettable. Sony is now hoping to secure a second season of NBC's The Night Shift, which had been assumed to be a summer burn-off but has so far performed well for the Peacock.) Van Amburg said the studio was glad to have "avoided the Darkest Timeline yet again" with Community, while Erlicht noted, "You can't get to six seasons and a movie without a sixth season."

Timing also worked to Sony's benefit, since Community's free agency happened around the same time as Yahoo chief Marissa Mayer's plan to jump into first-run programming. The internet giant wants to find new ways to attract advertisers beyond print content and short-form web series. And while outlets such as The Wall Street Journal and Variety have reported Yahoo has been talking to agents about finding new material their clients might produce for Yahoo, picking up Community will let Yahoo quickly get into the first-run, full-length series game. Yahoo chief marketing officer Kathy Savitt, in a statement announcing the deal, said the internet giant "is all about connecting the best creators to the audiences who love their work. Community has an incredibly passionate and loyal fan base who have fought hard to keep this amazing show alive."
UPDATE: Yahoo chief marketing officer Kathy Savitt told Vulture this evening that she's not ready to call season six of Community the show's last. "Our hope is to build and extend and prolong" the series beyond the upcoming season six. "Our hope is…that it has a healthy future for season six and well beyond." This doesn't mean the show will go beyond six seasons and a movie, of course; Harmon and the cast would need to sign on. It does indicate how interested Yahoo is in the Community franchise. Meanwhile, while no decisions have been made, Savitt said it's likely Yahoo will air episodes of Community one episode at a time, rather than put them all online at once. And, for now at least, she says the goal is to have season six premiere sometime this fall.