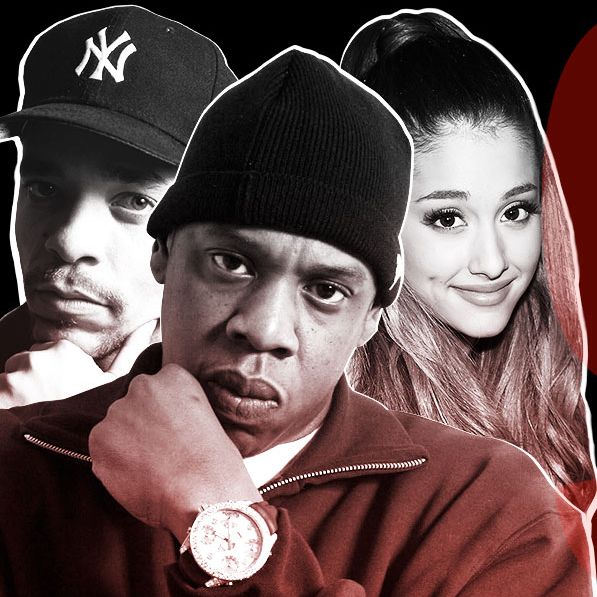 Photo: Maya Robinson and Photos by Getty Images
Law & Order: SVU mainstay Ice-T's Body Count surfaced last month to release Manslaughter, the thrash-metal band's fifth album, which comes complete with not one, but two, versions of "99 Problems" — a song that first appeared on Ice-T's 1993 solo album, Home Invasion. Of course most people know "99 Problems" as a track off Jay Z's The Black Album. "I thought his version was dope, but Jay didn't go out of his way to mention that it was a remake," Ice-T told Vulture recently. So he decided to "reclaim" the song on this album — sort of like the rap equivalent of peeing on a tree stump.
But calling Jay Z's early-aughts update a "remake" isn't exactly correct, as he and producer Rick Rubin changed the context of the song so that it went from a boast detailing a long list of sexual conquests to one describing the very real experiences of being a black male in America. Since its release as a single ten years ago, Jay's version has cemented itself into our cultural consciousness, appearing on the floors of legislatures, getting mashed up with the Beatles, and finding itself dissected in law journals.
February 14, 1993
Ice-T releases his fifth solo album, Home Invasion. This is a year after Body Count's controversial and provocative song "Cop Killer" — and seven years before he signs on to play a cop on Law & Order: SVU. "99 Problems," featuring Brother Marquis from 2 Live Crew, is the 16th track on the album, and it enumerates the various kinds of women Ice gets with (e.g., some can sing, some can't; some have hair, some don't). Before going into the well-known lines, he raps, "And I love 'em all, I love 'em crazily / And they love me back — that's why they stay with me."

March 20, 2001
This Trick Daddy release, also titled "99 Problems," would qualify as an actual remake. Much like Ice delivering his laundry list in the original, Trick's version, off the 2001 album Thugs Are Us, finds him raunchily boasting about all the ladies he has gotten with. He raps, "I get so many bitches they get done / I got 99 problems and a bitch ain't one."
November 14, 2003
As he stated in New York Magazine this spring, producer Rick Rubin got the idea of recontextualizing the song from Chris Rock. "The Ice-T song is about him talking about his girls and what a great pimp he is," said Rubin. "And our idea was to use that same hook concept, and instead of it being a bragging song, it's more about the problems. Like, this is about the other side of that story." Thus was born one of Jay Z's most famous tracks. The Black Album single was released on April 27, 2004, and reached No. 30 on the Billboard charts. The climax of the music video, which sees Jay Z getting riddled with bullets, courted controversy and required an extensive disclaimer from MTV's John Norris before it could air on the network.
February 2004
After Jay Z released an a capella version of The Black Album, DJ Danger Mouse got the idea to mash up The Black Album with the Beatles' The White Album. On the album, he mixes "99 Problems" with the foursome's "Helter Skelter."
February 2004
Also around this time, Lil Wayne dropped his mixtape, The Prefix, in which he freestyles to a track entitled "In My Life": "I got 99 problems and a bitch ain't one / I got 99 partners and a snitch ain't one / I got 99 bitches and I don't love one / My 1999 bitches I been done."
Winter 2004
There was a brief moment in rap history when Lil' Flip (Who? The leprechaun guy?) was somewhat more successful than T.I. and had the gall to snub the man on a remix of "Game Over." In retaliation, T.I. released a dis track on his mixtape Down With the King, "99 Problemz (But Lil' Flip Ain't One)." On it, T.I. raps, "Daddy shoulda got some head, bet he wish he woulda worn rubber / But he didn't, so now I guess the world gotta suffer." Lil' Flip hasn't really had much of a career since.
November 30, 2004: Linkin Park and Jay Z, Collision Course
Linkin Park and Jay Z mashed up their various hits on Collision Course, combining "99 Problems" with the songs "Points of Authority" and "One Step Closer." A month later, Minty Fresh Beats would mash the song up with Radiohead (the album is called Jaydiohead, naturally) to create "99 Anthems."
June 28, 2008
Oasis's Noel Gallagher criticized the Glastonbury Festival's decision to bring Jay Z on as the headliner, saying, "I'm not having hip-hop at Glastonbury. It's wrong." Jay Z waltzed onstage and cheekily covered the band's song "Wonderwall" before stopping midway, declaring, "I just got one thing to say" and going into "99 Problems" set to AC/DC's "Back to Black."
January 21, 2009
"99 Problems" entered the political lexicon when Jay Z performed at the Obama staff inauguration ball, gleefully rapping "I got 99 problems, but a Bush ain't one" for some very enthusiastic interns.
September 15, 2009: Kid Cudi, "Soundtrack 2 My Life," Man on the Moon: The End of the Day
On "Soundtrack 2 My Life," Kid Cudi raps, "I got 99 problems, and they all bitches / Wish I was Jigga man, carefree living / But I'm not Shawn."
Summer/fall 2009
"99 Problems" appears on every aughts best of list imaginable. Most notably, Rolling Stone placed the song at #2 (behind Gnarls Barkley's "Crazy") and Pitchfork ranked it at #14, calling it "the single that catapulted [Jay-Z] out of hip-hop superstardom into everyone's vernacular."
May 28, 2010: Kanye West
Kanye West references the "whole asshole" line in "Power," the lead single off of My Beautiful Dark Twisted Fantasy, rapping, "Tell them Yeezy said they can kiss my whole ass / More specifically they can kiss my asshole."
November 15, 2010
Girl Talk samples the "Hit me!" refrain on "Oh No."
November 15-16, 2010
In his memoir Decoded, Jay Z writes about his personal brush-up with the law he had that informed the second verse. He writes, "'Driving while black' was usually a sufficient reason for the police to stop us. The first offense wasn't the crack in the ride but the color of the driver." He also explains how he was reframing the word bitch in the song:
In every verse of the song I use the word "bitch" in a different way. In this verse, the bitch is a female dog, the K-9 cop coming to sniff the ride. When I was living my version of this story, we got away—the K-9 was late, and the cop let me go. We were back on the road again, hearts pounding, crack still tucked untouched in the stash, when I saw the K-9 unit screaming up the highway, going in the opposite direction. It would've changed my life if that dog had been a few seconds faster. We had a strange kind of luck, some kind of rogue angel watching over us. But in the song, I left the outcome ambiguous—does he get away or not? That's the writer in me. I like ambiguous endings, like Shane staggering off into the sunset at the end of the movie. Does he die or does he live? And the larger question: Should he die or live? I leave it to the listener to decide.
He also talked about this idea in a conversation with Dr. Cornel West and Paul Holdengräber at the New York Public Library, timed with the release of his book.
May 10, 2011
On his biggest single, Hugo (signed to Jay Z's label Roc Nation) does a bluegrass rendering that uses the song's title and hook.

September 2011: Battlefield 3
The first-person shooter Battlefield 3 runs TV ads to well-timed explosions.
March 7, 2012
As Florida legislators debated an amendment about evidence code on the floor of the Florida legislature, Democratic representative Alan B. Williams quoted the song in an argument: "I think Jay Z said it best, and I'm going to quote for you. 'I know my rights and you're going to need a warrant for that.' And he even went further, 'Aren't you sharp as a tack, are you a lawyer or something?' Members, when you look at it, support this. If you support Jay Z, support this amendment." Republican Rep. Dean Cannon corrected him: "I must respectfully disagree with a correction, Rep. Williams. In the song, it was the officer who said, 'Aren't you sharp as a tack?' or something. 'You should try for lawyer or something,' so I got you on that. It's an unspoken rule, if you're going to invoke Jay Z, you must get the lyrics correct. I'm not sure Jay Z would support this amendment." Both of them were wrong, but points for trying to relate to the people!
May 7, 2012
On season two of The Voice, former Mouseketeer Tony Lucca performed Hugo's "99 Problems" right before the finale. It might have been a bad choice, as a peeved Christina Aguilera couldn't resist a swipe, saying, "I know your beautiful wife and your daughter and your family are here, and I just thought the lyrical connotation was a little derogatory towards women, but all in all, it was good fun."
November 5, 2012
The lyrics get updated for the 2012 presidential race. Now Jay Z has "99 problems, but Mitt ain't one."
Winter 2012
Law professor Caleb Mason makes the second verse the subject of an essay for the Saint Louis University Law Journal, writing that the song "forces us to think about traffic stops, vehicle searches, drug smuggling, probable cause, and racial profiling" in "one compact, teachable verse." He also writes:
When I teach the Fourth Amendment, I ask my students what the doctrines tell us about, on the one hand, how to catch bad guys and not risk suppression,and on the other, how to avoid capture or at least beat the rap if not the ride. I'm always happy to tell my own stories, but the song struck me as the perfect teaching tool.
October 24, 2012
The concept gets flipped for a new generation with A$AP Rocky's "Fuckin' Problems" featuring Drake, 2 Chainz, and Kendrick Lamar. A$AP's "problem" now is loving said women.
June 1, 2013
Odd Future's Hodgy Beats released an EP, Untitled 2, where he raps on the track "Goodbye" featuring Lee Spielman, "They got 99 problems, I got a lot of rum / And I drive a fast car, drop the top for fun."
April 27, 2013
At the White House Correspondents' Dinner, President Obama made the requisite self-deprecating jokes while also making a reference to the Jay Z/Beyoncé Cuba scandal: "Some things are beyond my control. For example, this whole controversy about Jay Z going to Cuba — it's unbelievable. I've got 99 problems and now Jay Z is one." Good one, Mr. President!

September 6, 2013
Diva trainee Ariana Grande perches on a piano and performs a Broadway version with Jimmy Fallon on Late Night.

September 24, 2013
On Drake's "All Me," Big Sean raps, "I swear to God I got 99 problems, but a bitch ain't one / I got 99 problems, getting rich ain't one."
November 5, 2013
On the track "So Much Better," Eminem puts a (predictably) violently misogynist spin on the lyrics rapping, "I got 99 problems and a bitch ain't one / She's all 99 of 'em; I need a machine gun." Lovely.
April 28, 2014
In the battle for song of summer, Ariana Grande's "Problem" featuring Iggy Azalea (and Big Sean's mouth) currently sits at No. 2 on Billboard, right behind Iggy's single, "Fancy." Of course it's Iggy who references the lyrics with her closing line, "I got 99 problems, but you won't be one."
June 2014
Jillian Bell's character in 22 Jump Street makes one of many jokes about Jonah Hill's character's age by saying, "You've got 99 problems, but being young ain't one."

June 2014
Ice-T reclaims his song with two tracks of "99 Problems" — one that begins as a freestyle (sort of), and the other as a "rock" version. The circle of life is complete.