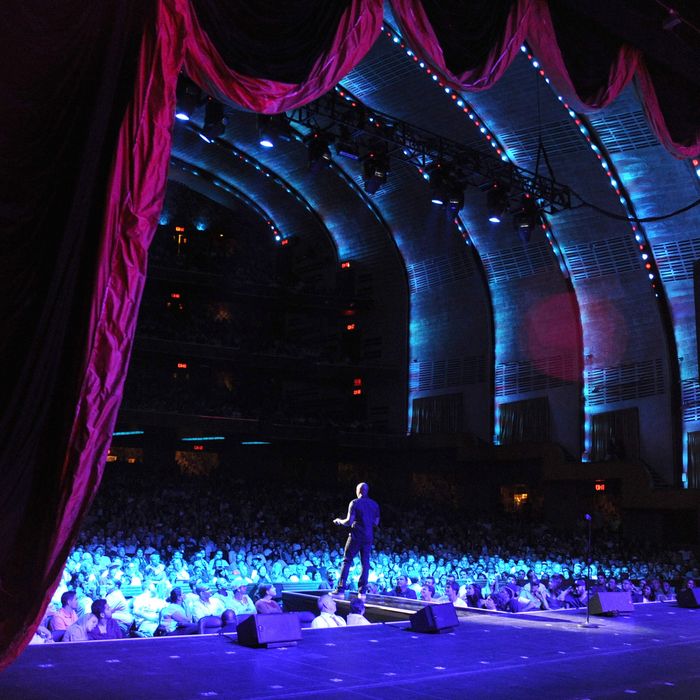 Dave Chappelle performs onstage at Radio City Music Hall on June 18, 2014 in New York City.
Photo: Kevin Mazur/WireImage
Dave Chappelle closes out a two-week-long residency at Radio City Music Hall tonight, marking his return to the big stage after a ten-year hiatus. Vulture caught up with fans outside the venue this week to discuss his legacy, their impressions, and why his return could be a game-changer.
"I think he's going to revitalize the whole comedy scene, and I think everyone is going to be paying attention to this performance. He's the funniest guy in the game right now. I think he's misunderstood. A bad rap comes along with being great. Look at LeBron James."
—Randolph Truitt, 29, food and beverage manager

"It didn't feel dated, it felt like I'd just watched him. He still has that same lighthearted feeling, and he still made fun of himself and him running away from his show on Comedy Central. He doesn't seem stressed anymore. It seems like he's enjoying the comedy again."
—Felicia Jackson, 29, paralegal

"It's like watching an orchestra. He makes me want to throw away all my jokes and makes it seem like I'm doing poetry. He's not 'stripping.' He'll come out and just start talking. That's how it should be, rather than worrying what's joke A, what's joke B, what's joke C."
—Wil Sylvince, stand-up comic
"My stomach hurts from laughing."
—Tiffany Gordon, 29, attorney

"Now everything is the Kevin Hart world in comedy. But I think after this show, [Chappelle] will become contemporary again. Hopefully maybe he'll come back to TV."
—Claudia Lee, 29, customer-service professional

"I'm a comedian and I've studied Chappelle. He was never gone. I was in San Francisco for five years, and he was doing shows consistently. He was away from the national scene, but he was reconnecting with what drew him to comedy in the first place."
—Nickon Hemati, 29, comedian
"I'm a big Dave Chappelle fan, we go all the way back to Def Comedy Jam. He has the same witty cleverness he had back then. His material has gotten more political. He touches the edge very hard, but nobody gets offended. He never lost me as a fan. I don't know what that was about Hartford, Connecticut. I'm not from Hartford."
—Tina Graham, 50, entertainment executive

"Erykah [Badu] brought me out. I didn't realize I was going to get so much Dave. It was good to see him back. It was buy one, get one free for me, and it was a very good buy one, get one free."
—Ruth Nix, 50, financial services

"He's breaking down the whole color thing, but doing it in a way that's relevant. Chris Tucker, he's there for the paycheck. Dave is here because he's got to convey a message and talk about his life. Very few comedians grow; something about him, he keeps pushing it. He's a thinking-man's comic, but in a very street, relatable way."
—Rachel Lyon, 41, public relations

"He's not just a black comedian, he has a broad audience — which I love. No one could touch him when he was at his peak, so that void was never filled. Now that he's back, I feel like he's reclaiming his throne."
—Tara Seney, 26, office administrator

"Everyone is like, racism is over, Obama is president, and people kind of dismiss any racial topics, but then you see Dave Chappelle showing you that nothing has changed. We may not talk about it as much, but there is a way to have this dialogue that can be hilarious. You need Dave Chappelle to have that conversation."
—Ruomi Lee-Hamel, landscaper/film director

"It was really commendable that he would do a segment of his night about LGBT issues. He knows everything that he's dropping out, and that it has a ripple effect. It's one thing for people to talk about lesbians and gays, but for him to take it a step further and talk about transgender people was pretty exceptional."
—Pyeng Threadgill, 36, singer/teacher

"It's like watching an old statesman. There was no moment in the show where he didn't have everybody where he needed them to be. He was clearly doing a thing for himself that we got to watch. He really epitomizes the idea of social responsibility in terms of speaking to yourself, sharing that opinion with others, having it be hit or miss, but still finding a way to make whatever the thing that you need to do for yourself palatable to a larger group of people — which is a skill that's really, really rare, and pretty incredible. He's back at the point in his life where he needs it again, so we're lucky enough to be able to see the thing that's happening inside of his mind. People have been waiting for this for a really long time."
—Azikiwe Mohammed, 30, artist