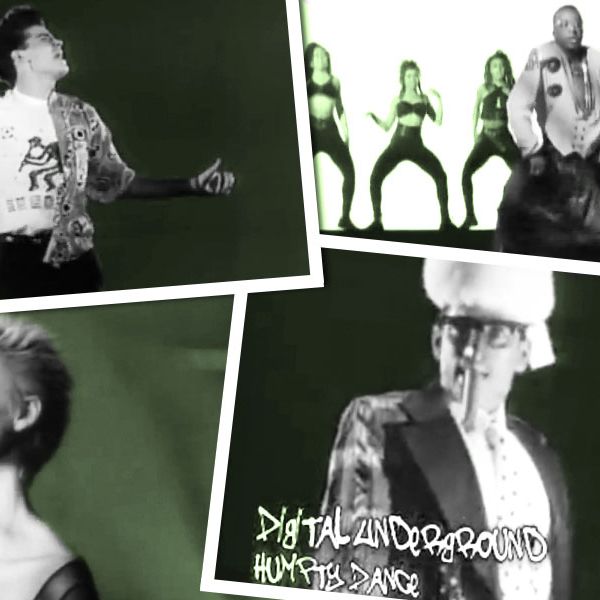 I am impressed with both the title and the debut chart position (No. 3) of Mariah Carey's latest album, Me … I Am Mariah … The Elusive Chanteuse, so I'd like to use this installment of Somewhere in Time to head back to June 12, 1990, when we were introduced to her chanteusey elusiveness. What was the pop-music landscape like when her debut album, Mariah Carey, was released? Pull out your biggest earrings, hike up your palest blue jeans to your navel, and join me in the DeLorean GIF, won't you? Our tour will take us through the Top 40 songs of the week ending June 16, 1990, and it's not over until a trio of differently sized ladies sing.
40. Tommy Page, "When I Dream of You"
Man, if you're going to explore 1990, there is no better sound palette to start with than this one. That 808! That post–Kenny G sax! Tommy Page was a young songwriting prodigy with the looks of a mall fashion-show model, and this is the follow-up to his New Kids on the Block collaboration and lone major U.S. hit, "I'll Be Your Everything," though I think we can all agree his 1989 single "A Shoulder to Cry On" is where it's at. He has gone on to success as an executive at Warner Bros. Records and a publisher at Billboard, yet he also made a cameo on a 1992 episode of Full House, whereon he sang a song of love and devotion to 10-year-old Stephanie Tanner, who was wearing one of Heather Locklear's D&D power suits from Melrose Place. The 1990s were a magical time, is what I'm saying.
39. Alannah Myles, "Love Is"
One of the '90s' great mysteries is the enduring popularity of Alannah Myles' "Black Velvet," a Contempo Casuals leather jacket of a song that you will hear every karaoke night to this day.
38. Digital Underground, "The Humpty Dance"
Another one of the puzzles of the decade is why radio programmers in the Midwest regularly bleeped "got busy" in the "got busy in a Burger King bathroom" line, but left "in a 69 my Humpty nose will tickle your rear" fully intact.
37. Mellow Man Ace, "Mentirosa"
In 1990, everybody knew a change was in the air, nobody was quite sure what it would sound like: Would it be freestyle? New Jack Swing? Or would the bilingual hip-hop of Mellow Man Ace and A Lighter Shade of Brown take over? The answer, of course, was none of the above; Nirvana was but a year away. But there's a lot to love in "Mentirosa," from the sub–Sesame Street Spanglish to the world's most sexily lit courtroom, though what I find most comforting is that the word skeezer transcends language and culture.
36. Sweet Sensation, "Love Child"
Will you look at the jeans on these women? Kids, we allowed each other to leave the house like this in 1990. Also, though Sweet Sensation was a female freestyle trio, it's not the female freestyle trio with Michelle Visage and Idalis; that's Seduction, who are a little bit further down the chart, at No. 60 with "Could This Be Love" and No. 90 with "Heartbeat." Don't start me on Cover Girls and Company B, or we'll be here all day.
35. Calloway, "I Wanna Be Rich"
"I spend my money on lottery/My favorite number is 1-2-3." Calloway, a lottery where you only have to pick three numbers is going to have a much smaller payout than you may be anticipating. But good luck!
34. Elton John, "Club at the End of the Street"
From the Resting-on-Laurels phase of Elton's career, which began at "I Don't Wanna Go on With You Like That" and ended just before The Lion King.
33. Michael Bolton, "When I'm Back on My Feet Again"
Given that I am not a 47-year-old woman named Dana who works in accounts payable, I am not qualified to weigh in on Michael Bolton.
32. Exposé, "Your Baby Never Looked Good in Blue"
Listen: I don't know whether Exposé ever performed at the Max on Saved by the Bell, but I do know they were always dressed for it.
31. Nikki, "Notice Me"
Nikki looked like Lovesexy-era Prince, sounded like Tommy Page, probably got played on John Garabedian's "Open House Party" a few times, and then went on to marry Martika, which is a fact I am just learning right this second and which is ripping my head right off my neck with its pure uncut 1990-ness. Also, now he calls himself "Michael Daemon," because Nikki does not fear being confused with Matt Damon, Michael Damian, or Mailer Daemon.
30. Rod Stewart, "This Old Heart of Mine"
Kicking off the "Yeah, I'm pretty much just going to sing standards from here on out" phase of Rod's career, which is still going on.
29. Snap!, "The Power"
Snap!, Technotronic, C+C Music Factory: How nobody has put together the "House DJs Who Crossed Over to Pop Radio in 1990 With the Help of Rappers Who Immediately Disappeared and Vocalists Whose Parts Are Lip-Synched in the Videos by Models" package tour is beyond me, but I'm willing to do the legwork. Get at me, Turbo B, Ya Kid K, and Freedom Williams.
28. Slaughter, "Up All Night"
In the summer of 1990, I had just completed my first year of college at a school on a hillside in Worcester, Massachusetts, whose underclassman dormitories could only pick up one commercial radio station, which was local hair-metal mainstay WAAF. Between my shift at the college station and my dorm and dining-hall exposure to WAAF, the two most prominent bands in my freshman-year life were Toad the Wet Sprocket and Skid Row. WAAF also played the shit out of "Up All Night."
27. B-52s, "Deadbeat Club"
I also spent that entire year drunk, asleep, or playing Tetris. College was not my best work.
26. Michel'le, "Nicety"
Michel'le had a nice, brief moment in the sun with this one and "No More Lies," but for my money, she peaked with her contribution to West Coast All-Stars' "We Are the World"–style denunciation of gang violence "We're All in the Same Gang." If you have wondered what it would sound like for a Muppet Baby to tell you to put your Glock down, you will find an answer at 1:10 of the video. (Humpty Hump also weighs in thusly: "Kill another black man? What are you, retarded?" Incredibly, gang violence persists to this day.)
25. Brent Bourgeois, "Dare to Fall in Love"
I put this song in the category of "Sexy Adult Contemporary," a genre that also includes mid-career Chris Isaak and nothing else.
24. Billy Idol, "Cradle of Love"
Here is a video in which a young woman invites herself over to the apartment of her uptight neighbor and then vaginas him to death. Kudos, director David Fincher.
23. Louie Louie, "Sittin' on the Lap of Luxury"
Have you noticed that, so far, nobody on this list had another hit song? Everyone up to this point is unwittingly making their last stand (aside from Elton and Rod, who were tenured by this point; Snap!, who became a two-hit wonder a couple of years later with "Rhythm Is a Dancer"; and Michael Bolton, who exists outside of time or trend), as is nearly everyone hereafter. This was an entire generation of hit-makers that was about to be washed out to sea en masse by twin hurricanes Mariah and Nirvana, and seeing all of their names all in a row is like looking at a newspaper from September 10, 2001. (Also, I do not recognize the B-52s "Good Stuff" or any of Exposé's later adult-contemporary offerings as hit songs.) (Listen, are we going to sit here and talk methodology all day, or are we going to get into a song about fingering?)
22. Johnny Gill, "Rub You the Right Way"
Okay, good. Johnny Gill replaced Bobby Brown in New Edition, then borrowed pretty much every single one of his tricks for his solo debut, down to the modified Gumby haircut and the New Jack Swing dance moves around giant letters. If they'd been speedy with Ghostbusters 3, Gill would have had the theme song on lock.
21. Depeche Mode, "Enjoy the Silence"
Incidentally, I still have a stack of newspapers from September 10, 2001, because at that particular moment in history, I was dating a very attractive and very stupid surfer boy in Los Angeles, and I was afraid I'd lose I.Q. points if I didn't do a half-dozen crosswords a day. I was bicoastal at the time, and I took a red-eye to New York the night of the 9/10/01, which got me into Newark Airport about an hour before the whole thing went down. When I got back to my L.A. place a couple of weeks later, those newspapers were the first thing I noticed. They were like a transmission from an alternate universe. Look at all the things we thought were important, I thought. Never again will our culture be so frivolous, so silly, so ignorant.
Boy, I think some adorable thoughts, don't I?
20. Sinéad O'Connor, "Nothing Compares 2 U"
Here is the breakthrough U.S. hit song from a person who has managed to startle us in a new way every 18 months since, like clockwork. Here's the latest, right on schedule.
19. Glenn Medeiros, "She Ain't Worth It"
Man, this whole Top 100 is full of near-greats. Your Glenn Medeiros, your Jane Child, your Lightning Seeds, your A'Me Lorain, your D Mob featuring Cathy Dennis. The Class of 1990 was a hopeful bunch. Incidentally, Glenn Medeiros is now a vice-principal at a Catholic high-school in Honolulu. Life is long.
18. Giant, "I'll See You in My Dreams"
Last one to the lite-metal power ballad is a rotten egg! Giant is a rotten egg.
17. Partners in Kryme, "Turtle Power!"
Not bad, but everyone knows "Spin That Wheel" by Hi Tek 3 featuring Ya Kid K is the crucial TMNT soundtrack jam.
16. Taylor Dayne, "I'll Be Your Shelter"
This is an awfully VH1 song and video for the woman whose debut video introduced Middle America to voguing, but we do what we must.
15. Richard Marx, "Children of the Night"
Richard Marx's ode to — and fund-raiser for — homeless children is all perfectly nice, but any conversation about desperate kids of the '90s must include the Party. The Party was a band made up of pre-Timberlake/Spears Mickey Mouse Club kids, and their debut single, "Summer Vacation," was released right around this time. It is both god-awful and quintessentially 1990, which is to say that I cannot recommend it highly enough. Check it out for all the vest-with-T-shirt, bold-polka-dot, running-man realness you crave. (And if you can take it, here's their 2013 comeback single "Salute to Summer." The Party's repertoire has not expanded much in 23 years.)
14. Linear, "Sending All My Love"
Watch this video and then sign the card I'm sending Gerardo to thank him for his relative sartorial subtlety.
13. Jude Cole, "Baby, It's Tonight"
These are the beliefs I hold closest to my soul: People who confuse your with you're are not to be trusted, one can never go wrong by overdressing, and Jude Cole should have had Bryan Adams's career. Jude Cole knew how to write a song with build, you guys. Plus, would he have done "(Everything I Do) I Do It for You?" No. Jude Cole would never have done us like that. #Justice4Jude
12. En Vogue, "Hold On"
Yes, that is Djimon Hounsou in chains playing a trumpet.
11. Phil Collins, "Do You Remember?"
The 1989-90 network-television schedule was a doozy: NBC premiered and then canceled Baywatch, CBS tried to give the Brady kids the thirtysomething treatment with The Bradys, and Fox expanded into Mondays, giving itself a third night of programming (Beverly Hills, 90210 and the wildly underrated Parker Lewis Can't Lose were but months away). Oh, and this chart was published when NBC was in the middle of burning off a seemingly doomed summer-replacement series called Seinfeld. This was the calm before the storm in 50 different ways, I tell you.
10. Perfect Gentlemen, "Ooh La La"
Flush with New Kids on the Block cheese, Maurice Starr invested in his son's teen R&B trio. Michael Bivins would hit this spot much more successfully later in the year with Another Bad Creation, but this is still kind of a classic. Pairing suggestion: Voices' 1992 non-hit "Yeah Yeah Yeah."
9. After 7, "Ready or Not"
I can only describe this video as "the credits sequence for a soft-core-porn adaptation of The Cosby Show." That either appeals to you or it doesn't. No judgments here.
8. Janet Jackson, "Alright"
"When I Think of You" remade as a period piece, featuring the Cyd Charisse cameo young America was clamoring for.
7. Heart, "All I Wanna Do Is Make Love to You"
A rare story-song from Heart, and what a story! Girl picks up drifter, girl takes drifter to motel and blithely indicates that she does this kind of thing on the regular, drifter and girl have sex and girl describes it in a way that makes you go: Yeah, no, I get it, it was good, girl leaves drifter frustratingly cryptic note replete with shitty flower imagery and then splits, girl bumps into drifter a couple of years later and is all like: My husband's semen doesn't work, you have a child, k thanks bye! Also, in the video, the drifter ends up manning the front desk at the sex motel, very possibly trying to work off his debt, since the song's protagonist leaves a guy with no umbrella or coat to pay for the room.
6. New Kids on the Block, "Step by Step"
This was New Kids' make-or-break single, the title track from their post–Hangin' Tough album. It was HUGE, and the entire thing is about how they're going to get to you, girl, step by step. And then in the bridge, they methodically break down each one. Here is each step, in order:
We can have lots of fun.
There's so much we can do.
It's just you and me.
I can give you more.
Don't you know that the time is right?
Okay. After step one, which I think you will agree is maddeningly vague, New Kids on the Block immediately run out of ideas. Step two is basically "et cetera," steps three and four are a statement and a speculation, respectively, and step five can't be conclusively proven and doesn't even rhyme with five. You have the right to demand better steps, girl.
5. MC Hammer, "U Can't Touch This"
Listen: I don't know whether Hammer retro-edited his own video to include his multiple American Music Award wins or whether it was the uploader, but you have to admit it seems like the kind of thing Hammer would have done.
4. Roxette, "It Must Have Been Love"
We were gripped with Pretty Woman mania in June 1990. This song and Go West's "King of Wishful Thinking" were moving up the charts, the film was still in the Top 10 more than three months after its release, and Julia Roberts was in People's 1990 "50 Most Beautiful People" issue alongside Head of the Class's Khrystyne Haje, Fine Young Cannibals' Roland Gift, and Peter Jennings. New Kid Jordan Knight was in there, too, and while I can't argue with the decision, I will tell you I've become more of a Joey man over time.
3. Madonna, "Vogue"
True to Madonna's cultural-appropriation form, this song is pretty on-the-nose, and if you want the primer on voguing you deserve, Paris Is Burning is streaming on Netflix. But this song gets props for inspiring "Vague" from Julie Brown's Truth or Dare spoof Medusa: Dare to Be Truthful, the rare song to name-check "Dawber, Pam."
2. Bell Biv DeVoe, "Poison"
If there had been a Twitter in 1990, think of the arguments we'd be having about "Me and the crew used to do her." #YesAll90sWomen
1. Wilson Phillips, "Hold On"
This is the absolute truth: The first Wilson Phillips album is in my car CD changer at all times. It is deliciously overproduced, its lyrics are shallow and vaguely inspirational, the whole thing is like aural Pinot Grigio, and sometimes I just need it. "Ooh You're Gold?" "Eyes Like Twins?" "Next to You (Someday I'll Be)?" These are bangers, people. Recommended dosage: one full spin twice a year.