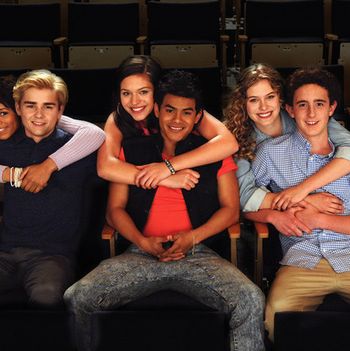 Photo: Sergei Backlakov/Lifetime
When we first heard that Lifetime was making The Unauthorized Saved by the Bell Story, our minds went to that other unauthorized story about Bayside, Behind the Bell, written by Dustin Diamond, who played Screech. A penniless, post-sex-tape Diamond promised a "tell-all," but what we really ended up getting was a burn book, with Diamond taking pot shots against everyone who had wronged him. Still, there are some salacious stories that we'd love to see make their way into Lifetime's version. Here are seven things that we insist appear onscreen.
1. The sex quadrilateral
Here's a plotline that we'd like to see make its way into the show: Tiffani Amber Thiessen's (Kelly Kapowski) real-life boyfriend Eddie Garcia guest-starred on the show as Johnny Dakota, a pretty boy who was at Bayside to film an anti-drug PSA. On set, though, Tiffani was shuttling between Mario Lopez (A.C. Slater) and Mark-Paul Gosselaar's (Zack Morris) rooms before finally getting caught by Garcia. He pitched a fit and the two of them broke up after they wrapped that week. Beyond that,though, according to Diamond, the entire cast was regularly hooking up with one another (except for Dustin, that is), partying, and doing drugs.
2. Mario Lopez's rape accusation
In 1993, an 18-year-old woman accused Mario Lopez of raping her at his house. Prosecutors dropped the charges, citing that there wasn't enough evidence, but Diamond contends that NBC executives got involved with an "army" of lawyers and paid the woman some hush money around the arena of 50K.
3. Mark-Paul's Sun-In
While a lot of the stories from his book go unsubstantiated, it's fair to say that there was a lot of body maintenance going on. After all, this is the era of Tiger Beat and the kids were stars. Some gems include the naturally brunette Mark-Paul Gosselaar using Sun-In to lighten his hair, Mario Lopez doing donkey push-ups before going out in front of a live studio audience, and executive producer Peter Engel putting the cast on a diet to make sure the actresses stayed thin.
4. Tori Spelling
Tori Spelling guest-starred for three episodes as Screech's girlfriend, Violet Anne Bickerstaff. In real life, though, she was mooning over Mark-Paul Gosselaar (don't worry, honey, we all were) and regularly called Dustin to ask if the faux-blond babe had said anything about her.
5. Everybody hates Dustin
While everyone loved Mark-Paul Gosselaar (whom Dustin calls the "Golden Child"), Dustin recognized that he was an "outsider." It's possible, though, that he never really endeared himself to the rest of the cast. Even in his book, he writes that he once peed in an extra's purse because she was mean to him, slipped a Polaroid of his penis under Elizabeth Berkley's door, and got into legal battle with another person he met as an extra.
6. The religiosity of Peter Engel
Born-again super Christian Peter Engel (the show's executive producer) wanted to enforce Christ's rules on set: There was no swearing, no celebration of Halloween, and hugging at the end.
7. Dustin's affair with an NBC executive
Dustin claims to have had an affair with Linda Mancuso, who was the VP of children's programming at NBC. It started off innocently enough, with a 15-year-old Dustin recounting his sexual exploits to her, then got weirder, with a too-long good-bye kiss, and finally, a make-out session while they were doing press in New York City (he is deliberately vague about the timeline on this). Apparently the two carried on an affair for years before it eventually petered out. Also, Dustin says this wasn't the only affair with an executive: Mario Lopez was also sleeping with a female executive from Rysher Entertainment.