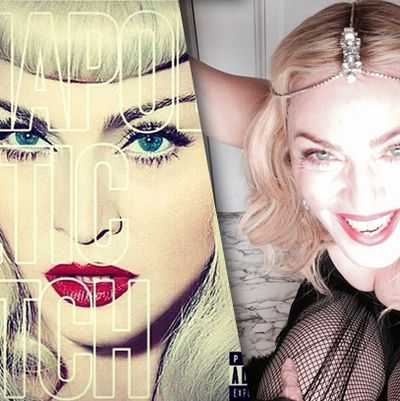 It's been two years since we've heard any new music from Madonna, and let's face it, MDNA wasn't exactly a smash. But a few weeks ago, Madge Instagrammed what appeared to be artwork for a new single, and she's dropped a bunch of "working on new stuff!" hints that, all together, have some people wondering: Is this a secret album campaign? Is Madonna about to Beyoncé us? Hashtag by hashtag, let's break down the clues.
January and February 2014
Madonna starts posting selfies with singers and songwriters like Frank Ocean, Jay Z, and Pussy Riot. This marks the beginning of her now semi-regularly used caption "#revolution," tied to her new art website. The world continues to spin.
February 15, 2014
A Swedish DJ named Sander Kleinenberg visits Denver's Beta Nightclub and plays a snippet of an unreleased and untitled song. Put a pin in this.
March 7, 2014
Here's where things start to get interesting. Madonna posts a photo of herself crouching with the caption "Doing some house work after 4 hours of sleep which is why i cant [sic] spell! On my way to the studio to work with Avicii! #cleanFollow." That same day, Avicii tweets "Studiomode!" Something is brewing.
March 17, 2014
An unnamed Apple exec tells Digital Music News that another massive star is preparing a Beyoncé-esque surprise launch. Rumors point to Mariah Carey or Madonna, but Carey disproves this with a traditional Elusive Chanteuse launch in May.
April 2, 2014
Carl Falk, a Swedish producer who has worked with both One Direction and also Nicki Minaj in the past, gave an interview to the newspaper Dagans Nyheter talking about his sessions with Madonna and Avicii.
"We created a total of eleven demos," he told the paper. He described the singer as very hands-on and said that their work together was fruitful, warm, and clean. He could've also been describing a Pier 1 Imports, but who are we to judge.
April 10, 2014
Among a flurry of selfies, #TBT, and half-naked mirror shots, Madonna uploads an image of herself in the studio with the British singer Natalia Kills. "Don't it taste like Holy Water?" she adds. Could those be song lyrics? (Or product placement? Or both.)
April 13, 2014
More potential song lyrics emerge for a tune called "Body Shop," courtesy of another Instagram post. "Looking for a mechanic……….. I heard a knock and then a pop!" the singer wrote.
April 17, 2014
"Having an Iconic Moment in the studio with Toby-Mozilla and S1," Madonna writes. These are some big guns: Toby Gad is a producer who has worked with Beyoncé; MoZella wrote Miley Cyrus's hit song "Wrecking Ball"; and S1 stands for Symbolyc One, another Beyoncé collaborator.
April 21, 2014
The singer's frequent photographer, Mert Alas — half of the collaborative team Mert and Marcus — posted a shot of the singer with the caption "In my room listening to the NEW ALBUM!!!!!" He later removed the caption with a re-uploaded photograph. Mum's the word, Mert.
May 7, 2014
Madonna drops the news of one of her biggest collaborations of this album cycle: Diplo is onboard. "Working with Diplo got me like…………….WHAAaaat?" Two days later, she posts a picture with the Major Lazer producer and uses "#unapologeticbitch" for the first time. A day later, Diplo tweets that Madonna made him spaghetti.
May 10, 2014
Two new names, Ariel Rechtstaid and Nick Rowe, join the mix. Both men have produced for acts like Haim, Vampire Weekend, and Sky Ferreira. The same day, Rechtstaid uploads a shot of blurred lyric sheets atop a mixing board. Snippets like "I'm living for Love" and "I'm gonna carry on" can be glimpsed.
May 16, 2014
Billboard drops a 50-second-long song (which sounds like an updated "Hung Up") preview for an unnamed artist but called the performer a "shape-shifting dance legend." What really sealed the deal? "Disco is fully back in vogue these days." All eyes turn immediately to Madonna.
May 21, 2014
The cover of V, featuring Madonna and Katy Perry together, leaks online. Madonna hashtags appropriately: "#iconic #darkhorse #unapologeticbitch." Rumors of a collaboration between the two begin to gain traction.
May 23, 2014
Madonna posts the seemingly fan-made artwork, using a photograph from her V shoot, for "Unapologetic Bitch."
May 31, 2014
The songwriter Martin Kierszenbaum (known as Cherry Cherry Boom Boom, an early Lady Gaga collaborator on tracks like "The Fame" and "Starstruck") speaks to SiriusXM and confirms his and Natalia Kills's involvement in Madonna's upcoming project. "We just had a great time," he says. "We were supposed to be in the studio with her for a couple of days, but she kindly invited us to stay longer, so we ended up writing a few more things."
June 3, 2014
This day was a biggie. Remember the song snippet Billboard premiered a few weeks ago? On June 3, BBC radio host Pete Tong gives the world a two-minute version of the same track, courtesy of the Dutch label Spinnin' Records. You might be asking yourself, "what's the link?" Wouldn't you know it, Avicii himself is a member of Spinnin', and all signs point to this being one of the songs he cut with Madonna back in March. Tong credits the song to an artist named ID. Spinnin' Records has used the ID moniker before as a generic placeholder for artists who would prefer to stay unnamed.
From there, fans traced the single's backing instrumentals back to Dutch DJ Sander Kleinenberg, who posted a similar-sounding snippet on his Facebook last summer. Sure, it's possible that the song isn't Madonna's at all, but when a Polish DJ tweets the link to Tong's broadcast snippet with the text "new singel [sic] from Madonna," Kleinenberg favorites the tweet.
And remember how we said that Kleinenberg spun this same track back in February? Madonna has a history of testing her clubbier tracks — where else — in actual nightclubs months before their releases. She did it in 2005 to determine what tracks to use on Confessions on a Dancefloor, allowing her producer and DJ Stuart Price to take instrumentals out to Liverpool dance halls. It's all coming together.
In conclusion: Madonna is definitely working on new music, and it sure seems like she's planning a surprise release. (Otherwise her name would be all over those snippets of music.) Sorry if we spoiled it?