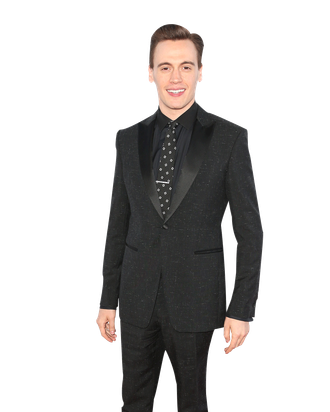 Jersey Boys' Erich Bergen.
Photo: Frederick M. Brown/Getty Images
It's not that strange for a stage actor to play the same role for the film version. Erich Bergen is different, though, in one key way: He was fired from the Las Vegas cast of Jersey Boys five years ago, only to land the part of Four Seasons songwriter and singer Bob Gaudio in the Clint Eastwood–helmed movie edition that opened Friday. Bergen, who kicked up a media ruckus in the Vegas press in 2009 by badmouthing the producers after his dismissal, admits he wasn't sure what would become of his career after that. But the 28-year-old booked a series of plays and musicals, including a starring role in the touring cast of Anything Goes, and appeared on Desperate Housewives, Gossip Girl, and other TV shows. This fall, he'll star opposite Téa Leoni and Bebe Neuwirth in Madame Secretary, which CBS is slipping between 60 Minutes and The Good Wife on Sundays. Bergen opened up to Vulture about his Vegas troubles and more.
You were fired from the Vegas cast and said some things to the media. Now you're the one who immortalizes the role of Bob Gaudio in what will probably be the version that most people will end up seeing in the long run. Explain.
What happened in Vegas — and I can only speak for myself because nothing to this day has ever been told to me officially — was that I was a young kid, I had never paid my dues, I got shot out of a cannon at 20 years old [into the touring company of Jersey Boys]. Then, suddenly, I was in Vegas, I was 22 or 23, I was single, I was getting a lot of attention, and I was the only one who didn't have to go home at the end of the night to their husband or wife. I took advantage of that. I went around Vegas, I became known for a lot of side projects. And my side projects started getting a lot of attention. It made for a weird backstage of the show. I didn't care about that. I just pushed on with it.
You also missed a lot of performances.
Yeah, I was gone in L.A. a lot for pilot season and other stuff. There were times I missed shows because of that. The combination of those things where I was misbehaving, coupled with the fact that I had a crazy allergy to olive trees out there and kept losing my voice. But because I wasn't getting sick on those nights when I was losing my voice, I would go out and I would do things. People would see me out. "Hey, shouldn't you be at the show?" And I didn't care, and that was stupid. Then I had a really bad altercation with one of the guys in the Las Vegas cast who decided, because of my missing shows, to turn on me. He made it his M.O. to make my life miserable, and I started really misbehaving backstage.
What does that mean, misbehaving?
Instead of trying to talk this out, I chose to say to them, "You've got to fire him, you've got to get him out, I can't work like this," not realizing that, to them, I looked like the problem, because I was already a problem. So the producers let me go. And the way it was handled, they could have done a better job. They also took some information as fact that wasn't true. At the end of the day, that was the kick in the ass I needed. I loved the show so much, if I hadn't been fired, I'd still be there.
What were auditions like for the film, given that history?
I went into the auditions — first with Jon Favreau, and then, after that version of the Jersey Boys movie fell apart, it was Clint Eastwood — and I was afraid. I knew that I was good in this role. I had let go of being fired, but I'd never let go of Jersey Boys. Even though the show's producers weren't involved in the movie, I felt a little guilty. I felt like, Who knows about my Vegas experience? or Who knows I was fired? It felt very odd.
Did you ever talk to Clint or Gaudio about what happened in Vegas?
No. Clint asked Gaudio who was the best person for the job. And Gaudio said me. I just found that out recently when John Lloyd Young [who reprises his Tony-winning role of Frankie Valli in the film] told me. John said, "Clint said he could find what he was looking for in the people he was seeing." And he asked Gaudio, and Gaudio said it was me.
Now, I first became aware of you as a teenage podcaster doing a show called Green Room Radio where you interviewed Broadway actors. At that point in your life, did you aspire to be a Broadway actor, or were you just a fan?
I didn't know. I was just so desperate to be a part of it that I would do whatever it took. I sold merchandise at Wicked on Broadway for a year before I got Jersey Boys. I was born and raised in New York City, but I wasn't one of these kids who was already working on Broadway. So I had this podcast. And that's how I ended up in Jersey Boys.
How so?
I was 19, and because of the podcast, I had gotten free tickets to go see the show set up by the press people. I thought I was going to hate it. It was just coming off Lennon and Good Vibrations, these jukebox-musical bombs. And I was a pretentious theater kid. I wanted to get it off Broadway and make room for the next Sondheim. But I brought my father to the show because I knew he'd love the music. And then, about 40 minutes into the show, I became obsessed. After "Can't Take My Eyes Off of You" in the second act, I was the first person to start the standing ovation. And then my dad said to me at intermission, "You know, you can play that role of Bob Gaudio. That's a good role for you." I disagreed with him, but I always looked for roles that were really tall and awkward, because that's how I thought of myself. That was October 2005, and in June 2006, I auditioned for the touring company.
Are you nervous about how the film will be received?
Yeah. I just have no clue. It's untested waters. You can argue Mamma Mia! tested this, and Hairspray tested this, but this is a really unique situation. Mr. Eastwood is using mostly stage actors who are not bankable names, at least not yet, and I don't know that Clint Eastwood's fans are lined up to go see what they think is a musical. So I'm nervous. I've never opened in a big movie. I'm not worried for my career, I'm just sort of like, Okay, let's see what happens.
Is Clint Eastwood as intimidating as you might expect?
Oh, quite the opposite. He plays off the fact that people think that about him. But he's the most kind, most ego-free guy. The first thing he wants to do is find out what your opinion is. It's quite the opposite of working in the theater, where you're micromanaged by a lot of directors. He really turns the cameras on and you realize after the first take that you forgot to ask him what he wanted out of the scene.
Is he one of the guys?
I used to laugh because when it came time for lunch, they would rush us up to the front of the lunch line. And then I saw that Clint was just waiting in line with the rest of the crew, not waiting for anyone. He doesn't like the fussiness of being a typical movie star.
Did you ever see him talking to an empty chair?
I did not see that at any point. He was way too busy directing.
You sport quite the facial hair in the movie. Was it strange to actually get to age as Bob Gaudio in a more realistic way for the movie versus the show?
Yeah, because onstage, the aging process consists of the audience being with us and suspending their disbelief. When we get to the Rock and Roll Hall of Fame and we say it's all these years later, the audience believes it. In the movie, you can't do that. But also, onstage, a kitchen was a table and two chairs, and we had months to rehearse with that table and two chairs. In the movie, you get a real kitchen, a real house, that woman next to me in bed is supposed to be my wife and I met her ten minutes ago. You get less time to prepare when you shoot a movie. You only see the set 15 minutes before you start filming. You have to inhabit your house and be comfortable. The same goes for the old-age makeup and the facial hair. I have to say, though, I loved my Barry Gibb hair in the [scenes set in the] '70s.
Do you—
By the way, going back to the being fired in Las Vegas, I find it so annoying, but people come up to me who wouldn't defend me back in the day, they all come out of the woodwork to say, "Oh my God, congratulations. This must be such revenge on the producers! You get to show them." Getting the movie is so fucking exciting and huge and way beyond your comprehension, when you get that phone call that you're starring in Clint Eastwood's next movie, that you don't think that way. In fact, at the New York premiere, I saw the producers of the show.
And?
It was a little awkward for both of us at first, but it was nothing but love in terms of that five minutes I spoke with them. It is show business. The word business is in there.
This fall, you'll be on Madame Secretary, a CBS drama in which you play the assistant to Bebe Neuwirth, who, in turn, is chief of staff to the secretary of state, played by Téa Leoni. Where is it on the Veep–Scandal—The West Wing—House of Cards continuum?
I consider it a cross between The West Wing and The Good Wife.
So, like, if there were a prominent woman whose husband had humiliated her and she became secretary of state, hypothetically…
Oh, no, I didn't mean that part. I meant the woman going back to work and balancing her home and work life, and her work happens to involve the White House. And then there's a little bit of Homeland in it, because there's a conspiracy afoot.
You think you and Bebe will do a musical number at some point?
If people would like that, express that desire to CBS. I'd love it.