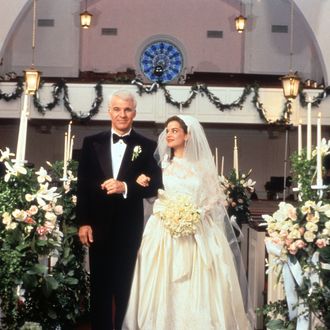 Photo: Archive Photos/Getty Images
NikkiFinke.com reports a sequel to Father of the Bride is in the works (currently not working under the title Fath3r of th3 Brid3), with the original remake's director Charles Shyer attached to write and direct. (Nancy Meyers, who co-wrote the first two films, passed on the project.) Steve Martin will return as the titular bride-father. The movie will focus on Matty, played by Kieran Culkin in the '90s films, who is now 29 and engaged to be married to a man (a Navy SEAL's son). Martin's character isn't sure about this whole gay-marriage thing, so Diane Keaton's character kicks him out of the house. Shenanigans ensue. Live birds will likely be involved.
Update: Steve Martin took to Twitter to say that he didn't even know another sequel was in the works, let alone sign on to star in it.