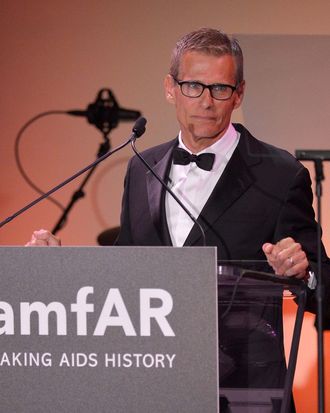 Photo: Stephen Lovekin/Getty Images
It's a busy time at HBO. Game of Thrones continues to dominate the pop-culture news cycle, plus Darren Aronofsky's adaptation of Margaret Atwood's MaddAddam books is getting off the ground, and Damon Lindelof's take on Tom Perrotta's novel The Leftovers is about to premiere. But not all adaptations move forward as expected: The HBO version of Neil Gaiman's American Gods isn't happening after all. Vulture caught up with HBO's president of programming Michael Lombardo last night at amfAR's 5th Inspiration Gala to get the skinny on the network's current state of affairs.
When George R.R. Martin said that he might extend the Game of Thrones series to eight books, did that make you delighted or horrified? 
Delighted beyond comprehension.
Really?
Yes. I'm a huge fan, I mean [blanches; he could not possibly articulate his love of the show] I am a huge fan, I am a Game of Thrones geek. It's a show I'm depressed I have to work on because it means I have to read the outlines before I experience it in real time.
The whole production seems so daunting that I didn't know if an eighth book would be considered one more obstacle. 
No, no. Honestly, I mean, the thought that we would end it [is upsetting] — by the way, there's so many stories left to tell, I just hope [showrunners] Dan [B. Weiss] and David [Benioff] are still game. It's a little bit of a personal challenge I don't think they contemplated when we initially found our location in Belfast, what that meant for them personally … Belfast is not the most cosmopolitan of cities to spend half of the year.
Are they having a hard time?
I don't think they have a hard time, but the good news is work keeps them busy, let's just say that.
Okay. What about MaddAddam? 
At this point, we've recently entered into an agreement with Darren [Aronofsky] to develop stuff for us. We're very excited about it. This is the first thing he indicated real interest in, so we've begun the development process with him. It's a long way off. But it's exciting to start doing something with Darren. I'm a huge fan, and we're finally sitting down and working together. 
Like, years off? 
You know what, I always hesitate. Some scripts come in, within months they're ready to shoot; others take two years before you find the right — so at this point, we're looking for the right writer. I'm excited about it.
I was sad when HBO lost the option on American Gods.
We were as well.
What happened? 
I think we're all huge fans of the book, and I think the script just didn't — we couldn't craft the script as good as we needed it to be. I think we knew going in that it would be a challenge; every good book is a challenge to adapt it and find the level you need for it. The bar is high now for great dramas. And to find that bar — we tried. So it was a huge disappointment […] We tried three different writers, we put a lot of effort into it. Some things just don't happen. We have to trust at the end of the day, if you don't have a star with a great script, you're just not going to go through with it.
I understand. 
Even though we love the book, we love the idea, we love the hope of what it could be, we just couldn't get it right.