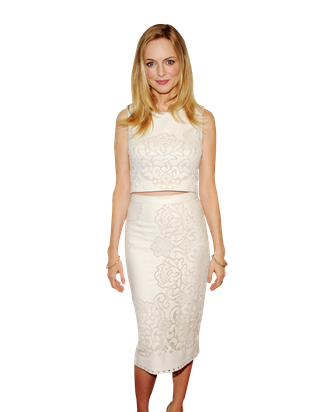 Photo: Bryan Bedder/Getty Images
Having recently wrapped the final season of Californication (in which she played Hank Moody's mystery baby-mama), Heather Graham spoke with us about onscreen parenting, the surreal merry-go-round of showbiz life, and quasi-reuniting with fellow Twin Peaks alum David Duchovny.
Given your turns in Boogie Nights, Two Girls and a Guy, and so on, where did Californication fall on your career spectrum of racy content?
[Laughs] I think my story with David was actually very sweet. The show definitely goes into some racy areas, but my part with David brings out that sweeter side of him as a father, which I found more heartwarming. My character has a very low expectation of what he would be as a dad, and then I'm pleasantly surprised.
So even if some critics felt introducing his long-lost son, Levon, was contrived, it really just allowed us to see a new side of Hank.
Some of the things I liked about the show the best were contrasting his wild behavior with the side of him that was a father and really in love with Natasha [McElhone's] character [Karen]. I liked the complication of his character, as opposed to being this full-on playboy with no conscience. Bringing him back as a dad, to me it makes him more likable.
Between Californication and Flowers in the Attic, how would you rate your onscreen parenting so far?
[Laughs] I started dating someone who has a daughter, and I was like, Oh, wow, when he sees Flowers in the Attic, he's gonna be frightened. I went from extremely neglectful in Flowers in the Attic to slightly overloving and overprotective in Californication. But I'm a much better mom in Californication.
Can you blame viewers who'd look at Oliver Cooper and ask, "Wait, that's Heather Graham and David Duchovny's child?"
I told Oliver he's my soul-son. I always felt like I was a nerd growing up, so I can feel that I can be related to him. But I guess physically, we don't look super-alike. That's why people were like, "Is it gonna be revealed that he's not really your kid and you're just trying to get one over on him?"

You and David both had stints on the second season of Twin Peaks. Is that something you reminisced about?
Yeah, we actually did, that's so funny. I had met him a long time ago, so it's fun to see people you meet and then, through the years, seeing them again. I loved that show. I was a huge fan, so it was so fun to be on. And I was so young, so it was super fun to work with David Lynch. He told me about meditating, so I actually started meditating back then, and I've done it since.
Was there a point in your career where you decided to break away from being a muse or an ingenue?
It's a double-edged sword, 'cause on the one hand, it's fun to play this person who gets to be this romantic love interest. On the other hand, I've always wanted to tell more stories from a female point of view, but those stories don't happen that often.
Maybe Rollergirl in Boogie Nights or Carla in Two Girls and a Guy were when you got to play some richer parts?
That's when I definitely crossed over from being an actress to getting offered jobs, which was really awesome, and I was really grateful for that. It's hard to look at yourself objectively, 'cause [as] an actor, you're like, Oh my gosh, I'm so glad I'm getting work. [Laughs.]
Do you see yourself first and foremost as a comedienne?
When I first started, I loved the idea of doing drama, and I still do really like drama, but as an audience member, I'm much more drawn to comedy and really like doing comedy. I'm writing this script that's actually a comedy, and wanting to get that off the ground. I'd like to get more into writing, and I was thinking about directing as well.
What kind of projects would you want to develop?
I feel like there's not so many movies from a female point of view, and especially about sex. I feel like I've explored it from a male point of view. In film, there's not a lot of female stories that aren't genre-based, so I'm excited by more women directing and seeing more of their perspectives on relationships and dating. We all grew up watching Woody Allen, but that's a very male point of view. Even though these movies by men are very good, I don't see things that way.