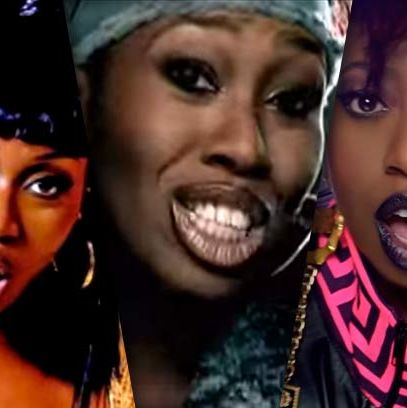 At last night's BET Awards, opening act Pharrell Williams brought out Missy Elliott for a show-stopping mash-up of his "Come Get It Bae" and her 2003 hit "Pass That Dutch." Coincidentally, next month marks nine long years since Missy, one of rap's most acclaimed performers, released her most recent solo album, The Cookbook. In the time since that record's release, there have been plenty of indications that Elliott's follow-up was soon to come, but fans have yet to see anything tangible. Below, Vulture pieces together what Missy has been up to in the meantime, from her well-loved VH1 Inside the Music special to last night's stellar return to form.
2005
In January, Missy launched The Road to Stardom with Missy Elliott, a UPN singing competition that offered 13 contestants — all rising singers or emcees — the chance for a record contract and professional mentorship. It was heinously cheesy, and its winner, Jessica Betts, couldn't find mainstream success outside of the show. Madonna popped up in one episode, which was about as weird as you'd imagine. Here's Missy's theme song, which spells the conceit out pretty succinctly.
On July 5 of that year, Missy Elliott released The Cookbook, a 16-song long record that marked her last full-length release. It spawned hit singles like "Lose Control," arguably more a showcase for featured vocalist Ciara than Elliott herself, and fan favorite "On and On," which featured Pharrell (yes, he was ubiquitous then, too). Later that month, she lip-synched through a sad rendition of "Lose Control" with Fatman Scoop and Ciara at the BET Awards.
2006
That April, Missy dropped the music video for Cookbook single "We Run This" in partnership with Disney, who'd selected the song as the theme to that year's Disney Channel Original Movie Stick It. In the video, Missy dresses in a gold-lamé bandleader costume, gets animated as a stick figure, and raps in a patois. Later she does some light gymnastics, which led to a torn Achilles tendon. Jeff Bridges makes an appearance, too.
In September, Missy released Respect M.E., a greatest-hits compilation that was supposed to feature two new tracks — "123" and "Magnifica" — that never arrived. In conjunction with the album, she re-created one of her most iconic music videos, "The Rain," at MTV's Video Music Awards.
At 2006's MTV Russian Music Awards, she performed a medley of "Lose Control," "Get Ur Freak On," and "We Run This." It marked one of her last live televised appearances.
In the fall, Missy jumped on the remix of white British rapper Lady Sovereign's "Love Me or Hate Me (Fuck You!)." This is one of her sadder moments.
2007
At VH1's Hip Hop Honors, performers like Keyshia Cole, Eve, Timbaland, Nelly Furtado, and Ciara joined forces to pay tribute to Missy's legacy with a medley as the woman of honor happily danced along in the wings.
In June, Missy hopped on Keyshia Cole's song "Let It Go" alongside Lil' Kim. In the video, she shows off her acting chops next to a demure Kim, whose face verges on frigid.
2008
This was the year of Missy's involvement with girl groups like the Pussycat Dolls ("Whatcha Think About That") and Danity Kane ("Bad Girl"). She also contributed a brief verse to Jazmine Sullivan's "Need U Bad," probably enticed by the use of "U" in the title instead of "you." She sort of has a thing for that (see: "Get Ur Freak On").
Here's where things get sad: In June, the rapper released "Best, Best," a promotional single in advance of a supposed new album titled Block Party. It's a futuristic-sounding, Danja-produced track that failed to attract any interest.
Fans got additional Missy solo material later that summer, including "Ching-A-Ling," a song off the Step Up 2 the Streets soundtrack. The video makes nice, albeit dated, use of "Dance Dance Revolution."
She also contributed "Shake Your Pom Pom" to the movie's soundtrack and performed the song on Dancing With the Stars that fall.
In October, she performed a rare concert at New York's Best Buy Theater as part of the Pepsi Smash series. Later that month, a demo of a song from Timbaland's long-delayed Shock Value 2 leaked featuring a half-auto-tuned Missy Elliott and T-Pain. When the album is eventually released a year later, the song is nowhere to be found.
2009
Without a doubt, 2009 was Missy Elliott's last "busy year" to date. After scrapping all of the material planned for her Block Party album, she continued to grind out features with rappers and singers like Ginuwine ("Get Involved," a song she performed on Letterman that June), Lisa "Left Eye" Lopes (a posthumous "Let's Just Do It"), K. Michelle ("Fakin' It"), and frequent collaborator Ciara (the RuPaul-inspired "Work").
In the "Work" video, Missy makes a quick appearance dancing atop gigantic tires wearing a black plastic jumpsuit, because nothing signifies hard work like tires and twerking.
In non-music news, when Missy sat down with Power 105's Angela Yee that fall, she told the radio host that she was working on writing a biopic about her life, which she also planned to score and cameo in.
2010
In a move that predated Outkast's festival domination this year, Missy made a series of rare live appearances in Poland (Splash Festival), Belgium (Les Ardentes), London (Wireless Festival), Sweden (Stockholm Jazz Festival), Singapore (Formula 1), Perth (Parklife), Switzerland (Montreux Jazz Festival), Serbia (Exit Festival), Romania (Bamboo Mamaia), and Morocco (Casablanca Festival).
In November, Timbaland opened the door to his recording vault and quietly released "Swat Dat Fly," a Missy club banger. Otherwise, on the new music front, it was a quiet year.
2011
Timbaland ushers in the new year with a Missy Elliott duet, "Take Ur Clothes Off," as part of his "Timabaland Thursday" series.
VH1 airs Behind the Music: Missy Elliott, a documentary in which the rapper admits she's been suffering from Grave's disease since 2008. In August, Katy Perry enlists Missy for a "Last Friday Night" remix in an attempt to boost the song to No. 1 on the charts.
She also joins another pop star, Demi Lovato, on her Unbroken song "All Night Long." This is fine and dandy, but where's the solo material?
2012
Just at the point when even the most hard-core fans are losing interest, Missy returned with two Timbaland produced tracks, "Triple Threat" and "9th Inning." Rumors about a long-awaited Cookbook follow-up kicked back into overdrive. "I won't stop / Got the music game on lock," she raps on "9th" before promptly fading into the background of the music world again. Stop playing with our emotions, Missy!
That summer, M.I.A. snags Missy and Azealia Banks (later pulled from the track) for a remix of her song "Bad Girls." Rapper Angel Haze later insinuates that Elliott was scared to work with Azealia. We don't blame her.
2013
Another year passed without any solo material, but Missy stayed active in 2013, lending guest verses to Eve ("Wanna Be") and Timbaland ("Done Done"). She also dabbled in K-Pop with a cameo on G-Dragon's "TK," even appearing with the group at a Los Angeles concert that year.
2014
Six months into this year, aside from the BET appearance, we've only heard one peep from Missy Elliott, in the form of a short spot on Faith Evans's new song "I Deserve It." Do you know what we deserve? A new Missy Elliott album. Please make our dreams come true, Missy. I can't stand the drought.