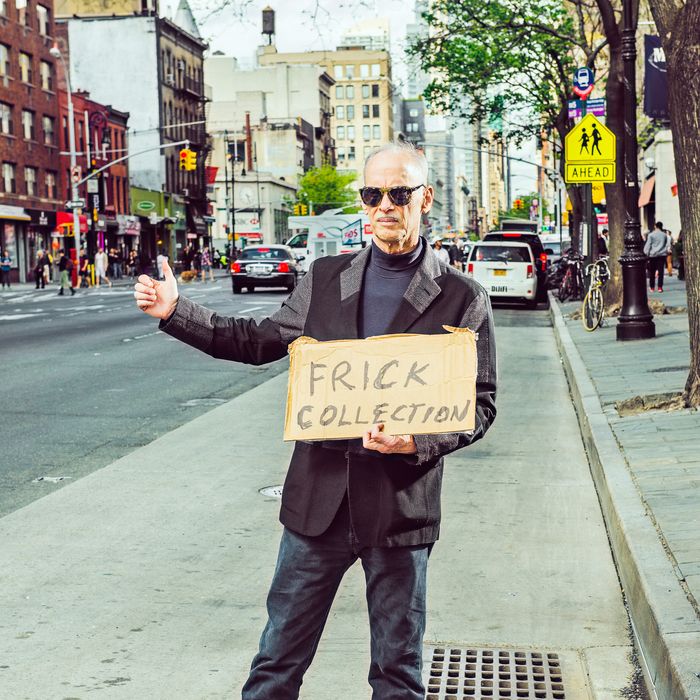 John Waters with his hitchhiking sign at 12th Street and Sixth Avenue.
Photo: Christopher Anderson/ Magnum Photos for New York Magazine
"CAN YOU HITCHHIKE IN NYC?" It's morning rush hour in Manhattan in early May, and John Waters is showing off one of three cardboard signs he's prepared for an attempt at doing just that. "But I'm going to start with the snobby one" — one side simply reads "FRICK COLLECTION" — "because we're in tony, historic Greenwich Village," he says. We're in Waters's prewar apartment, where the contents — contemporary art by the likes of Fischli/Weiss and Karen Kilimnik; shelves full of art books and fiction, including his beloved first edition of Jane Bowles's modernist novel Two Serious Ladies — betray no hint that its owner has been known variously as the Pope of Trash and the Prince of Puke.
The only item obviously related to Waters's filmmaking career is a framed black-and-white photo of Divine, the outsize drag queen who starred in Waters's first five features — from 1962's no-budget filth-fest Mondo Trasho to 1988's PG crossover hit Hairspray — before his death at age 42. "I gotta be back here at noon, so we might just stand there the whole time," Waters says. "In the book, I stood waiting ten hours one day."
The infamously pencil-mustached Waters is referring to his latest project, Carsick, which FSG published on June 3. The book documents his May 2012 cross-country hitchhiking trip from his home in Baltimore to his San Francisco apartment. "I wanted an adventure," the 68-year-old director explains. "Because my life is so controlled and planned." Over the course of Carsick's nine-day journey, Waters thumbs rides with everyone from a minister's wife to a coal miner to a young Republican councilman (twice) to Brooklyn indie-rockers Here We Go Magic, whose social-media report of the experience went viral.
The only place in the country Waters has never yet succeeded hitching is Manhattan, which is why he's intent on trying again today. "I used to stand in front of the Holland Tunnel tollbooth in the '60s, and no one would ever pick me up," he says. Before he embarked cross-country, Waters wrote the first two sections of Carsick — one envisioning good rides, the other bad rides. In both cases, the fiction is far more eventful than the true-life bits. On the real trip, there were no sexual encounters, twisted or otherwise. "It's very different hitchhiking when you're 16 and when you're 66," says Waters. "I didn't have any rabid gerontophiliacs pick me up." He imagines what could go most wrong on our trip uptown. "The worst case scenario would be someone that didn't speak the language, so we couldn't really tell what they were doing," Waters says. "But immediately the locks go down. And it smells. We ride one block, and they turn around and blow both our heads off."
Clad in a black Issey Miyake jacket over a navy-blue Gap turtleneck, Waters pops on his sunglasses and heads down to Sixth Avenue, settling into a spot a few car lengths before the light. Out goes his thumb. As promised, he starts with the "FRICK COLLECTION" sign, which reads "70TH + FIFTH" on the other side. Drivers laugh, look confused, or avoid making eye contact altogether with what they must assume is a panhandler. "When I was going across America," Waters relates,"most people thought I was a homeless man."
Waters decides to experiment, and switches over to his more specific "FRICK COLLECTION 70TH + 5TH" sign. A dark-haired woman getting into her parked car considers it for a minute. "Why are you not taking a cab?" she asks and, unswayed by the answer, drives away.
As we wait, I broach the subject of Waters's stalled directorial career — his last movie, the sex-addict farce A Dirty Shame, flopped a decade ago. He's been trying for years now to raise the $5 million he needs to make Fruitcake, which centers on a dysfunctional family of Baltimore meat thieves. "Thank God I still have many ways to tell stories: my books, spoken-word shows," he says. "Maybe I've made my last movie. That's okay." A traffic cop passes by, and Waters quickly tucks his sign into his tote bag. He won't try Kickstarter to raise funding. "I'm not public begging," he explains.
A woman in a Volkswagen Touareg sees his cardboard sign, pulls up, and ushers us in. It's been just 15 minutes since Waters first stuck out his thumb. The woman, Joanne Bagan, works in finance and lives on Waters's block, it turns out. Her golden doodle puppy, Roxy, sits quietly in the passenger seat.
We head north. Bagan explains that she'd just been circling the block while waiting out the street sweeper when, inspired by a recent conversation about memories of hitchhiking with some early-'90s Trinity College classmates, she decided to let us in. "You're a neighbor," she says to Waters, who's settled in cross-legged behind the driver's seat. "You also had the Frick sign, so it wasn't that frightening."
Our driver inquires, maybe a little late, what the penalties are for hitchhiking in Manhattan. (Though the DOT stipulates against soliciting rides "by word or gesture," the actual level of enforcement is murky.) Waters tells us about the time he got arrested for filming Mondo Trasho's hitchhiking scene without a permit. "But Divine escaped," he adds. "Which doesn't say much for the police: He was in full drag in a red Cadillac convertible with the top down in November with a nude man in the car!"
As we pull up to the Frick, Bagan takes some selfies with her passengers and lets us off. It's five minutes before the museum opens. "When Pink Flamingos first came out," Waters says, "whoever ran the Frick wrote me a note about how much they liked it. My mother was really impressed."
I take a photo of Waters in front of the museum, then we walk to nearby Fifth Avenue, where Waters breaks out the "GREENWHICH VILLAGE"/"CAN YOU HITCHHIKE IN NYC?" sign. Within five minutes, a dark Lexus pulls up. A black-clad blonde woman pokes her head out of the backseat window. "I thought I recognized you," she says, collegially. "Want a lift?"
We step into the back of the hired car, and the woman introduces herself. "John Waters, I'm Daryl Roth," she says, extending her hand. There's only one degree of musical theater between the two: Roth is the high-powered producer of Broadway's Kinky Boots, whose book was written by Harvey Fierstein. Harvey Fierstein played the Divine role in the 2002 Broadway adaptation of Waters's Hairspray.
Waters mentions that he recently got together with most of Hairspray's Broadway cast. "It was a high-school reunion that you wanted to go to," he says. He skipped his recent 50th reunion in Baltimore. "The only reason to go to a high-school reunion is to see the people you want to have sex with," he laughs, "and I already stalked their houses years ago."
Eighteen blocks later, Roth gets out to go to work, but lends us the services of her driver. "This is a class act!" Waters declares. We continue down Seventh Avenue, right through Times Square. "I miss the grindhouses," Waters says, surveying the tourist scrum. "Though it was also in the '70s, I saw a hooker take a shit in the middle of the street during the day." He laughs. "I'm glad it's not like that anymore."
We get out a block away from Waters's place. "The answer to my question is yes, you can hitchhike in Manhattan," he says. "I'm not sure the first person recognized me." He didn't want to put her on the spot by asking. "It doesn't matter. But if she did, she was incredibly discreet."
Then, suddenly: "You guys are back!" It's Bagan, walking toward us with Roxy on-leash. Waters greets her warmly, telling her about our chauffeured ride home. I begin to ask if she'd recognized him, but Waters finds this line of inquiry embarrassing."No, no, no," he interrupts, shaking his head. "Bye! Thank you again. See ya!" He darts off, around the corner and up Sixth Avenue.
"Yes, of course I knew!" Bagan says. "I was like, What is John Waters doing hitchhiking? So I was like, 'Hello, neighbor!'"